MiniGBIC/SFP Transceiver
SOPTO MiniGBIC/SFP Transceiver Model
Compatible Brands: Cisco, Finisar, HP, Alctel-Lucent, Juniper, Noterl, Extreme, Netgear, D-Link, DELL…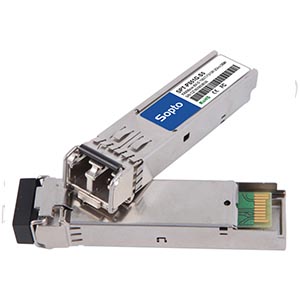 The SFP transceiver is compliant with the specifications the SDH/SONET/IEEE802.3 and the Small Form-Factor Pluggable (SFP) Multi-Source Agreement (MSA) and SFF-8472. Its' reliability is benefitted by virtue of being hot-pluggable. Further, it incorporates the latest 3.3 VDC compatible transceiver technology including an 850nm/1310nm/1550nm FP/DFB LD transmitter as well as a convenient LC-Duplex optical interface.
SOPTO SFP Optical Transceivers are hot-swappable, compact media connectors that provide instant fiber connectivity for your networking gear. They are a cost effective way to connect a single network device to a wide variety of fiber cable distances and types.

By eliminating the need to maintain surplus units/ devices of various fiber types for network repairs or upgrades Small Form Pluggable Optical Transceivers reduce network equipment inventories. SFPs allow one product the flexibility to expand by speed (Fast Ethernet and 1, 10, or 40 Gigabit), and/or distance (220 m to 80 km).
Network upgrades are also made easier because SFPs are interchangeable fiber connectors that can adapt to any existing network. For example, by simply replacing the pluggable optical transceiver, a media converter that was originally used in a multimode network can be re-configured to operate over a CWDM network.
SOPTO SFP Optical Transceivers can be used and interchanged on a wide variety of Cisco or MSA compliant SFP products. They can be intermixed in combinations of 1000BASE-SX, 1000BASE-LX/LH, 1000BASE-EX, 1000BASE-ZX, or 1000BASE-BX10-D/U on a port-by-port basis.
SOPTO SFP Optical Transceivers are designed for use with SOPTO SFP Media Converters, Industrial Ethernet Switches and third party equipment that supports SFP transceivers.
SOPTO MiniGBIC/SFP Transceiver Main Info
Ring Color: Black/Blue/Yellow/Green

Material: Metal

Weight: 0.02kg

Packing Quantity: 200pcs, 400pcs, 600pcs(accept sample order)

Data Rate: 155M/622M/1.25G/2.5G/4G

Wavelength: 850nm/1310nm/1550nm 

Fiber Types: Single Mode (SM), Multimode (MM)

Fiber Connector Type: LC/SC/RJ45

Transmission Mode: Duplex/Simplex

Transmission Distance: 2km,10km, 20km, 40km, 50km, 80km, 120km, 150km

Laser Type: 850nm/1310nm/1550nm FP laser and PIN/APD photo-detector

Operating Case Temperature: Standard: 0~70°C; Industrial: -40~85°C

DDM Function: With or without both available

Compatible Brands: Cisco, Finisar, HP, Alctel-Lucent, Juniper, Noterl…
Other info of our MiniGBIC/SFP Transceiver
Operating Humidity: 0%~90% RH no condensing

Storage Humidity: 5%~90% RH no condensing

Saturated Optical Power: -3dB

Average Output Power: -20~ -14dBm

Receiver Sensitivity: -31dBm

Supply Current: 351~386mA

Power Supply: +3.3V single power supply

Power Consumption: <3W

Extinction Ratio: 10~17dB

Storage Temperature: -40~85ºC

Number of Times of Hot-Pluggable: >200
Performance Feature:
Complies with IEEE 802.3, 802.3u, and 802.3ab specifications

Conforms to Multi-Source Agreement (MSA) specifications for SFP transceivers

Supports IEEE 802.3u and IEEE 802.3ab auto–negotiation; features to allow networking equipment to automatically determine and adjust the required settings

Automatically compensates for baseline wander by removing the DC offset from the input signal

Assembled with low EMI emissions IC and fully metallic housings

Automatic dependent interface (DI) crossover, eliminating the need for crossover cables or cross-wire (MDIX) ports

Bail latch provides ease of extraction

Compact RJ45 connector assembly

Data is scrambled to reduce radiated emission

Fully RoHS compliant

Very low EMI and excellent ESD protection

Distance from SX 0.5km to ZX 150km
Application
SONET/SDH

Fiber Channel

Ethernet
Quality Certification:
Good Anti-electromagnetic interference (EMI)

Good Electromagnetic compatibility (EMC) which is in accordance with FCC Part15.

Meets ISO9001, TUV, CE, FCC, CAS, UL and RoHS certificates
SFP Transceiver Mechanical Outline: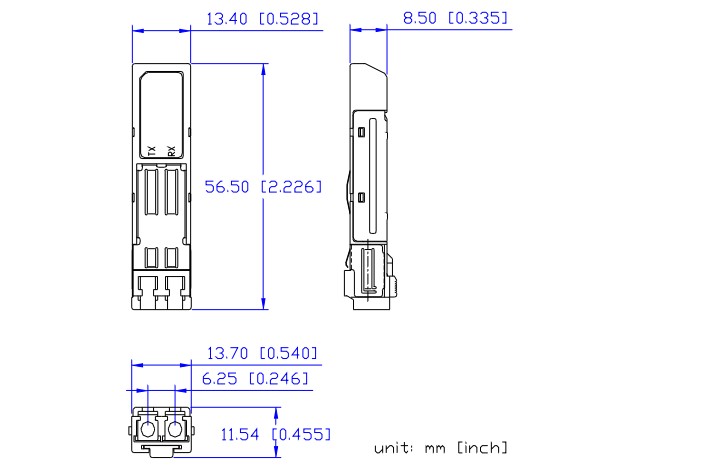 Buy high quality Cisco Compatible ONS-SI-100-LX10 SFP-OC12-LR1 Transceiver from China Supplier with low price and fast shipping.