GEPON SFP Transceiver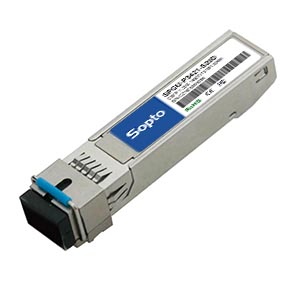 Ethernet Passive Optical Networks (GEPON or EPON) is the leading technology being used in FTTx (FTTH) deployments. PON is different than other optical network topologies in that it is a Point to Multi-Point (P2MP) topology. From the Central Office's (CO) Optical Line Terminal (OLT, with SFP GEPON transceiver/module) a single strand of fiber goes out to a passive optical splitter where its signal is multiplied to 32(64) different lines. The Transmit and Receive signals operate on different wavelengths allowing bi-directional operation over a single fiber. Anything transmitted from the OLT is transmitted to all 32 lines. It is up to the customer's system (Optical Network Unit - ONU) to determine what packets are for that customer. All other packets are discarded. The PON current standards have defined downstream data rates up to 1.25Gbps.
Features
1. SFP Package with SC receptacle or Pigtailed, both ONU and OLT series
2. Single +3.3 Power Supply, Hot-pluggable
3. Compliant With IEEE 802.3ah-2004
4. Compliant With 1000BASE-PX20+/ PX20++
5. Up to 20km distance at 9/125µm G.652 SMF
6. Operating Case Temperature: Standard: 0~70°C; Extended: -40~85°C ;Industrial: -40~85°C
Application
EPON For P2MP Application
Ordering information
| | |
| --- | --- |
| Part No. | Description |
| SPT-ET4311-SE2AD | Optical Transceiver EPON OLT SFP 1490nm(Tx)/1310nm(Rx),1244M(Tx)/1244M(Rx),SC,SM, PX20+ DDM |
| SPT-ET4311-SE2CD | Optical Transceiver EPON OLT SFP 1490nm(Tx)/1310nm(Rx),1244M(Tx)/1244M(Rx),SC,SM, PX20++ DDM |
| SPT-EU3411-SE2AD | Optical Transceiver EPON ONU SFP 1310nm(Tx)/1490nm(Rx),1244M(Tx)/1244M(Rx),SC,SM, PX20+,DDM |
Note
Sopto's GPON/EPON OLT SFP ONU SFP modules are RoHS compliant and could be 100% compatible with branding equipment, such as Huawei, Alcatel-Lucent, ZTE, Fiberhome, Zhone and so on.
If you want to know more about the exact information of the specified transceiver, please contact us.
Very satisfied with my order.
8/11/2016
The delivery was quick, and without problems.
12/11/2015
Its working perfectly and perfectly boxed... Just get-it.
7/30/2013
This is an excellent product - very well made and durable.
7/29/2013