PDH Multiplexers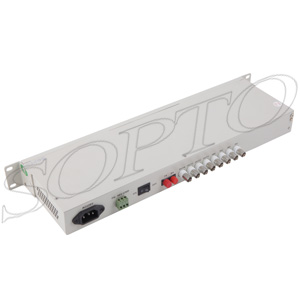 PDH Multiplexers: STM1-1 fiber converter, V.35/ E1/RS485 fiber modem, E1/2E1/4E1/8E1/16E1 (120ohm/75ohm) fiber optical multiplexer, 1+1 PDH multiplexer, NxE1+1/2/4ETH optical multiplexer, 4U/6U chassis, Phone optical multiplexer; card type or standalone in mini rack or 19inch rack; dual fiber/single fiber with SC/FC connector; 220V/110V/48V or both power supply; transmitting distance up to 120km.

Sopto PDH Multiplexers are E1 point-to-point optical transport equipments that use the FPGA chips and easy to upgrade. It is single board structure, and the largest transmission capacity is 16E1. The outer design use the standard 19 inches rack, so the volume is little, weight is light, the operation is convenient and credit.
 
N*E1 PDH Fiber Optic Multiplexers use the PDH fiber transmission technologies. The 2M (E1) interfaces can connect with the exchanger, light loop device and multi-diplexer directly to form the micromini or the special network. Complete alarm function for N*E1 PDH Fiber Optic Multiplexers, it is stable, easy to maintenance and install, small in size. It can support one digital service telephone. Sopto manufacture E1 Fiber modem, 4E1, 8E1, 16E1 Fiber Optical Multiplexer and Chassis.
PDH Multiplexer works great. Does exactly the job you would expect.
8/25/2016
Exactly as described. Will be back.
3/11/2015
PDH multiplexing of 2 Mbit/s to 140 Mbit/s requires 22 PDHmultiplexers:– 16 x 2 DME– 4 x 3 DME– 1 x 4 DME• Also a total of 106 cables required.• Exercise: Show how we got 22 PDH multiplexers and 106
4/1/2014
Great Prices, fast delivery, price guarantee.
7/15/2013
Two thumbs up! Product exactly as advertised, billing painless and super duper fast shipping. Incredibly stoked about the transaction.
7/3/2012
So pleased to have this multiplexer. Performs as promised. Good product! Highly recommended.
6/26/2012