Protocol Converter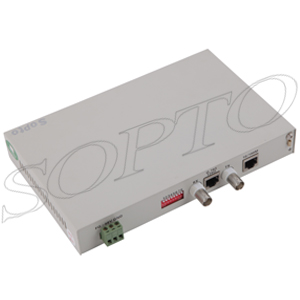 Sopto provides protocol converters for E1/V.35/RS485/RS232 protocol converter, NxE1/ETH with E1/2E1/4E1/8E1/16E1 to ETH/2ETH/4ETH ports and TDM over IP, E1/2E1/4E1 over 1/2ETH ports; there are card types and standalone in 19 inch rack for choice. The E1 interface is 120 ohm or 75 ohm. 220V/110V/48V power supply or both are available.
Sopto protocol converters uses reverse multiplexing technology to transmit 10/100BaseT data with bonding several E1 circuits, thus realizing conversion from 1-8 E1 channels to Ethernet interface. It can transmit signals point-to-point from E1 channel to RJ45 interface to realize connection between E1 channel and Ethernet. Being different from general long-distance bridge, this converter supports flexible configuration of 1 to 4 E1 channels and can detect the number of E1 channel and choose available channel.
In the meantime, a certain difference of transmitting time-extension is allowed among E1 circuits. Line rate is 1968Kbit/s for one E1 channel and the bandwidth can reach 2.048*8Kbit/s for 8 E1 channels. When used in the way of 10/100Mbps half/full duplex, this equipment can be connected with Ethernet exchanger or hub (integrated circuit machine) to expand transmitting distance and application scope of Ethernet by fully using large number of E1 circuits in current telecommunication network. It is an excellent solution for connecting Ethernet broadband. This product can be applied in many fields such as connection of LAN and end points, video ordering, long-distance monitoring and E1 interface card-plugging of Ethernet.
Products
Pictures
Descriptions
E1 to N x ETH Converter
E1/V.35/RS485/RS232 Converter
E1 interface: 120ohm or 75ohm
220V or 110V or 48V power supply or both
N x E1 to ETH Converter
E1/ 2E1/ 4E1/ 8E1/ 16E1 to 1/ 2 or 4 ETH Ports
E1 interface: 120ohm or 75ohm
Mini rack or 19 inch rack
220V or 48V or both
TDMOIP N x E1
TDMOIP E1/2E1/4E1 over 1 or 2 ETH Ports
E1 interface: 120ohm or 75ohm
220V or 110V or 48V power supply or both
E1 to Fiber Converter
1/4/8/FE1/FX or ETH port
SM dual fiber 20km SC/FC connector
E1 Ports: 120Ohm/75Ohm,220V or 48V
V.35 to ETH Converter

V.35/10/100BaseT Converter,Power Supply: 220V or -48V

E1 to V.35 or V.24
E1/V.35 Protocol Converter
E1 Port: 120ohm or 75Ohm
Power supply: 220V or -48V
E1 to RS232 RS422 RS485
E1/4*RS232/RS485/RS422 Converter
ower Supply: 220V or -48V