Splitter CWDM DWDM
SOPTO Fiber Optic Splitter
Fiber optic splitter is used to split a fiber optic beam into several beams at a certain splitting ratio. Fiber optic splitter is one of the key components in FTTH. Fiber optic splitter typical parameter include input and output part cable length, splitting ratio, working wavelength and with what kind of fiber optic connectors. Just like fiber patch cable, fiber splitters are usually with 0.9mm, 2mm or 3mm cables. 0.9mm outer diameter cable is mostly used in stainless steel tube package fiber optic splitters, while 2mm and 3mm cables are mostly used in box type package fiber splitters. Based on working wavelength difference there are single window and dual window fiber optic splitters. And there are single mode fiber splitter and multimode fiber splitters. Typical connectors installed on the fiber optic splitters are FC or SC type.
Depend on the technology used; there are fused fiber splitter and PLC fiber splitter. Fused fiber optic splitter is a traditional type with over 20 years history, it is a mature products, material used to make such products is easy to get so the total cost is small. Fused fiber splitter has many defects, for example, if many output like 1X32, the size of such splitter will be big, its loss is sensitive to working wavelength.
The PLC (Planar Light wave Circuit) Splitters are developed based on silica glass wave-guide process with reliable precision aligned fiber pigtail in a miniature package. PLC fiber splitter has many advantages, one semiconductor could realize 1X32 splitting or more, which help make it a small size, and its loss is not sensitive to the working wavelength.
Sopto supply single mode fused fiber optic splitters; they are available in optional stainless tube package or standard box package. These fiber splitters are single window and dual window types, with optional various kinds of fiber connectors
SOPTO CWDM MUX/DEMUX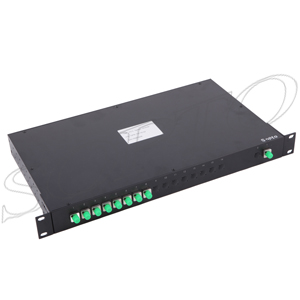 As the need for information is increasing, the need for bandwidth is also increasing. WDM (Wavelength Division Multiplexing) technology was developed to expand capacity of networks single fiber can provide. A WDM system uses a Multiplexer at the transmitter to combine several wavelengths together, each one carry different signal with bite-rate up to 10G and a demultiplexer at the receiver to split them apart. Both Mux and Demux are passive, requiring no power supply.


Nowadays there are two kinds of standardized WDM in existence—Coarse WDM and Dense WDM. Defined by ITU-T G694.2, CWDM systems have channels at wavelengths spaced 20nm apart, compared with 0.4nm spacing for DWDM. This allows the use of low-cost, uncooled lasers for CWDM.
In application, CWDM transceivers are used to transform electronically signal from Routers/switches or other active equipment to optical signal at CWDM wavelength or reversely transform CWDM optical signal to electronically signal.
Sopto is your best one-stop source of transceivers and Passive CWDM filters/modules to meet your application. Sopto provide: Single-fiber single-directional Mux,Demux and OADMs;Dual fiber bi-directional Mux, Demux and OADMs;Single fiber bi-directional Mux, Demux and OADMs;Mux, Demux and OADMs with industry standard package
Received my new splitter a few days after my order. Thanks.
1/6/2017
The splitter came in a good shape and worked very well.
4/28/2016
Good customer service. They helped me pick up the right plc splitter. Very professional employees.
7/8/2015
Very low prices, very quick service, unlock done with absolute success, working perfectly! Recommend and am very pleased with the service.
7/4/2013
Certainly as good quality as any others
9/21/2013
Product performs as advertised, good speeds, sturdy connectors, not flimsy.
7/25/2013
Hey, great service! Set it up last night and it works great. Thanks again for the outstanding service.
7/16/2013