Phone Optical Multiplexer

Product Impression:
Manufacturer: SOPTO

Latest Price: Contact our customer services NOW!

Data Rate: 10/100Mbps, 1000Mbps

Wavelength:
850/1310μm (multi-mode);
1310/1550μm (single-mode)

Number of Channel: 1CH/4CH/8CH/16CH/30CH

E1 Interface: 120ohm or 75ohm

Fiber Types: Single fiber, Dual fiber mode

UTP Cable: UTP category 3, 4, 5, 5e cable, others

Color: Black or as customized

Fiber Connector Type: FC/SC/ST

Interface Type: RJ45, FXO—for switch, FXS—for telephone, E1

Transmission Mode: Half duplex or full duplex

Transmission Distance: 2Km/40Km/60Km/120Km (Default: Single mode/Dual fiber/1310nm/40Km/FC)

Storage Temperature: -55~+85°C

Operating Temperature: 0~75 °C

Operating Humidity: 0%~90% RH no condensing

Storage Humidity: 5%~90% RH no condensing

Dimensions: 483(W) x 44(H) x260(D) mm

Weight: 2.2k g

Power: 220V or 110V or 48V power supply or both; AC220V DC-48V

Power Consumption: ≤30W

Manageable or Unmanageable: Manageable or unmanageable are both available

Application: Telecommunication Fields

Browse the Evaluation: Click here to browse
Performance Feature:
FXS or FXO port

Industrial-level, Modularize design, SMT surface place craftwork

The voice interface supports caller ID display

Suitable for the run standard of carrier class, 50,000 hours lifespan

Can provide anti-pole signals

Transmits signals through 2M circuit

It is supplied with perfect function of status indication to facilitate maintenance and management

Supporting Voice Interface caller ID function

Modularized and industrialized design ensuring reliability and flexibility

Capable of auto resumption of power fuse

Accept the reverse date signal transmitter to computer charge

Flexible the way of supplying power (DC-48V Or AC 220V)
Note: Part in order to prevail in kind. Please contact customer service before buying.
Quality Certification:
Good Anti-electromagnetic interference (EMI)

Good Electromagnetic compatibility (EMC) which is in accordance with FCC Part15.

Meets ISO9001, TUV, CE, FCC, CAS, UL and RoHS certificates
Factory:
Advanced dust-free workshop

Experienced technicians

Mature production technology

Standard production process
Information you want to know more:
Reachable Continents: Asia, Europe, Oceania, Africa, the Americas

Arrival Date: 5 to 7 days

Selectable Logistics: FedEx, DHL, TNT, UPS or EMS

Payment Methods: L/C, T/T, Western Union, HSBC, Paypal as well as Cash Payment

Warranty: 1-3 years

Discounts, Promotions and Gifts: Please just contact our online customer services or pay attention to our website.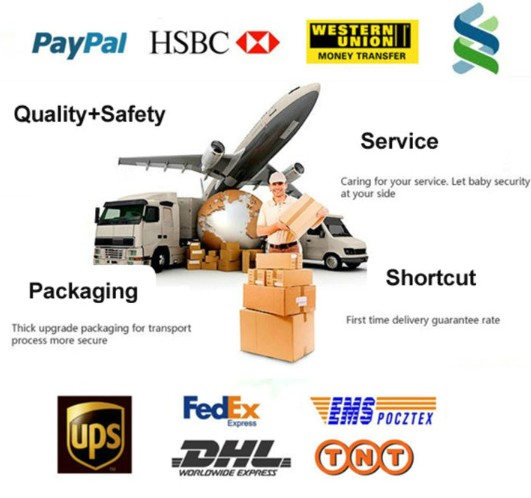 Related Read:
Please pay attention to our SNS pages:
What is the telephone fiber optic multiplexer?
Telephone fiber optic multiplexer is the optical transmission equipment, which is also called Phone Mux or Voice Mux, transmitting the telephone via fiber. It also supplies Ethernet interfaces, E1 and extra service slots to realize other transmission requirement.
Features and advantages of the telephone fiber optic multiplexer
Telephone fiber optic multiplexer is used by ultra-large-scale integrated circuit design, simple appearance, and easy installation and maintenance-free. Stable performance advantages apply to all major telecom providers, government and enterprises. Various channels telephone can be transmitted directly via fiber which can solve the telephone transmission problem for marginal customer. It adopts the digital multiplexing technology with powerful chip.
And it also integrates most of the digital logic functions. The phone optical multiplexer can increase the performance and reduce the cost of product with features of excellent performance, stability and reliability, low power consumption, high integration, small size, easy to install and maintain.
Application diagram of Telephone fiber optic multiplexers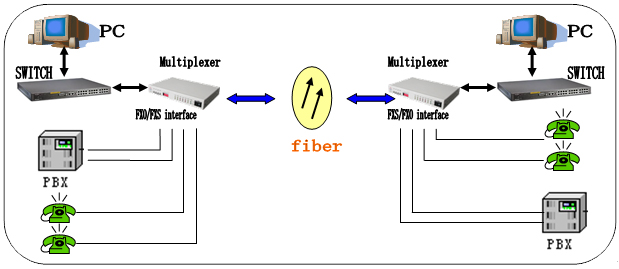 I like the service they offer.
12/5/2016
High quality fair prices!
10/15/2014
Looks really good for price.Really pleased with this purchase.
9/12/2013
Works as expected. recommend!
9/2/2013
Hi, We like to buy the following MUX. 1. 4E1 optical MUX with 02 Ethernet port qty-03 pair. 2. 8 port E1 MUX qty-03 pair 3. 16 port E1 MUX qty-01 pair Please send the price quotation and product catalog.
9/11/2012