10G SFP+ Transceiver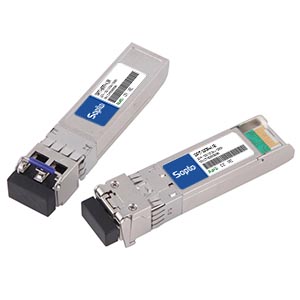 Sopto SFP+ transceiver are multi-purpose optical modules for 10Gbit/s data transmission applications at 850nm, 1310nm and 1550nm. The transceivers are ideally suited for datacom and storage area network (SAN/NAS) applications based on the IEEE 802.3ae and Fibre Channel standards, Fiber Channel 10G, 8.5G, 4.25G, 2.125G, 1.0625G, 10G BASE-SW/SR/LR/ER, 1000 Base-SX Ethernet.
Features
1. Compliant to SFF-8431 SFF-8432
2. Multi rate of up to 11.3Gb/s for Ethernet and SDH/DONET
3. 1G/10G Ethernet compliance
4. Transmission distance up to 100km (SM fiber)
5. Laser Class 1 IEC / CDRH compliant
6. RoHS 6 compliant
7. SFP 10G with CDR both at TX and RX side. Operating Case Temperature: Standard: 0~70°C; Extended: -40~85°C; Industrial: -40~85°C
Application
1. 10GBASE-SR, LR, ER, ZR, ZX at 10.31 / 11.1Gbps
2. 10GBASE-BX at 10.3125 / 11.1 / 11.3 Gb/s
3. SDH/SONET
4. 10GBASE-BX/LW at 9.953 Gb/s
5. 1000 Base-LX Ethernet
6. 8X/4X/2X/1X FC at 8.5/4.25/2.125/1.0625Gbps
Part No.

Description

10GBASE SFP+ Transceiver

SPT-P31TG -LRM

SPT-P85TG-SR

SFP-P13TG-LR

SPT-P55TG-ER

SPT-P55TG-ZR

SPT- P55TG-ZR+

SPT- P55TG-ZR++

8G SFP+ Transceiver for Fibre Channel

SPT-P55TG-80D

SPT-P138G-10D

8G 1310nm 10km DDM SFP+ Transceiver

SPT-P158G-40D
Note
All optical transceivers are RoHS compliant and could be 100% compatible with branding equipment, such as Cisco, Extreme, Juniper, HP, H3C, Linksys, Huawei, Alcatel-Lucent, Foundry, Nortel, Force10 etc.
If you want to know more about the exact information of the specified transceiver, please contact us.
Product was better than expected! Working Perfectly!
10/5/2016
Great selection, competitive prices, great service!
5/13/2015
I think it deserves all the praise it can get.
9/17/2013
We are very happy with them. They were easy to use.
9/3/2013
I 100% trust SOPTO and most definitely be coming back again and again and again and again.
8/29/2013
works great...easy to use. will buy more if i need to.
8/7/2013
It works and it's has a very good price.
7/25/2013
high quality and arrived on time.
7/18/2013
abcdefghijklmno962165647338711
9/19/2012
bcdefghijklmnop582844381261854
9/19/2012
please send prices for 10 units SPT-SFP+-SR regards,
5/29/2012