CWDM SFP
SOPTO CWDM SFP Transceiver Model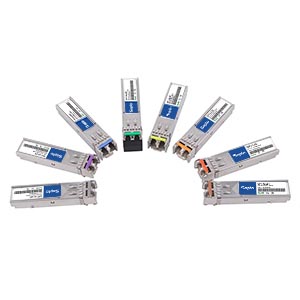 CWDM SFP Transceiver Module is a hot-swappable input/output device that plugs into an SFP port or slot of switch or router, linking the port with the fiber-optic network. The Coarse Wavelength-Division Multiplexing (CWDM) Small Form-Factor Pluggable (SFP) solution allows enterprise companies and service providers to provide scalable and easy-to-deploy Gigabit Ethernet and Fiber Channel services in their networks. The product set helps enable the flexible design of highly available, multiservice networks.
Our CWDM SFP transceiver module provides a convenient and cost-effective solution for the adoption of Gigabit Ethernet and Fiber Channel in campus, data-center, and metropolitan-area access networks.
The CWDM SFP transceiver module can support digital optical monitoring (DOM) functions according to the industry-standard SFF-8472 multisource agreement (MSA). This feature gives the end user the ability to monitor real-time parameters of the CWDM SFP transceiver module, such as optical output power, optical input power, temperature, laser bias current, and transceiver supply voltage. Also you may require the CWDM SFP transceiver module without DOM functions, the cost will be more competitive.
The 1.25Gbps CWDM SFP transceiver modules will be undergone strict qualifying tests. In order to ensure the compatibility with those brands such as Cisco, HP, Juniper, Huawei, etc, we will test the CWDM SFP transceiver module in those related switches and routers. All our CWDM SFP transceiver modules are ROHS compliant, allow for real-time diagnostic monitoring as per SFF-8472 and designed to Multi-Source Agreement (MSA) standards.
SOPTO CWDM SFP Transceiver Main Info
Ring Color: Blue/Yellow/Red/Brown...

Material: Metal

Weight: 0.02kg

Packing Quantity: 200pcs, 400pcs, 600pcs (accept sample order)

Data Rate: 125M/1.25G/2.5G

Wavelength: CWDM 1270nm~1610nm

Fiber Types: Single Mode (SM)

Fiber Connector Type: Duplex LC

Transmission Mode: Duplex

Transmission Distance: 40km, 80km, 120km

Laser Type: CWDM DFB Laser diode transmitter, PIN or APD Receiver

Operating Case Temperature: Standard: 0~70°C; Industrial: -40~85°C

DDM Function: With or without both available

Compatible Brands: Cisco, Finisar, HP, Alctel-Lucent, Juniper, Noterl…
Other Info of our CWDM SFP
Operating Humidity: 0%~90% RH no condensing

Storage Humidity: 5%~90% RH no condensing

Saturated Optical Power: -3dBm

Average Output Power: -28~ -14dBm

Receiver Sensitivity: -31dBm

Supply Current: 351~386mA

Power Supply: +3.3V single power supply

Power Consumption: <3W

Extinction Ratio: 9~17dB

Storage Temperature: -40~85°C

Number of Times of Hot-Pluggable: >200
Performance Feature:
Hot-Pluggable SFP Footprint LC Optical Transceiver

100Mb~10Gb speed rates

Small Form-Factor Pluggable (SFP) MSA compatible

Compliant with IEEE 802.3z Gigabit Ethernet 1000BASE-ZX

Compliant with Fibre Channel 1X SM-LC-L FC-PI

18 Wavelength (λ): 1270 nm to 1610 nm CWDM DFB LD Transmitter

Up to 41dB/1G, 35dB/2.67G, 47dB/100MB Power Budget at Least

AC/AC Coupling according to MSA

Single +3.3 V Power Supply

RoHS Compliant

0 to 70°C or -40 to 85°C operation temperature range.

Class 1 Laser International Safety Standard IEC-60825 Compliant
Application
Gigabit Ethernet

ATM

SONET/SDH

Gigabit Ethernet Switches and Routers

FE/GE/SDH/10G

Fibre Channel Switch Infrastructure

XDSL Applications

Metro Edge Switching
Best products at affordable price!
7/23/2016
I am always happy with my orders and the shipping time and especially the customer service.
9/14/2015
I bought this one. Worked fine. Was very happy with it.
8/29/2013
works really well. Simply buy it.
8/26/2013
No problems with the product and no issues with connection.
7/30/2013
The product came exactly as described and works perfectly fine.
7/29/2013
I just wanted to compliment you on a great site. I assumed that your prices would be competitive, given the quality of your service also good.
7/8/2013