SGMII 100BASE FX SFP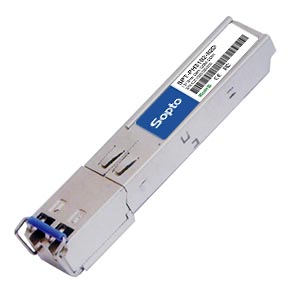 What is SGMII?
The SGMII (Serial Gigabit Media Independent Interface) is a supplement of MII, a standard interface used to connect an Ethernet MAC-block to a PHY. It is utilised for Gigabit Ethernet (contrary to Ethernet 10/100 for MII). It differs from GMII by its low-power and low pin count serial interface (commonly referred to as a SerDes). To carry frame data and link rate information between a 10/100/1000 PHY and an Ethernet MAC, SGMII uses a differential pair for data signals and for clocking signals, with both being present in each direction (i.e., transmit and receive), giving 8 signal lines in total.
Brief introduction of SGMII SFP Transceiver
SGMII SFP is designed for 100BASE-FX and 100BASE-LX applications of 2km/10km with SMF. The transceiver consists of two sections: The standard SFP part and the PHY part built with SGMII interface. The optical output can be disabled by a TTL logic high-level input of Tx Disable, and the system also can disable the module via I2C. Tx Fault is provided to indicate that degradation of the laser. Loss of signal (LOS) output is provided to indicate the loss of an input optical signal of receiver or the link status with partner.

SOPTO SGMII SFP Transceiver Model
Other Information of our SGMII SFP Transceiver
Ring Color: Blue

Material: Metal

Weight: 0.02kg

Packing Quantity: 200pcs, 400pcs, 600pcs (accept sample order)

Laser Type: 1310nm FP laser and PIN photo-detector

Storage Temperature: -40~85°C

Operating Humidity: 0%~90% RH no condensing

Storage Humidity: 5%~90% RH no condensing

Total Jitter (SGMII Series Interface): 0.43 UI

Supply Current: 351~386mA

Power Supply: +3.3V single power supply

Power Consumption: <3W

Number of Times of Hot-Pluggable: >200

Compatible Brands: Cisco, Finisar, HP, Alctel-Lucent, Juniper, Noterl…
Performance Feature:
Meet SFP MSA and SFF-8472 with duplex LC receptacle

Metal enclosure for lower EMI

Transmitter Center Wavelength 1310nm

Data Rate 125Mbps

Soft TX_FAULT monitor

Soft RX_LOS monitor

Soft Tx_Disable control and monitor

With user writable EEPROM
Application
100BASE-FX

Connection Gigabit Ethernet To Fast Ethernet

Switch to Switch interface

Switched backplane applications