10G XFP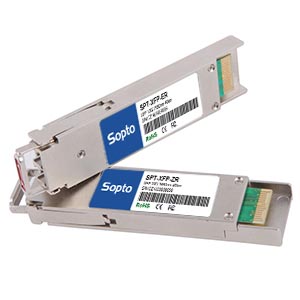 XFP modules are hot-swappable and protocol-independent. They typically operate at near-infrared wavelengths (colors) of 850 nm, 1310 nm or 1550 nm. Principal applications include 10 Gigabit Ethernet, 10 Gbit/s Fibre Channel, synchronous optical networking (SONET) at OC-192 rates, synchronous optical networking STM-64, 10 Gbit/s Optical Transport Network (OTN) OTU-2, and parallel optics links. They can operate over a single wavelength or use dense wavelength-division multiplexing techniques. They include digital diagnostics that provide management that were added to the SFF-8472 standard. XFP modules use an LC fiber connector type to achieve higher density. The XFP specification was developed by the XFP Multi Source Agreement Group. It is an informal agreement of an industry group, not officially endorsed by any standards body. The first preliminary specification was published on March 27, 2002. The first public release was on July 19, 2002. It was adopted on March 3, 2003, and updated with minor updates through August 31, 2005.
SOPTO XFP Module Main Info
Ring Color: Blue/Red/White/Black

Material: Metal

Weight: 0.02kg

Packing Quantity: 200pcs, 400pcs, 600pcs(accept sample order)

Data Rate: 9.95Gb/s to 11.3Gb/s

Wavelength: 850nm/1310nm/1550nm

Fiber Types: 50/1251m MMF/ 62.5/1251m MMF/SMF

Fiber Connector Type: LC

Transmission Mode: Duplex/Simplex

Transmission Distance: 300m (MM), 10km/20km/80km (SM)

Laser Type: 850nm/1310nm/1550nm laser diode transmitter

Operating Case Temperature: Standard: 0~70°C; Industrial: -40~85°C

DDM Function: With

Compatible Brands: Cisco, Finisar, HP, Alctel-Lucent, Juniper, Noterl…
SOPTO XFP Transceiver Model
Other Information of our XFP Module
Operating Humidity: 0%~90% RH no condensing

Storage Humidity: 5%~90% RH no condensing

Saturated Optical Power: -3dBm

Average Output Power: -20~ -14dBm

Receiver Sensitivity: -31~-12.3 dBm

Supply Current: 351~386mA

Power Supply: +3.3V single power supply

Power Consumption: <2.5W

Extinction Ratio: 10~17dB

Storage Temperature: -40~85°C

Number of Times of Hot-Pluggable:>200
Performance Feature:
Compliant with XFP MSA Rev.4.0

XFP 10 Gigabit Transceiver Description

850nm/1310nm/1550nm laser diode transmitter

Support 9.95Gb/s to 11.3Gb/s (data rate: 10 gigabit)

Below 2.5W power consumption

10G XFI interface

XFP MSA package with duplex LC connector

With Digital Diagnostic Monitor Interface

Standard operating temperature range 0°C to 70°C

No reference clock requirement

Hot-pluggable

Good EMI, RoHS compliant
Application
10G Ethernet

10G Fibre Channel

SONET/SDH

switches and routers
XFP Module Block Diagram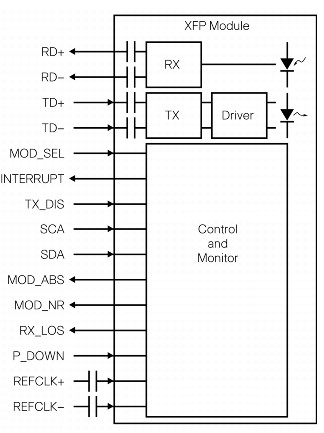 Transmitter :In the transmit direction, the transceiver module receives a 10-Gbps electrical data signal and transmits the data as an optical signal through an electrical to optical converter. The optical output power is held constant by an automatic power control circuit. The transmitter also contains a Clock Data Recovery (CDR) circuit. The function of this circuit is to attenuate and reshape any jitter received on the electrical interface.
Receiver: In the receive direction, the transceiver module receives a 10-Gbps optical signal and converts it to an electrical equivalent. The receiver contains a CDR circuit.
Buy high quality Cisco Compatible XFP10GLR192SR-RGD XFP10GZR192LR-RGD Transceiver from China Supplier with low price and fast shipping.
Much higher product quality than I thought it would be.
11/26/2016
Very satisfied with my order and how quickly It received it.
4/9/2014
good quality product, thank you for the fast shipment.
7/4/2013
good product winds in well. like what i bought. easy to use.
8/28/2013
Very good product!Everything bought is still new and in package!
8/26/2013
It works great and as advertised
7/9/2013