CWDM XFP
SOPTO CWDM XFP Model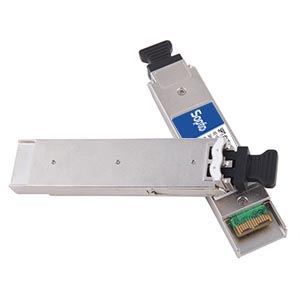 Product Impression:
Manufacturer: SOPTO

Color: Sliver

Material: Metal

Weight: 0.02kg

Packing Quantity: 200pcs, 400pcs, 600pcs

Package Type: CWDM XFP

Data Rate: 10G

Wavelength: 1270nm~1610nm

Fiber Types: 50/125µm MMF, 62.5/125µm SMF

Fiber Connector Type: Duplex LC

Transmission Mode: Half duplex or full duplex

Transmission Distance: 10km, 40km, 80km

Laser Type: Uncooled CWDM DFB laser

Extinction Ratio: 6~17dB

Storage Temperature: -40~85°C

Operating Case Temperature: Standard: 0~70°C; Industrial: -40~85°C

Operating Humidity: 0%~90% RH no condensing

Storage Humidity: 5%~90% RH no condensing

Saturated Optical Power: -0.5dBm

Average Output Power: -20~ -14dBm

Receiver Sensitivity: <-14.5dBm

Supply Current: 351~386mA

Power Supply: +3.3V single power supply

Power Consumption: <2.5W

DDM Function: With or without both available

Number of Times of Hot-Pluggable: >250

Compatible Brands: Cisco, Finisar, HP, Alctel-Lucent, Juniper, Noterl…

Application: SDH, SONET, 10G Fibre Channel, 10G Ethernet…
Performance Feature:
Supports 9.95Gb/s to 11.1Gb/s bit rates

Hot-pluggable XFP footprint

Maximum link length of 10km with SMF

4-Wavelengths Uncooled CWDM DFB laser from1270nm to 1610nm, with Step 20nm

XFP MSA package with duplex LC connector

No reference clock required

Compatible with RoHS

+3.3V power supply

Power dissipation<2.5W

Built-in digital diagnostic functions

Temperature range 0°C to 70°C
CWDM XFP Transceiver Introduction
CWDM XFP transceiver series is designed for single-mode fiber serial optical data communications such as 10G Ethernet 10GBASE-ER/EW/ZR and 10G Fiber Channel 1200-SM-LL-L. The 10G CWDM XFP module operates at a nominal wavelength of CWDM wavelength. There are 18 center wavelengths available from 1270 nm to 1610 nm, with each step 20 nm.
The transceiver offers optimum heat dissipation, low power consumption and excellent electromagnetic shielding. Our 10G CWDM XFP transceiver modules are designed for 10km, 40km, 80km transmission distance with 1270-1330nm or 1470-1610nm working wavelength.
Besides, Cisco CWDM XFP such as CWDM-XFP-1470-1610, CWDM-XFP-1470--1610-80km with stable quality and 100% Cisco compatibility are also provided confidently by us.
Applications List of CWDM XFP Transceiver Module
SDH STM I-64.1 at 9.953Gbps

10GBASE-LR/LW 10G Ethernet

1200-SM-LL-L 10G Fibre Channel

10GE over G.709 at 11.09Gbps

OC192 over FEC at 10.709Gbps

Other optical links, up to 11.1Gbps
I want to thank you for the GREAT price, quality of product, and fast delivery response. How can I not think highly of this company.
10/28/2016
Product arrived quickly!
5/10/2014
Great item. It worked immediately and as advertised, and without shutting down the production switch.
8/30/2012