Video SFP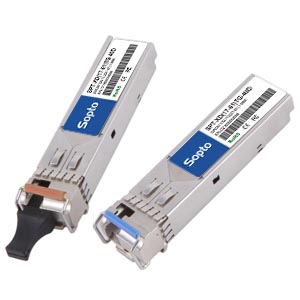 The HD SDI Video SFP module series include Dual Receiver/Transmitter, Single Receiver/Transmitter, WDM as well as CWDM Video SFP module data rates from 50Mbps to 2.97Gbps and is specifically designed for robust performance in the presence of SDI pathological patterns for SMPTE 259M, SMPTE 344M, SMPTE 292M and SMPTE 424M serial rates. The 3G Video SFP module are high performance, cost effective modules. They are compatible with SFP Multi-Source Agreement (MSA) and SFF-8472 and always fully compliant with SMPTE 297M-2006. Dual fiber Video SFP, Single and Dual transmitter video SFP, WDM, and CWDM video SFP modules all could reach up to 40km with DDM function.
SOPTO Video SFP Main Info
Ring Color: Blue/Black/Yellow/Brown

Material: Metal

Weight: 0.02kg

Packing Quantity: 200pcs, 400pcs, 600pcs (accept sample order)

Data Rate: 3G

Wavelength: CWDM, 1310nm Tx/1550nm Rx, 1550nm Tx/1310nm Rx, 1310nm

Fiber Types: Sinlge Mode (SM), Multimode(MM)

Fiber Connector Type: LC/

Transmission Mode: Simplex/Duplex

Transmission Distance: 2km, 20km, 40km

Laser Type: CWDM FP/DFB laser, PIN photodiode

Operating Case Temperature: Standard: 0~70°C; Industrial: -40~85°C

DDM Function: With or without both available

Compatible Brands: Cisco, Finisar, HP, Alctel-Lucent, Juniper, Noterl…
SOPTO 3G-SDI, SD-SDI, HD-SDI Video SFP Transceiver Model
Other Info of SOPTO Video SFP Transceiver

Operating Humidity: 0%~90% RH no condensing

Storage Humidity: 5%~90% RH no condensing

Saturated Optical Power: -3dBm

Average Output Power: -6~ -2dBm

Receiver Sensitivity: <-25dBm

Supply Current: <450mA

Power Supply: +3.3V single power supply

Power Consumption: <2W

Extinction Ratio: 6~15dB

Storage Temperature: -40~85°C

Number of Times of Hot-Pluggable:>200
Performance Feature:
SMPTE 297-2006 compatible

Robust error free transmission of signals from 50Mbps to 3Gbps with up to 30km single-mode fiber

Maximum distance of 10km under worst-case conditions and 3Gbps video pathological signals

Supports video pathological patterns for SD-SDI, HD-SDI and 3G-SDI;

SFP Package; Hot-pluggable

Metal enclosure for lower EMI

+3.3V single power supply

Laser disable pin

Digital diagnostics and control via I²C interface, including

Monitoring laser bias current, average output power, receive optical power, supply voltage and temperature

Alarm reporting when transceiver is at fault

Module ID polling

Compliant ROHS and lead free
Application
Video Fields

SMPTE 297-2006 compatible optical-to-electrical interfaces

HDTV/SDTV Service Interfaces.

3G-SDI, SD-SDI, HD-SDI
always happy with quality of merchandise, as well as fast delivery. wide selection of goods.
12/3/2016
We use lots of these. They have been compatible with Cisco devices. And we used several for the past 6 months and none of them have failed.
6/11/2014
It looks elegant and pretty. I like it very much.
9/12/2013
No problems great price fast shipping.
9/1/2013
this still sounds great. I'm really impressed - it's a simple device that just does what it says it will do with no fuss.
8/29/2013
What a great product this is! The features are great, excellent service!
8/21/2013
Price was very affordable and the quality of work was excellent. I am going to refer them to all my family and friends.
7/10/2013
volume = 1k pa
10/12/2012
i want you to send a spec and price to us, i am interested module which is able to convert HD-SDI to Optic and complying SMPTE 297M
6/13/2012