10G XENPAK
SOPTO 10G XENPAK Transceiver Model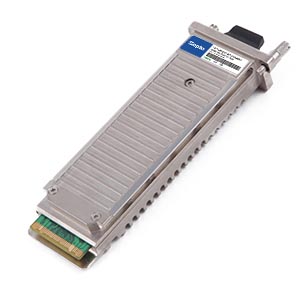 XENPAK is a Multisource Agreement (MSA), instigated by Agilent Technologies and Agere Systems, that defines a fiber-optic or wired transceiver module which conforms to the 10 Gigabit Ethernet (10GbE) standard of the Institute of Electrical and Electronics Engineers (IEEE) 802.3 working group. The MSA group received input from both transceiver and equipment manufacturers during the definition process. XENPAK has been replaced by more compact devices providing the same functionality.
XENPAK modules were supplied for physical layer interfaces supporting multi-mode and single mode fiber optic cables and InfiniBand copper cables with connectors known as CX4. Transmission distances vary from 100 metres (330 ft) to 80 kilometres (50 mi) for fiber and up to 15 metres (49 ft) on CX4 cable. Newer XENPAKs using the 10GBase-LX4 standard operated using multiple wavelengths on legacy multi-mode fibres at distances of up to 300 metres (980 ft), eliminating the need to reinstall cable in a building when upgrading certain 1 Gbit/s circuits to 10 Gbit/s.
SOPTO 10G XENPAK Transceiver Main Info:
Material: Metal

Weight: 0.02kg

Packing Quantity: 200pcs, 400pcs, 600pcs (we accept sample order)

Package Type: 10G XENPAK

Data Rate: 10G

Wavelength: 850nm/1310nm/1550nm

Fiber Types: 50/125µm MMF, 62.5/125µm SMF

Fiber Connector Type: Duplex SC

Transmission Mode: Half duplex or full duplex

Transmission Distance: 300m, 10km, 20km, 40km, 80km

Laser Type: 850nm VCSEL, 1310nm DFB Laser Uncooled, 1550nm Cooled EA-DFB/PIN-PD

Extinction Ratio: 3.5~9dB

Storage Temperature: -40~85°C

Operating Case Temperature: Standard: 0~70°C; Industrial: -40~85°C

Compatible Brands: Cisco, Finisar, HP, Alctel-Lucent, Juniper, Noterl…

Application: 10GBASE Ethernet, SONET/SDH, 10G Fibre Channel…
Performance Feature:
Compatible with XENPAK MSA Rev3.0

Support of IEEE 802.3ae 10G gigabit

XENPAK MSA package with duplex SC connector

With Digital Diagnostic Monitor Interface

Operating temperature range 0°C to 70°C

Hot Pluggable 70-PIN Connector with XAUI Electrical Interface
SOPTO 10G XENPAK Transceiver Other Info:
Operating Humidity: 0%~90% RH no condensing

Storage Humidity: 5%~90% RH no condensing

Saturated Optical Power: -3dBm

Average Output Power: -20~ -14dBm

Receiver Sensitivity: -12.6dBm

Supply Current: 351~386mA

Power Supply: +3.3V single power supply

Power Consumption: <2W

DDM Function: With or without both available

Number of Times of Hot-Pluggable: >200
Transeivers are well constructed, quickly shipped, and operate flawlessly. 
12/13/2016
Thank you for excellent service.
9/9/2014
SOPTO always offered great products and support when needed.
9/11/2013
the service is pretty good I have seen.
8/26/2013