ONU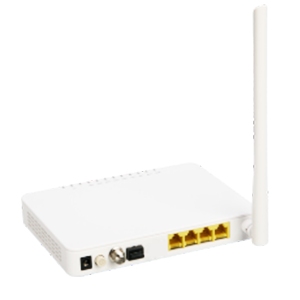 PON is the latest generations of access network technology. IEEE802.3ah is the standard protocol of EPON. ITU-T G.984 is the standard protocol of GPON. PON offers efficient packaging of user traffic, with frame segmentation allowing higher quality of service (QOS) for delay-sensitive voice and video communications traffic. GPON/EPON enables Fiber To The Home (FTTH) deployments economically resulting to accelerated growth worldwide.
ONU of user side provides interface for services like data, internet video, CATV and VOIP, wifi. By applying Ethernet, GEM protocol and so on, to implement transparent transmission of user data in PON system.
DATA ONU for EPON or GPON
1GE Series(Wifi optional)



4FE or GE Series(Wifi optional)
CATV ONU for EPON or GPON
4FE or GE Series, built-in FWDM

4FE or GE Series, Dual Fiber
Sopto provides different types of ONU box with different functions like: 1 FE ports without wifi; 4 Ethernet port with CATV and wifi and so on.
If you want to know more about the exact information of the specified transceiver, please contact us.
Excellent customer service! I received my package today and it is exactly what was described. I would do business with them again. 
11/9/2016
fast shipping. good service. nice quality. nothing to complain.
10/3/2015
Overall I'm very happy with this purchase.
9/27/2013
This is very good product.
9/3/2013
Fast service, extremely good prices, I have this site bookmarked and have recommended this to others.
9/1/2013
Good value for money. Highly recommended
8/27/2013
never have any problems. The price is great!
8/7/2013
For the price it is an awesome product and just the right color!
7/29/2013
looking the review is pretty good ,so I buy your product,it is not disappointed me .
7/18/2013