DWDM SFP+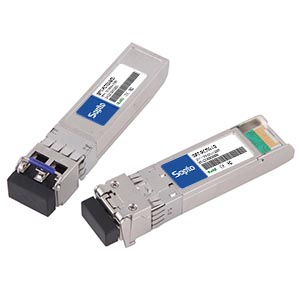 DWDM SFP+ transceiver operates at nominal DWDM wavelengths on the 100GHz grid as defined in the ITU-T 694.1 standard. It is specifically designed for carriers and large enterprises that require a scalable, flexible, cost-effective system for multiplexing, transporting and protecting high-speed data, storage, voice and video applications in point-to-point, add/drop, ring, mesh and star network topologies.
SOPTO provides 10G DWDM SFP+ including DWDM SFP+ ER, DWDM SFP+ ZR, DWDM SFP+ 40km and DWDM SFP+ 80km, which are compatible with Cisco, Finisar and other manufacturers' devices.
SOPTO 10G DWDM SFP+ Main Info
Material: Metal

Weight: 0.02kg

Packing Quantity: 200pcs, 400pcs, 600pcs(accept sample order)

Data Rate: 10G

Wavelength: 1260nm~1620nm

Fiber Types: 62.5/125µm SMF

Fiber Connector Type: Duplex LC

Transmission Mode: Duplex

Transmission Distance: 40km, 80km

Laser Type: DWDM-rated/Cooled EML transmitter and PIN receiver

Operating Case Temperature: Standard: 0~70°C; Industrial: -40~85°C

DDM Function: With or without both available

Compatible Brands: Cisco, Finisar, HP, Alctel-Lucent, Juniper, Noterl…
SOPTO DWDM 10G SFP+ Transceiver Model
Ohter info of our DWSM SFP+
Operating Humidity: 0%~90% RH no condensing

Storage Humidity: 5%~90% RH no condensing

Saturated Optical Power: -3dBm

Average Output Power: -1~ +3dBm

Receiver Sensitivity: -24dBm

Supply Current: <610mA

Power Supply: +3.3V single power supply

Power Consumption: <2W

Extinction Ratio: 8.2~17dB

Storage Temperature: -40~85°C

Number of Times of Hot-Pluggable: >200
Performance Feature:
Compliant with SFF-8431, SFF-8432 and IEE802.3ae

10GBASE-ER, and 2G/4G/ 8G/10G Fiber Channel applications

Suitable for use in 100GHz channel spacing DWDM systems

Cooled EML transmitter and PIN receiver link length up to 80km

Low Power Dissipation 1.5W Maximum

-5ºC to 70ºC Operating Case Temperature

Single 3.3V power supply

RoHS6 compliant and lead free
Application
DWDM Network

10GBASE Network

10G Fibre Channel
Purchased many times and I'd like to buy the fiber products from here much more!
9/5/2015
Never had any problems with this optics. This time is no exception!
5/16/2014
Hello, I need pricing for 4 10G 80KM Cisco and 4 10G 80km HP compatible DWDM SFP+. If you have good pricing we will send you required wavelengths. Thanks
2/7/2013