CWDM SFP+
SOPTO CWDM SFP+ Moddel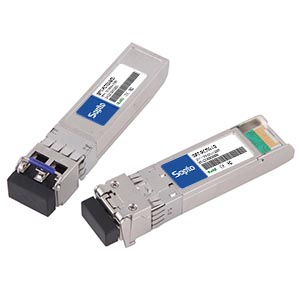 Product Impression:
Manufacturer: SOPTO

Color: Sliver

Material: Metal

Weight: 0.02kg

Packing Quantity: 200pcs, 400pcs, 600pcs

Package Type: CWDM SFP+

Data Rate: 10G

Wavelength: 1270nm~1610nm

Fiber Types: 9/125um Single Mode Fiber(SMF)

Fiber Connector Type: Duplex LC

Transmission Mode: Half duplex or full duplex

Transmission Distance: 40km, 70km, 80km

Laser Type: 1270nm to 1610nm CWDM DFB Laser/Coolded EML transmitter, PIN photo-detector

Extinction Ratio: 8.2~17dB

Storage Temperature: -40~85°C

Operating Case Temperature: Standard: 0~70°C; Industrial: -40~85°C

Operating Humidity: 0%~90% RH no condensing

Storage Humidity: 5%~90% RH no condensing

Saturated Optical Power: -3dBm

Average Output Power: -20~ -14dBm

Receiver Sensitivity: -31dBm

Supply Current: 351~386mA

Power Supply: +3.3V single power supply

Power Consumption: <3W

DDM Function: With or without both available

Number of Times of Hot-Pluggable: >300

Compatible Brands: Cisco, Finisar, HP, Alctel-Lucent, Juniper, Noterl…

Application: 10G CWDM systems, SAN, MAN, LAN…
Performance Feature:
Electrical interface compliant to SFF-8431, SFF-8472 MSA

Hot Pluggable

Duplex LC connector

Low power consumption

All-metal housing for superior EMI performance

Advanced firmware allow customer system encryption information to be stored in transceiver

Cost effective SFP+ solution, enables higher port densities and greater bandwidth

Support long distance transmission
CWDM SFP+ Transceiver Introduction
CWDM SFP+ Transceiver is designed for 8.5G/10G Fiber- Channel applications and to meet specific networking protocols and media requirements. The transceiver consists of two sections: The transmitter section incorporates a cooled EML laser. And the receiver section consists of a PIN photodiode integrated with a TIA.
All modules satisfy class I laser safety requirements. Digital diagnostics functions are available via a 2-wire serial interface, as specified in SFF-8472, which allows real-time access to device operating parameters such as transceiver temperature, laser bias current, transmitted optical power, received optical power and transceiver supply voltage.
This module is designed for single mode fiber and operates at a nominal wavelength of CWDM wavelength. There are 18 center wavelengths available from 1270 nm to 1610 nm, with each step 20 nm. The CWDM characteristics are fully compliant to the wavelength parameters specified in ITU standards G.694.2 and G.695.
SOPTO's 10G CWDM SFP+ is available in CWDM SFP+ 10km, 40km, 80km. Cisco CWDM SFP+ 10G, such as CWDM-SFP-10G-1470-1610 and CWDM-SFP-10G-1470-1610-80km are also available.
Worked perfectly in my project, will come back next time.
8/22/2016
Outstanding communication and service.
3/17/2014
Excellent quality, fast delivery and easy to find on website.
9/15/2013
Return client whose very pleased with their consistent high level of service and support.
9/12/2013
their professionalism continues to impress us. I absolutely recommend for your IT needs.
7/8/2013
So happy to have found this product. really good . I received the order exactly on the estimated date. I am very much satisfied with the delivery.
7/4/2013
Worked as designed. Turned a SFP port into a gig copper port. Good service, fast delivery.
7/25/2012