CWDM SFP+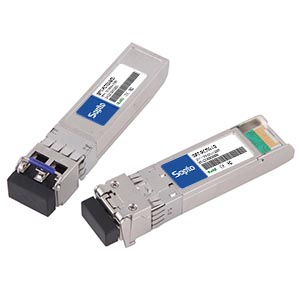 SOPTO CWDM SFP+ transceiver is small form factor pluggable module for bi-directional serial optical data communications such as IEEE 802.3ae 10GBASE-LR/LW/ER/ZR. It is with the SFP 20-pin connector to allow hot plug capability. Digital diagnostic functions are available via an I2C. This module is designed for single mode fiber and operates at a nominal wavelength of CWDM wavelength. There are 18 center wavelengths available from 1270 nm to 1610 nm, with each step 20 nm. A guaranteed minimum optical link budget of 14 dB is offered. The transmitter section uses a CWDM multiple quantum well DFB/EML laser and is a class 1 laser compliant according to International Safety Standard IEC-60825. The receiver section uses an integrated InGaAs detector preamplifier (IDP) mounted in an optical header and a limiting post-amplifier IC.
Features
1. Supports 9.95Gb/s to 11.3Gb/s bit Rates
2. 2G/4G/8G/10G Fibre Channel compliance
3. Compliant to IEEE 802.3ae 10GBASE
4. Power Budget up to 10dB, 14dB, 16dB, 23 dB
5. Maximum Link Length of 80 km at 10.3125Gb/s
6. Uncooled 18-λ CWDM DFB/cooled EML LD: from 1270 nm to 1610 nm
7. Single +3.3 V Power Supply
8. Cass 1 Laser International Safety Standard IEC-60825 Compliant
9. Compliant with SFF-8431, SFF-8432, SFF-8472
10.Operating Case Temperature: Standard: 0~70°C; Extended: -40~85°C ;Industrial: -40~85°C
11.RoHS 6 compliant
Application
1. GBASE-LR/LW/ER/EW/ZR 10G Ethernet
2. GBASE-LR/ER/ZR at 10.31Gbps
3. 10GBASE-LW/EW at 9.95Gbps
4. 10G Fibre Channel
5. Other optical links
SOPTO CWDM SFP+ Transceiver
| | |
| --- | --- |
| Part No. | Description |
| SPT-PC(47-61)TG-ZR | |
| SPT-PC(21-31,47-61)TG-ER | |
| SPT-PC(27-33)TG-LR | |
| SPT-PC(35-45)TG-LR | 10G CWDM SFP+ 10KM Optical Transceiver |
Note
All optical transceivers are RoHS compliant and could be 100% compatible with branding equipment, such as Cisco, Extreme, Juniper, HP, H3C, Linksys, Huawei, Alcatel-Lucent, Foundry, Nortel, Force10 etc.
If you want to know more about the exact information of the specified transceiver, please contact us.
Worked perfectly in my project, will come back next time.
8/22/2016
Outstanding communication and service.
3/17/2014
Excellent quality, fast delivery and easy to find on website.
9/15/2013
Return client whose very pleased with their consistent high level of service and support.
9/12/2013
their professionalism continues to impress us. I absolutely recommend for your IT needs.
7/8/2013
So happy to have found this product. really good . I received the order exactly on the estimated date. I am very much satisfied with the delivery.
7/4/2013
Worked as designed. Turned a SFP port into a gig copper port. Good service, fast delivery.
7/25/2012