Patch Cord Connector Inspection Technique
SOPTO Special Topic
Certificate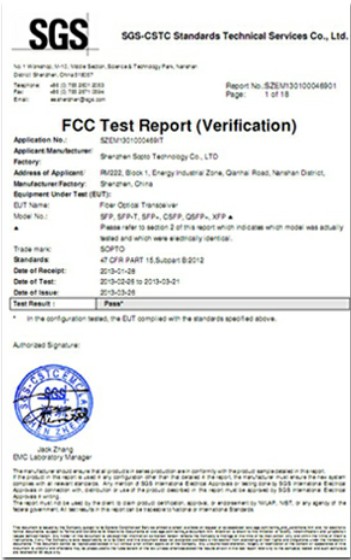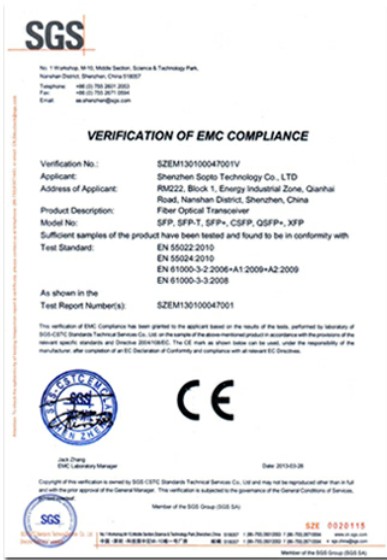 Guarantee
Except products belongs to Bargain Shop section, all products are warranted by SOPTO only to purchasers for resale or for use in business or original equipment manufacturer, against defects in workmanship or materials under normal use (consumables, normal tear and wear excluded) for one year after date of purchase from SOPTO, unless otherwise stated...
Return Policies
Defective products will be accepted for exchange, at our discretion, within 14 days from receipt. Buyer might be requested to return the defective products to SOPTO for verification or authorized service location, as SOPTO designated, shipping costs prepaid. .....
Applications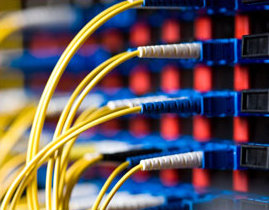 Fiber Patch Cords have a widely application. Where the need for the optical fiber connection, where you need fiber optic patch cords.
Testing Equipment

FTTX+ LAN

Optical Fiber CATV

Optical Communication System

Telecommunication
Related Products
Performance Feature
Good Water-proof

Low insertion loss;

low reflection loss;

Stability, good repeatability;

High-precision ceramic ferrule;

Compatible with NTT standard;

Precision Grinding and fully testing;

Compliance with international standards
Recommended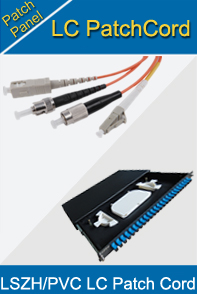 Connector Inspection Technique
This inspection technique is done with the use of fiberscopes in order to view the endface. A fiberscope is a customized microscope used in order to inspect optical fiber components. The fiberscope should provide at least 200x total magnification. Specific adapters are needed to properly inspect the endface of most connector types, for example: 1.25 mm, 2.5 mm, or APC connectors.
Tools
Clean, resealable container for the endcaps

Fiberscope

Bulkhead probe
Figure 1 shows different kinds of fiberscopes.
Figure 1

The bulkhead probe is a handheld fiberscope used in order to inspect connectors in a bulkhead, backplane, or receptacle port. It should provide at least 200x total magnification displayed on a video monitor. Handheld portable monitors are also available. Specific adapters are needed in order to properly inspect the endface of most connector types.
Figure 2 shows a handheld fiberscope with probe and adapter tip for 1.25 mm connector.
Figure 2
Figure 3 shows two types of handheld fiberscopes.
Figure 3

Caution: Read the reminders and warnings before you begin this process.
Complete these steps in order to inspect the connector:
Make sure that the lasers are turned off before you begin the inspection.
Warning: Invisible laser radiation might be emitted from disconnected fibers or connectors. Do not stare into beams or view directly with optical instruments.
Remove the protective cap and store it in a clean resealable container.

Verify the style of connector you inspect and put the appropriate inspection adapter or probe on your equipment.

Insert the fiber connector into the fiberscope adapter, and adjust the focus ring so that you see a clear endface image. Figure 4 shows a clean single mode connector endface.
Figure 4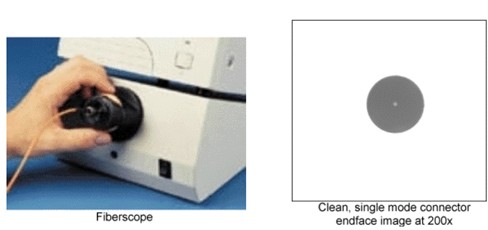 Or, place the tip of the handheld probe into the bulkhead connector and adjust the focus.
Figure 5 shows the handheld probe inserted into a bulkhead connection.
Figure 5

On the video monitor, verify that there is no contamination present on the connector endface.
Tip: See the examples in " Sample Images of Contamination Conditions" for illustrations of different types of contamination.
Clean the endface and reinspect, as necessary. Refer to the appropriate section:
Immediately plug the clean connector into the mating clean connector in order to reduce the risk of recontamination.
Related Knowledge: