Acceptable and Unacceptable Fiber Connector End-Face Finishes
For measurement of the performance criteria, Back-reflection and Insertion Loss, there are meters available which are generally familiar to polishers. The geometrical criteria, Apex Offset, Radius of Curvature, and Fiber Undercut are confirmed by using an Interferometer.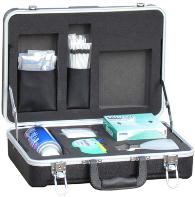 Visual inspection will always play an important role in evaluating the polished surface (see diagram below), but the now increasingly used interferometer is needed to confirm geometry.
Acceptable & Unacceptable Fiber Connector End-Face Finishes
Interferometers are available from a number of sources, ranging from those which provide a monitor from which the user determines product acceptability, to computer aided programs that provide a printed readout which includes all performance and geometric characteristics of the connector.
Sopto supply fiber optic patch cords with good quality fiber optic connectors, like LC, ST, FC, SC and so on. For the newest quotes, please contact a Sopto representative by calling 86-755-36946668, or by sending an email to info@sopto.com. For more info, please browse our website.