Guide to Identify Fiber Optic Connectors
SOPTO Special Topic
Certificate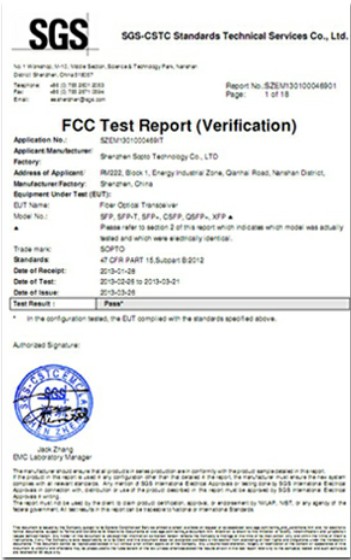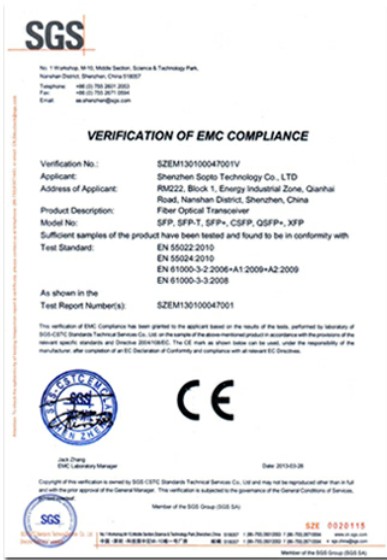 Guarantee
Except products belongs to Bargain Shop section, all products are warranted by SOPTO only to purchasers for resale or for use in business or original equipment manufacturer, against defects in workmanship or materials under normal use (consumables, normal tear and wear excluded) for one year after date of purchase from SOPTO, unless otherwise stated...
Return Policies
Defective products will be accepted for exchange, at our discretion, within 14 days from receipt. Buyer might be requested to return the defective products to SOPTO for verification or authorized service location, as SOPTO designated, shipping costs prepaid. .....
Applications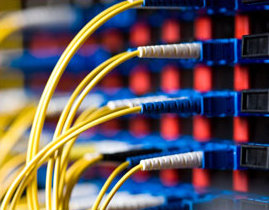 Fiber Patch Cords have a widely application. Where the need for the optical fiber connection, where you need fiber optic patch cords.
Testing Equipment

FTTX+ LAN

Optical Fiber CATV

Optical Communication System

Telecommunication
Related Products
Performance Feature
Good Water-proof

Low insertion loss;

low reflection loss;

Stability, good repeatability;

High-precision ceramic ferrule;

Compatible with NTT standard;

Precision Grinding and fully testing;

Compliance with international standards
Recommended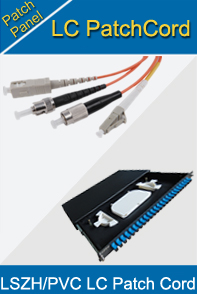 Guide to Identify Fiber Optic Connectors
ST (an AT&T Trademark) is the one of the most popular connectors for multimode networks, like most buildings and campuses. It has a bayonet mount and a long cylindrical ferrule to hold the fiber. Most ferrules are ceramic, but some are metal or plastic. And because they are spring-loaded, you have to make sure they are seated properly. If you have high loss, reconnect them to see if it makes a difference.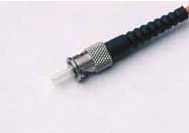 FC/PC has been one of the most popular singlemode connectors for many years. It screws on firmly, but make sure you have the key aligned in the slot properly before tightening. It's being replaced by SCs and LCs.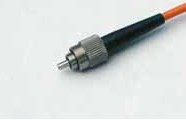 SC is a snap-in connector that is widely used in singlemode systems for it's excellent performance and multimode systems because it was the first connector chosen as the standard connector for TIA-568 (now any connector with a FOCIS standard is acceptable.) It's a snap-in connector that latches with a simple push-pull motion. It is also available in a duplex configuration.
The ST/SC/FC/FDDI/ESON connectors have the same ferrule size - 2.5 mm or about 0.1 inch - so they can be mixed and matched to each other using hybrid mating adapters. This makes it convenient to test, since you can have a set of multimode reference test cables with ST or SC connectors and adapt to all these connectors.
From the top: ST>FC, SC>FC, SC>ST
LC uses a 1.25 mm ferrule, half the size of the ST. Otherwise, it's a standard ceramic ferrule connector, easily terminated with any adhesive. Good performance, highly favored for singlemode and the connector of choice for multimode transceivers for gigabit speeds and above, including multimode Ethernet and Fibre Channel.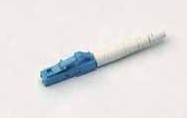 MT-RJ is a duplex connector with both fibers in a single polymer ferrule. It uses pins for alignment and has male and female versions. Multimode only, field terminated only by prepolished/splice method. Basically obsolete.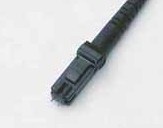 Optic-Jack is a neat, rugged duplex connector cleverly designed around two ST-type ferrules in a package the size of a RJ-45. It has male and female (plug and jack) versions.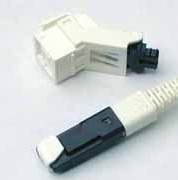 Volition is a simple, inexpensive duplex connector that uses no ferrule at all. It aligns fibers in a V-groove like a splice. Plug and jack versions, but one can field terminate jacks only.
MU looks a miniature SC with a 1.25 mm ferrule. It's more popular in Japan.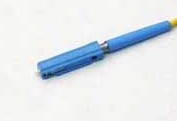 MTP/MPO is a 12 fiber connector for ribbon cable. It's main use is for preterminated cable assemblies.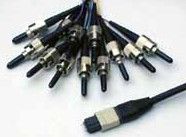 Related Knowledge: