Review these reminders and warnings before you inspect and clean
SOPTO Special Topic
Certificate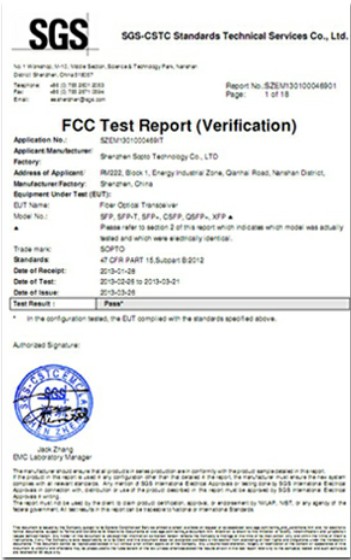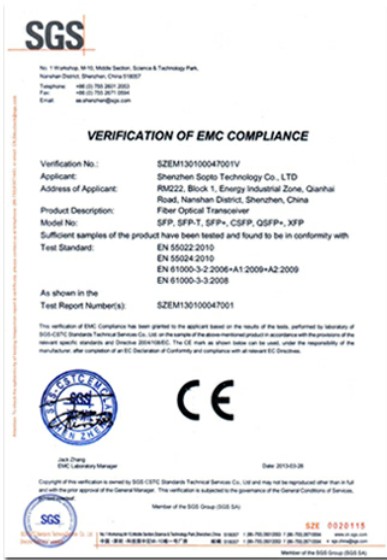 Guarantee
Except products belongs to Bargain Shop section, all products are warranted by SOPTO only to purchasers for resale or for use in business or original equipment manufacturer, against defects in workmanship or materials under normal use (consumables, normal tear and wear excluded) for one year after date of purchase from SOPTO, unless otherwise stated...
Return Policies
Defective products will be accepted for exchange, at our discretion, within 14 days from receipt. Buyer might be requested to return the defective products to SOPTO for verification or authorized service location, as SOPTO designated, shipping costs prepaid. .....
Applications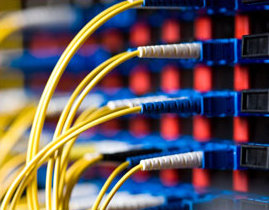 Fiber Patch Cords have a widely application. Where the need for the optical fiber connection, where you need fiber optic patch cords.
Testing Equipment

FTTX+ LAN

Optical Fiber CATV

Optical Communication System

Telecommunication
Related Products
Performance Feature
Good Water-proof

Low insertion loss;

low reflection loss;

Stability, good repeatability;

High-precision ceramic ferrule;

Compatible with NTT standard;

Precision Grinding and fully testing;

Compliance with international standards
Recommended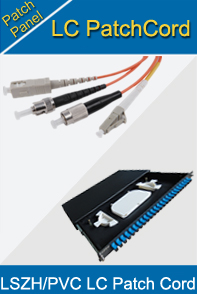 Review these reminders and warnings before you inspect and clean your fiber-optic connectors
Reminders
Always turn off any laser sources before you inspect fiber connectors, optical components, or bulkheads.

Always make sure that the cable is disconnected at both ends or that the card or pluggable receiver is removed from the chassis.

Always wear the appropriate safety glasses when required in your area. Be sure that any laser safety glasses meet federal and state regulations and are matched to the lasers used within your environment.

Always inspect the connectors or adapters before you clean.

Always inspect and clean the connectors before you make a connection.

Always use the connector housing to plug or unplug a fiber.

Always keep a protective cap on unplugged fiber connectors.

Always store unused protective caps in a resealable container in order to prevent the possibility of the transfer of dust to the fiber. Locate the containers near the connectors for easy access.

Always discard used tissues and swabs properly.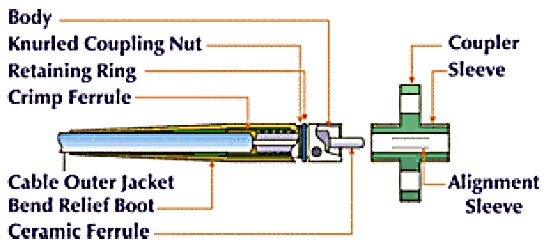 Warnings
Never use alcohol or wet cleaning without a way to ensure that it does not leave residue on the endface. It can cause damage to the equipment.

Never look into a fiber while the system lasers are on.

Never clean bulkheads or receptacle devices without a way to inspect them.

Never touch products without being properly grounded.

Never use unfiltered handheld magnifiers or focusing optics to inspect fiber connectors.

Never connect a fiber to a fiberscope while the system lasers are on.

Never touch the end face of the fiber connectors.

Never twist or pull forcefully on the fiber cable.

Never reuse any tissue, swab or cleaning cassette reel.

Never touch the clean area of a tissue, swab, or cleaning fabric.

Never touch any portion of a tissue or swab where alcohol was applied.

Never touch the dispensing tip of an alcohol bottle.

Never use alcohol around an open flame or spark; alcohol is very flammable.
Best Practices
Resealable containers should be used to store all cleaning tool, and store endcaps in a separate container. The inside of these containers must be kept very clean and the lid should be kept tightly closed to avoid contamination of the contents during fiber connection.

Never allow cleaning alcohol to evaporate slowly off the ferrule as it can leave residual material on the cladding and fiber core. This is extremely difficult to clean off without another wet cleaning and usually more difficult to remove than the original contaminant. Liquid alcohol can also remain in small crevices or cavities where it might re-emerge.