Tips for Buying 10G XFP Transceivers
SOPTO Special Topic
Certificate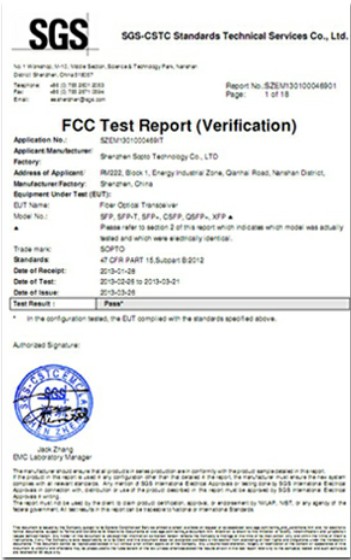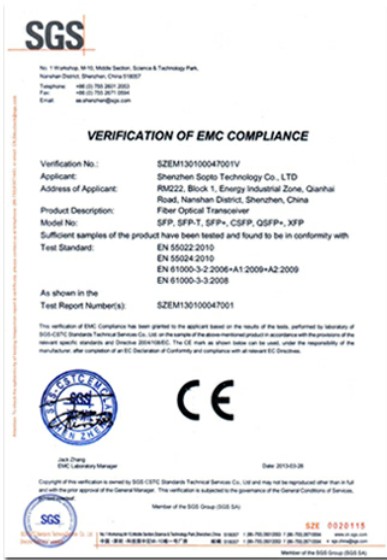 Guarantee
Except products belongs to Bargain Shop section, all products are warranted by SOPTO only to purchasers for resale or for use in business or original equipment manufacturer, against defects in workmanship or materials under normal use (consumables, normal tear and wear excluded) for one year after date of purchase from SOPTO, unless otherwise stated...
Return Policies
Defective products will be accepted for exchange, at our discretion, within 14 days from receipt. Buyer might be requested to return the defective products to SOPTO for verification or authorized service location, as SOPTO designated, shipping costs prepaid. .....
Applications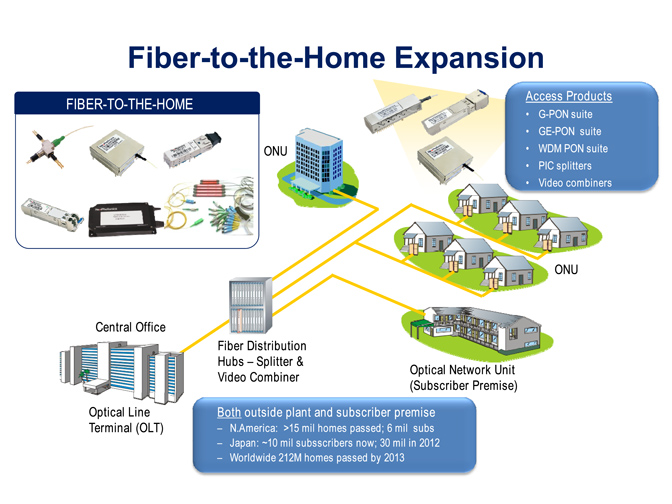 Fiber Optic Transceiver Modules can be applied to these occasions or fields.
Ethernet

IPTV

FTTX

Security

Video Monitor

SDH/SONET

Data Communication

Storage Area Networks
Performance Feature
Stable
Low cost
Small size
Economic
Dust-proof
High speed
Hot-pluggable
Good EMI, EMC
Wide appliaction field
DDM function available
Long transmission distance
Good Anti-static performance
Recommended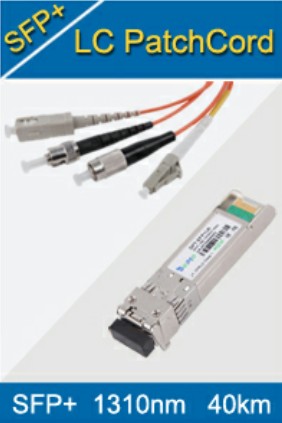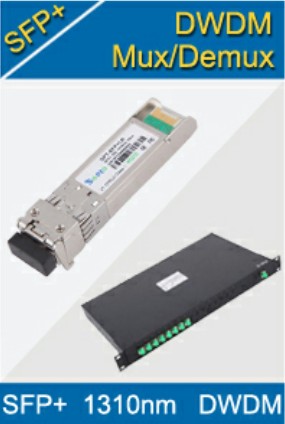 Tips for Buying 10G XFP Transceivers
In optical communication networks, there are many tools and gadgets fundamental to performing smooth technical processes. One particular system is called an optical transceiver. It's any device you can use like a transmitter and receiver at the same time. A transceiver has two functions that it's both a transmitter and receiver which are combined to form a unit and use the same channels. The circuits will not be shared in some cases, when it is called a transceiver.
Optical transceivers can be found in various devices, including SFP, GBIC, SFP, XFP and X2 etc.. They are most often used in computers, telephones and radios. In its simplest sense, a transceiver is widely used for computer networking purposes. Whenever you discuss networking, you immediately come to think of neighborhood networks and Ethernet standards. Well, the thing is, some types of Ethernet networks require the utilization of specific types of transceivers in order to work.
You might not be a technically inclined person, but there may come a time when you need so that you can buy the right kind of transceiver for your neighborhood connection at home or the office. If you are left clueless relating to this, chance are, you won't be able to order the right item. For instance, if you are looking for 10G XFP Transceivers, you must know about something to get transceivers at very reasonable rates prior to making your decision.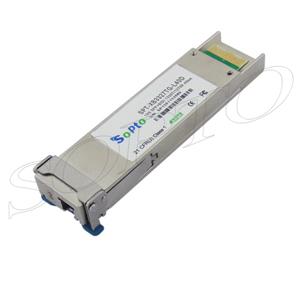 10G 1330nm 40km BIDI XFP Transceiver
With the advancement in technology, increasingly more equipment with latest techniques are being introduced every day. The XFP transceiver is a little form factor hot pluggable component intended for 10G system applications consisting Fibre Channel as well as 10GbE. The developed recognized standard with this transceiver is called XFP MSA, which was created by various companies including JDSU, Tyco and Finisar.
XFP transceiver is a protocol autonomous optical translation device. It's utilized in various applications such as 10Gbps SDH/SONET, DWDM fiber optic networks and related applications. The XFP transceivers satisfy the relation to MSA launched by various popular companies on the market today. There are numerous kinds of XFP transceivers available in the market, including 10GBASE-ZR XFP, 10GBASE-ER XFP, 10GBASE-LR XFP, and 10GBASE-SR XFP. The most popular and widely used is 10GBASE-SR XFP which has a working distance of 300 meters maximum via OM3 MMF. The other types of XFP function with SMF:
The maximum distance of 10GBASE-LR XFP is 10 kilometers via 1310 nm SMF;

The maximum distance of 10GBASE-ER XFP is 40 kilometers via 1550nm SMF;

The utmost distance of 10GBASE-ZR XFP is 80 kilometers via SMF.
After the launch of X2 transceivers and XENPAK, these XFP transceivers are thought is the new invention 10G solution. There are various companies available out there who develop 10G XFP transceivers.
You can purchase these transceivers from your local retail store or over the web. There are various firms that get their personal websites on the internet where you can order your transceivers straight from your house. Buying a top quality transceiver has become only one look away. However, the most challenging thing is to find a reliable website that gives top quality product at affordable rates. Therefore, enough time has to become put in to look for a reliable website. Two most widely used and reliable brands of transceivers are Cisco and Juniper. Make sure you perform some reading on the web for reviews and testimonials from people who have used these brands. This will help you create a more informed purchase decision and steer clear of investing dollars on gadgets you don't actually need.
However, the Cisco or Juniper XFPs are too expensive. I suggest you think about the Compatible ones which have the same functions and ideal compatibility ideal for Cisco, Juniper, Finisar, etc.. These XFP transceivers are also developed on the basis of international industrial standards and are severely checked for compatibility with tools and devices from large organizations in industry. It is important is the fact that Compatible XFP transceivers are extremely cost-effective with only one tenth of original price!
Sopto supply high quality fiber optical transceivers, like 10G 1550nm 40km XFP Optical Transceiver  and 40km DWDM XFP Optical Transceiver and other optical transceiver with lower price. For the newest quotes, please contact a Sopto representative by calling 86-755-36946668, or by sending an email to info@sopto.com. For more info, please browse our website.
You May Like: