3 Reasons Every Network Needs GLC-LH-SM Transceiver
SOPTO Special Topic
Certificate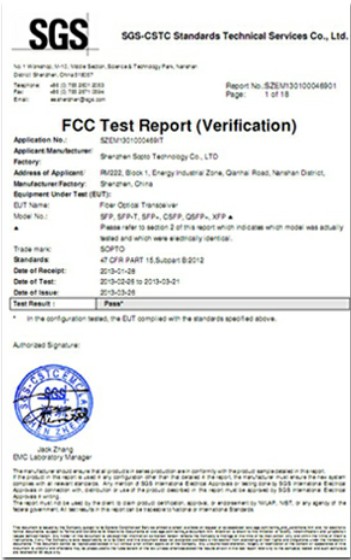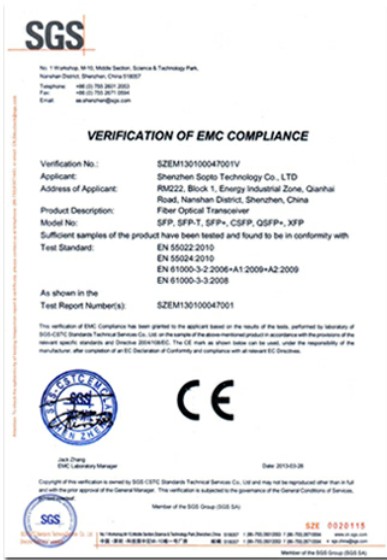 Guarantee
Except products belongs to Bargain Shop section, all products are warranted by SOPTO only to purchasers for resale or for use in business or original equipment manufacturer, against defects in workmanship or materials under normal use (consumables, normal tear and wear excluded) for one year after date of purchase from SOPTO, unless otherwise stated...
Return Policies
Defective products will be accepted for exchange, at our discretion, within 14 days from receipt. Buyer might be requested to return the defective products to SOPTO for verification or authorized service location, as SOPTO designated, shipping costs prepaid. .....
Applications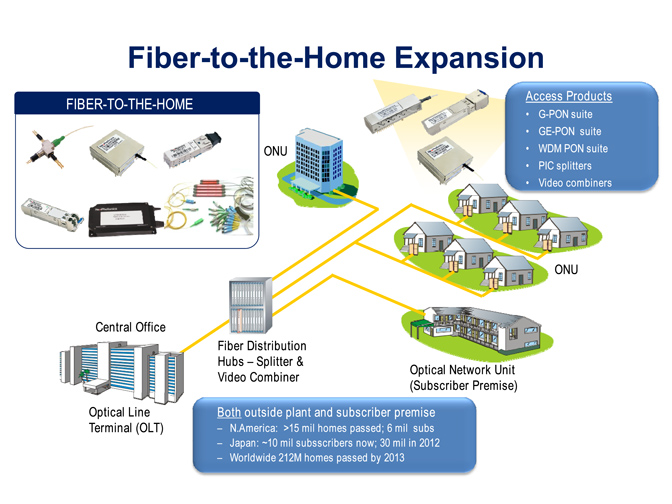 Fiber Optic Transceiver Modules can be applied to these occasions or fields.
Ethernet

IPTV

FTTX

Security

Video Monitor

SDH/SONET

Data Communication

Storage Area Networks
Performance Feature
Stable
Low cost
Small size
Economic
Dust-proof
High speed
Hot-pluggable
Good EMI, EMC
Wide appliaction field
DDM function available
Long transmission distance
Good Anti-static performance
Recommended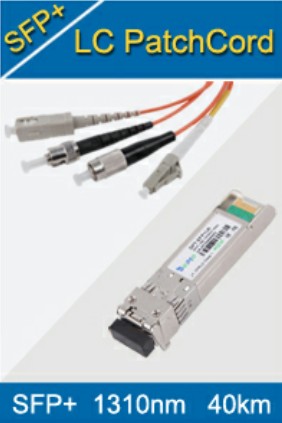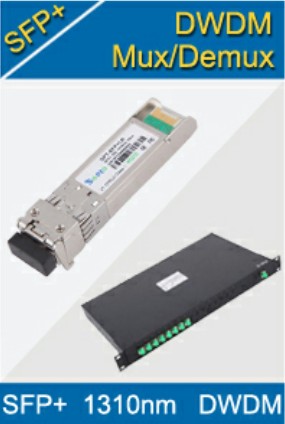 3 Reasons Every Network Needs GLC-LH-SM Transceiver
Fiber Optic technology has been around for several decades now, and is the go to media for network backbone and other high-demand applications, as it is generally offers significantly greater bandwidth than traditional copper. But, aside from a few notable examples such as the optical audio interfaces found on high end stereo equipment, fiber optic technology has not caught on as a traditional end use product.
A large part of the reason for this is the more expensive nature of the media. Fiber optic cables are made of a specialized glass-like material that costs a good bit more to manufacture than traditional copper networking cables. But in recent years, as technology
has improved, the price of fiber optic media has fallen to the degree as to be affordable for networking applications on a smaller scale than previously was feasible.
The main obstacle that has remained to widespread adoption of fiber optic networking has been the extremely high precision demands and delicate construction that come along with the media. Copper Ethernet cables are able to withstand relatively rough treatment, and even a damaged cable can sometimes continue functioning, if intermittently, as long as the copper connection is intact.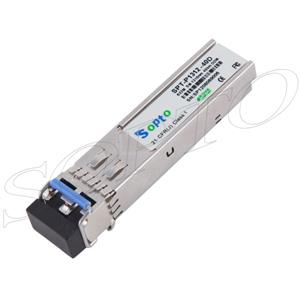 1310nm 40km 622M SFP Transceiver
Fiber optic cables, on the other hand, must be treated more carefully, and damage or defects to the cable can often render it useless (though it should be noted that fiber optic media's imperviousness to magnetic interference is a definite advantage it enjoys over copper media). In addition, the interfaces on either end of the cable have often been required to be very expensive, highly complex transceivers that required a large amount of intricate configuration to perform optimally.
With Cisco Compatible GLC-LH-SM fiber optic transceivers, those obstacles are a thing of the past. Here's three ways the GLC-LH-SM transceiver makes fiber optic networking possible.
1) No configuration needed - The GLC-LH-SM transceiver does not need to be configured to begin functioning, and offers internal calibration to optimize data throughput. External calibration is also available for more stringent applications, where required.
2) Hot Swappable - Not requiring intricate configuration means Cisco was able to make the GLC-LH-SM transceivers hot-swappable, a major development in fiber optic networking technology. Previously, a transceiver failure generally meant a lengthy amount of network downtime, as not only did the replacement have to be configured in itself, but other major network components would have to be taken offline to prepare for installation of the new transceiver. With the GLC-LH-SM, you just pull the inoperative unit, pop in the replacement, and your network is back off to the races.
3) Single or Multimode operation - Whether you need a network solution that covers a long distance, or you need the huge bandwidth of fiber optic, the GLC-LH-SM transceiver has things covered. Single mode allows data transmission over distances exceeding 10km, useful for very large research facilities, hospitals, or university campuses. And multi-mode opens the data floodgates, giving you a maximum throughput upwards of 1.25 Gbps.
The GLC-LH-SM fiber optic transceiver by Cisco presents a sea change in the ease of incorporating fiber optic technology - previously the purview of carrier-grade networks - into enterprise networking. It does this by making the implementation of fiber optics essentially as simple as installing a traditional Ethernet router. And, being hot swappable, it can be assured that these transceivers will acquit themselves well over the life of the network. Finally, by offering the choice of single or multimode operation, Cisco has delivered.
Sopto supply high quality fiber optical transceivers, like 2.125G 1310nm 10km SM DDM SFP Transceiver Module and 4.25G 1310nm SFP Optical Transceiver, besides Compatible GLC-LH-SM transceiver with lower price. For the newest quotes, please contact a Sopto representative by calling 86-755-36946668, or by sending an email to info@sopto.com. For more info, please browse our website.
You May Like: