Form Factors and Application of Ethernet Media Converter
SOPTO Special Topic
Certificate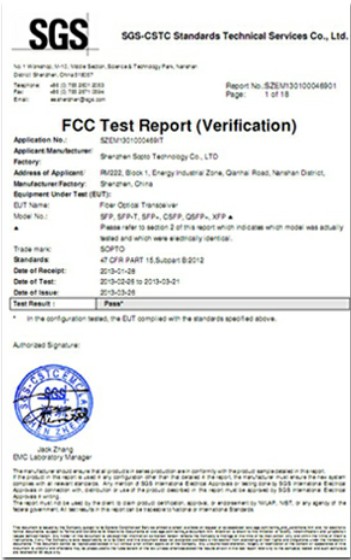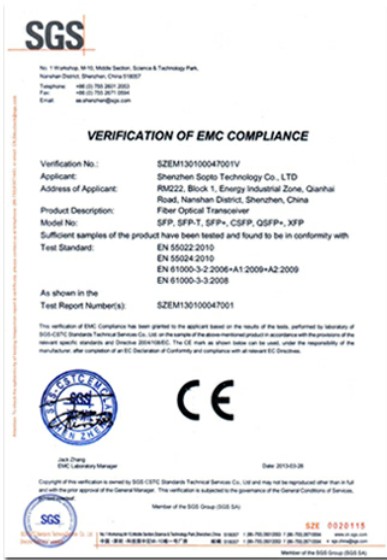 Guarantee
Except products belongs to Bargain Shop section, all products are warranted by SOPTO only to purchasers for resale or for use in business or original equipment manufacturer, against defects in workmanship or materials under normal use (consumables, normal tear and wear excluded) for one year after date of purchase from SOPTO, unless otherwise stated...
Return Policies
Defective products will be accepted for exchange, at our discretion, within 14 days from receipt. Buyer might be requested to return the defective products to SOPTO for verification or authorized service location, as SOPTO designated, shipping costs prepaid. .....
Applications
An Ethernet to Fiber Media Converter can also be used where there is high level of electromagnetic interference or EMI which is a common phenomenon found in industrial plants. This interference can cause corruption of data over copper-based ethernet links. Data transmitted over fiber optic cable however is completely immune to this type of noise. An Ethernet to Fiber Optic Converter therefore enables you to inter-connect your copper-ethernet devices over fiber ensuring optimal data transmission across the plant floor.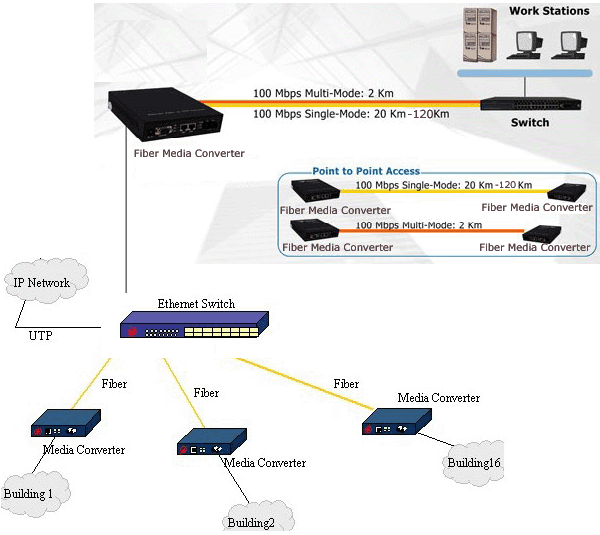 Related Products
Performance Feature
Recommended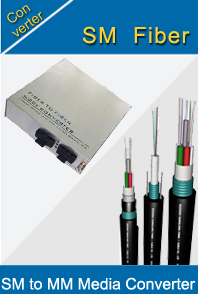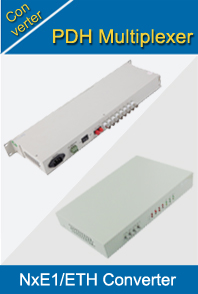 Form Factors and Application of Ethernet Media Converter
There are typically three styles of Ethernet Media Converters: 1) Standalone units with completely enclosed cases, 2) Card based chassis only models and 3) DIN Rail Mount Industrial Models. Standalone converters are typically used in locations where only one or two conversions are needed. The chassis based options are often used in large MDF or IDF locations where multiple fiber links are converted to UTP.
The DIN Rail Mount Industrial Ethernet Media Converters as the name would suggest are used in large manufacturing plants where harsh conditions and limited space and power options make it ideally suited. Note: some standalone unmanaged models can also be used in special multi-slot chassis designed specifically for them.
Standalone Unit &   Card Based Chassis &DIN Rail Mount Industrial
Unmanaged or "plug and play" Ethernet Media Converters are easy to install and trouble shoot. The disadvantage with unmanaged converters is when a network issue is occurring, there is no way to access the Ethernet Media Converter to see exactly what might be causing the issue. Many chassis based Ethernet Media Converter solutions feature an option for an SNMP card that shows statistics and overall health of all the media converters in the chassis. This is helpful when you have multiple chassis filled with Ethernet Media Converters in a large data center. Additionally, there are standalone Ethernet converters on the market today that support SNMP management.
This diagram shows a typical application where Ethernet Media Converters connect to Ethernet Switches by way of Multimode fiber and UTP copper cabling.
Sopto also supply high quality protocol converters like E1 to Fiber Converter, V.35 to ETH Converter and N x E1 to ETH Converter and so on for network protocols conversion. For the newest quotes, please contact a Sopto representative by calling 86-755-36946668, or by sending an email to info@sopto.com. For more info, please browse our website.