How to Strip and Clean Fiber-Optic Cable?
SOPTO Special Topic
Certificate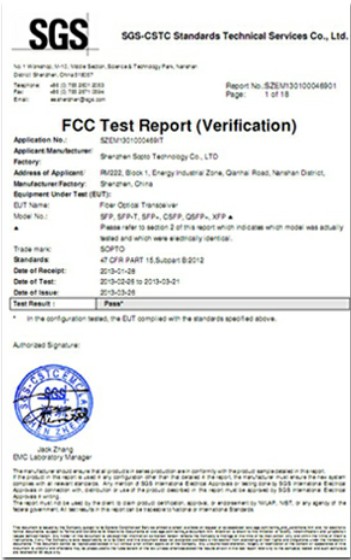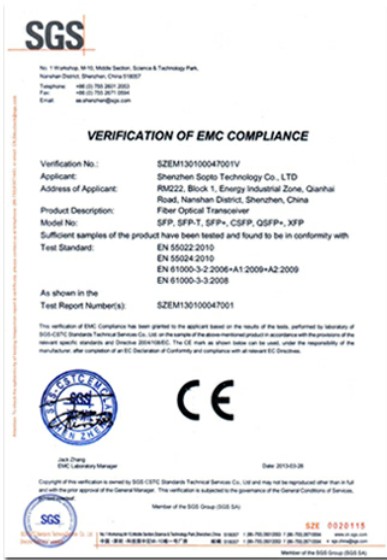 Guarantee
Except products belongs to Bargain Shop section, all products are warranted by SOPTO only to purchasers for resale or for use in business or original equipment manufacturer, against defects in workmanship or materials under normal use (consumables, normal tear and wear excluded) for one year after date of purchase from SOPTO, unless otherwise stated...
Return Policies
Defective products will be accepted for exchange, at our discretion, within 14 days from receipt. Buyer might be requested to return the defective products to SOPTO for verification or authorized service location, as SOPTO designated, shipping costs prepaid. .....
Applications
Fiber Optis can be used in so many fields:
Data Storage Equipment

Interconnects,Networking

Gigabit Ethernet

FTTx, HDTV,CATV

Aerospace & Avionics

Data Transfer Tests

Network Equipment

Broadcast Automotive

Electronics,Sensing

Oil & Gas, Imaging

Outside Plant,Central Office

Harsh Environment

Data Transmission

Illumination,Institutions

Ship to Shore,Education

Simulation,Military,Space

Unmanned Aerial Vehicles

Semiconductor Equipment

Diagnostics & Troubleshooting

Premise Networks Carrier Networks

Independent Telecommunication Providers
Performance Feature
Recommended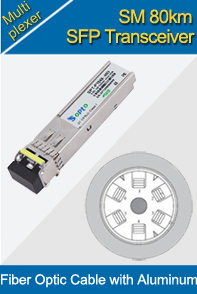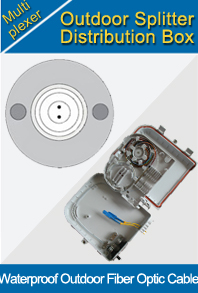 How to Strip and Clean Fiber-Optic Cable?
To strip and clean outdoor FO cable, you have to start with the outer jacket.
Step 1: Mark the armor (if the cable has armor) with the tip of your knife to note a length sufficient to expose the cable's ripcord, being careful not to go through the armor and cut the ripcords.
Step 2: Cut and remove the armor at this mark to expose the two ripcords (usually one each on opposite sides of cable).
Step 3: Nick the armor on each side with your knife to provide a starting point for the ripcords. Get a good grip on one ripcord and pull at 90 degrees to the cable; it will cut through the armor and jacket with ease. Do the same with the other ripcord, and the outer jacket and armor will come off in two pieces, with no strain on the cable itself? (With some cables, you'll find a gel-type adhesive on the cable under the armor, which you'll need to clean off at this point. There are many products on the market; make sure you use a safe, environmentally friendly, and effective product.)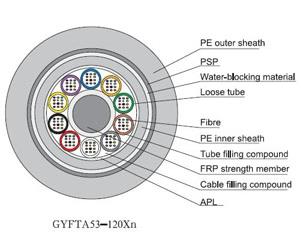 Outdoor Non-metallic armored cable
Now you can move onto the inner jacket.
Step 1: Cut and remove a few inches of the inner jacket at the end of the cable to expose one or two ripcords.
Step 2: Nick the jacket and mark it to the length you want removed. Remember, the fibers inside have little protection, so use the knife sparingly.
Step 3: Grip the ripcords and pull to remove the inner jacket. This will expose nylon binding strings and a plastic covering over the fiber units.
Step 4: Using a small binder cord cutter (which is quite similar to a seam ripper), cut the cords. Cutting every second or third is enough.
Step 5: Using a wipe well soaked with gel remover, wipe the cable. As the gel dissolves, the binder threads will come off. Make sure you remove all of the gel.
Step 6: Unwind the loose tubes from around the center strength member. Cut off the filled tubes and discard them. Loose tubes have a bend memory; to make a neat bundle some technicians prefer to heat them with a heat gun or even a hair dryer to straighten them out. This writer's preference is to leave well enough alone and not look for trouble.
Step 7: Attach the strength member to the enclosure.
Step 8: Remove the buffer tube. You'll find the same gel on the fibers in this tube. This buffer tube is extremely hard plastic; if you over bend this tube, it will kink and break the fibers inside. Using a small cutter, cutting around the tube, being careful, and don't cut through it. Then, grasp the tube on each side of the cut with the thumb and forefinger of each hand. Bend it each way carefully to make it snap.
Step 9: Carefully clean the gel from the fibers using an appropriate cleaner. Make sure you have good ventilation and a way of disposing your wipes.
One type of indoor FO cable, called "non-breakout" cable, is usually used indoors. This type of cable has a PVC outer jacket as if the cable is riser rated. Under this jacket is a binder of some type (usually cellophane or plastic) that holds the fibers in tight bundles. Under the binder are the buffered fibers, which may be individual fibers or fibers in separate jacketed sub-groups. For the latter grouping, these sub-groups surround a central strength member, which is usually made of a dielectric type material such as fiberglass or aramid yarn. Generally, there will be one nylon ripcord on this type of cable.
The fiber unit, or buffered fiber, itself is usually 900 mm. You can connectorize this size fiber but probably don't want to run it more than a very few feet between cabinets because of its small size. And, you should never run this size fiber in a raceway because you'll surely damage it.
The other type of indoor cable, called "breakout" cable, is 50% larger in diameter than non-breakout cable. It can withstand rougher handling and generally slightly greater pulling tension.
The sub-unit jacket is only enclosing one fiber (surrounded by an aramid yarn). This sub-unit jacket can be anywhere from 2.0 mm to 3.0 mm (.08 in. to .12 in.). Under this jacket is, again, aramid yarn. If you're connectorizing the fiber, use this strength member and fasten it into the connector. If you're splicing instead, fasten these pieces of yarn to some attachment point in the enclosure. This type of cable is rugged enough to run from one cabinet to another without damage.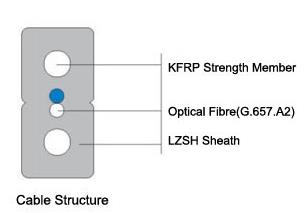 Self-Supporting Indoor Drop Optical Cable
One product commonly used to remove gel from fibers and tools (d'Gel) consists of petroleum distillates and monocyclic terpene hydrocarbon. You dissolve the gel with this cleaner and then clear the residue left on the cable with alcohol. A similar product (PF cleaner) doesn't leave the residue behind so alcohol is not required for the final cleaning.
For more high quality and low cost fiber optics, please contact SOPTO.
Related Knowledge:
Fiber Optics' Manufacturing Method
Optical Fiber Cable General Cabling Guidelines