Fiber Optic Cabling VS Cat 6 Cabling
SOPTO Special Topic
Certificate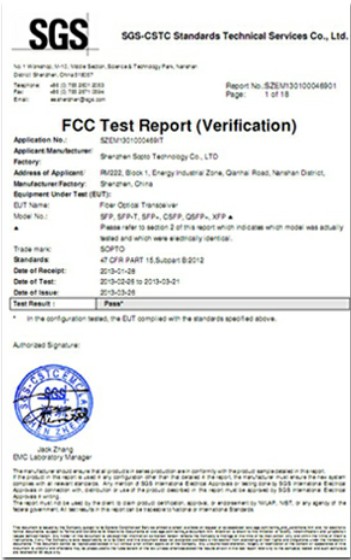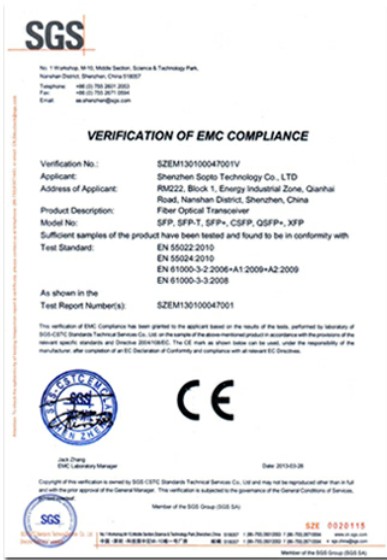 Guarantee
Except products belongs to Bargain Shop section, all products are warranted by SOPTO only to purchasers for resale or for use in business or original equipment manufacturer, against defects in workmanship or materials under normal use (consumables, normal tear and wear excluded) for one year after date of purchase from SOPTO, unless otherwise stated...
Return Policies
Defective products will be accepted for exchange, at our discretion, within 14 days from receipt. Buyer might be requested to return the defective products to SOPTO for verification or authorized service location, as SOPTO designated, shipping costs prepaid. .....
Applications
Fiber Optis can be used in so many fields:
Data Storage Equipment

Interconnects,Networking

Gigabit Ethernet

FTTx, HDTV,CATV

Aerospace & Avionics

Data Transfer Tests

Network Equipment

Broadcast Automotive

Electronics,Sensing

Oil & Gas, Imaging

Outside Plant,Central Office

Harsh Environment

Data Transmission

Illumination,Institutions

Ship to Shore,Education

Simulation,Military,Space

Unmanned Aerial Vehicles

Semiconductor Equipment

Diagnostics & Troubleshooting

Premise Networks Carrier Networks

Independent Telecommunication Providers
Performance Feature
Recommended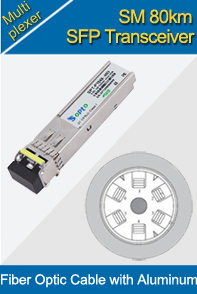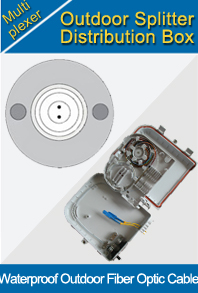 Fiber Optic Cabling VS Cat 6 Cabling
In recent years Cat6 data cabling has been the "go-to" structured cabling for Voice over Internet Protocol (VoIP) networks. Recently, however, fiber optic cabling has become another popular way for businesses to maintain communications. So which of these is best for your company? The intent of this post is to familiarize you with both cables by examining how each works and what makes them different from one another.
What is Cat6 cabling?
Category 6 cabling (often shortened to cat-6 or cat6) is a type of data cabling that is standard for Gigabit Ethernet and several other network protocols which are not compatible with cat3 cables. As the sixth generation Ethernet cables formed from twisted pairs of copper wiring, cat6 is composed of four pairs of wires, similar to cat5 cables. The primary difference between the two, though, is that cat6 makes full use of all four pairs. This is why cat6 can support communications at more than twice the speed of cat5e, allowing for Gigabit Ethernet speeds of up to 1 gigabit per second.
It is cat6's speed that has made it such a great choice for VoIP telephony, but there are some setbacks.
For starters, there are length restrictions in using this type of data cabling. When used for 10/100/1000BASE-T, the restriction is 100 meters, and when used for 10GBASE-T, the restriction is 55 meters. Another issue is that there are some cat6 cables that are very large and are quite difficult to connect to 8P8C connectors (a type of modular connectors used for communications purposes such as phone/Ethernet jacks) when the user does not have a unique modular piece.
What about fiber optic cabling?
What is it about fiber optic cabling that has made it so popular? Sometimes referred to as optical fiber, fiber optic cable is completely unique from cat6 and other types of structured cabling systems. This is because optical fiber works by drawing on light as opposed to electricity as a means of transmitting signals. As we all know, light is the fastest mode of transmitting any information which is great for businesses with the need for speed. And because fiber optic cabling has a much cleaner signal than conventional copper cabling, it is able to transmit signals faster than ever before.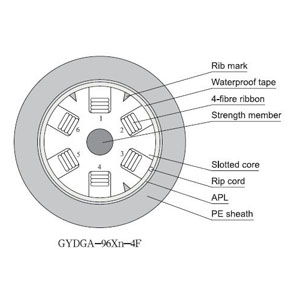 Slotted-Core Fiber Optic Cable with Aluminum
Another great thing about optical fiber is that it is immune to electrical interference. This means that a user can run it just about anywhere, anytime. The immunity of light to resistance also allows fiber optic cabling to be run over extremely long distances. In fact, it can be run countries apart without any need for boosting or cleaning the signal.
Of course, there are those who doubt the reliability of fiber optic cabling. After Hurricane Sandy, there were many news stories about optical fiber phone systems cutting out, while those with copper cable systems were able to communicate with loved ones.
Phone companies, which are rapidly phasing out copper systems, claim that copper wiring is just as unreliable and can be damaged by falling trees or poles. Additionally, many companies are also taking measures to decrease fiber optic cables' vulnerability to water in order to prevent future problems.
Final Thoughts
So which should you choose?
If you prefer to stick with old and reliable, copper data cabling may be your best bet - for now. Be aware that soon, fiber optic cabling may be the only option as it grows in popularity. If you prefer higher speeds, you may want to switch to fiber optic cabling right now - it's getting faster and better every day.
Sopto supplies a wide range of fiber optic cables, like Drainage Pipeline Cable, Direct Buried Fiber Optical Cable and cable tools and so on. For the newest quotes, please contact a Sopto representative by calling 86-755-36946668, or by sending an email to info@sopto.com. For more info, please browse our website.