Info about Fiber Optic Ethernet Converters
SOPTO Special Topic
Certificate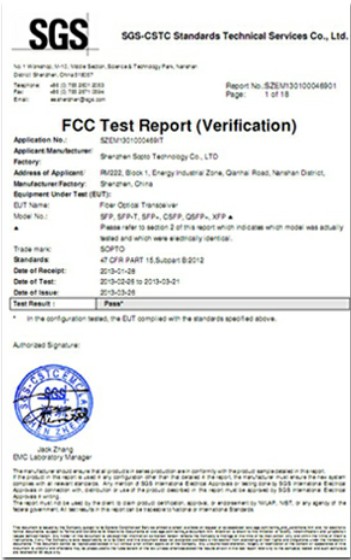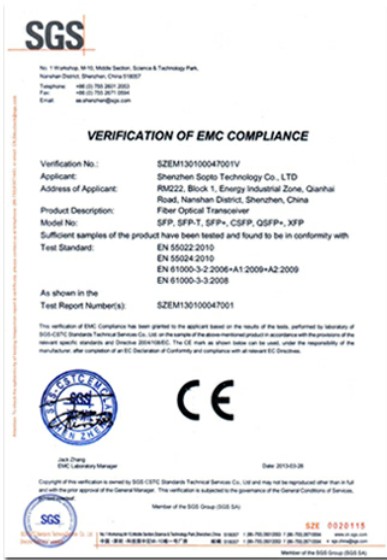 Guarantee
Except products belongs to Bargain Shop section, all products are warranted by SOPTO only to purchasers for resale or for use in business or original equipment manufacturer, against defects in workmanship or materials under normal use (consumables, normal tear and wear excluded) for one year after date of purchase from SOPTO, unless otherwise stated...
Return Policies
Defective products will be accepted for exchange, at our discretion, within 14 days from receipt. Buyer might be requested to return the defective products to SOPTO for verification or authorized service location, as SOPTO designated, shipping costs prepaid. .....
Applications
An Ethernet to Fiber Media Converter can also be used where there is high level of electromagnetic interference or EMI which is a common phenomenon found in industrial plants. This interference can cause corruption of data over copper-based ethernet links. Data transmitted over fiber optic cable however is completely immune to this type of noise. An Ethernet to Fiber Optic Converter therefore enables you to inter-connect your copper-ethernet devices over fiber ensuring optimal data transmission across the plant floor.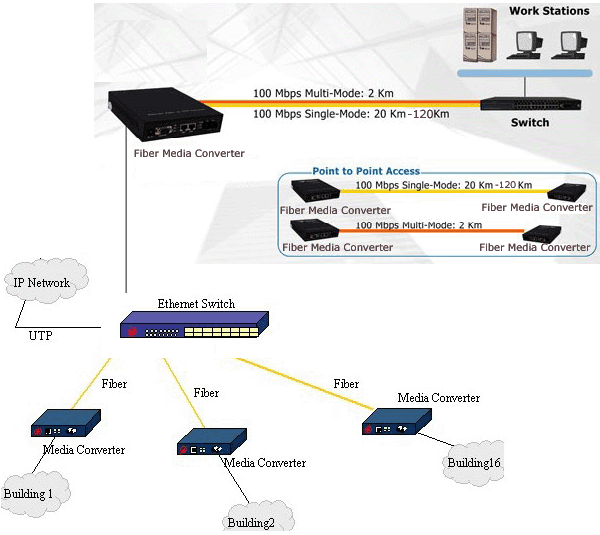 Related Products
Performance Feature
Recommended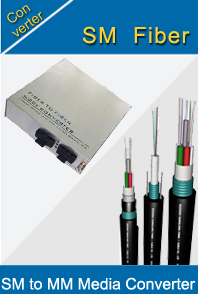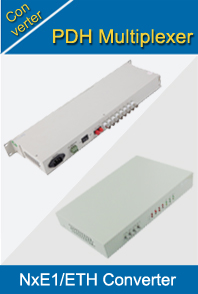 Info about Fiber Optic Ethernet Converters
Network technologies advance at an incredibly fast rate with new and faster types of cables being released regularly. If you have a network that uses the older type of Ethernet cables and another network that utilizes the faster and more reliable fiber optic cables it is possible to connect them together using a special kind of fiber optic converter.
Function
A fiber optic Ethernet converter connects an Ethernet cable at one end into a fiber optic cable at the other end to allow multiple networks to communicate that are using different kinds of cables. It can also be used within the same network if multiple computers are utilizing different technologies or not all of them have the capability to use fiber optic cables.
Features
Converting Ethernet cables to fiber optic cables provides a faster signal than Ethernet is capable of sending or receiving. Fiber optic cables are highly resistant to interference from electronic devices, wireless networks, or cellular phones unlike the more temperamental Ethernet cables, which can frequently lose their signal if exposed to certain types of equipment.
10M/100M/1000M Gigabit Media Converter
Types
Some fiber optic converters will work with any type of Ethernet cable while others only have ports for either the 100 Megabit or the 10 Gigabit speed Ethernet cables. Attaching a converter between two different types of cables will slightly lower the maximum speed that data is able to be transferred at on the faster type of cable. Different brands and models of converters will have different speed caps.
Size
You can purchase converters that are specially designed for the size of your home or office network. Most converters are small plastic units that are intended to change over a single Ethernet cable to a single fiber optic cable. Larger converters are available that are mounted directly onto metal racks and have the capability to convert dozens of cables at once in a secured network room.
Considerations
Your fiber optic converter should be placed in a secure location that can't be disturbed by people or machinery. Every computer connected to the fiber optic cable will lose its' internet connection if the converter is removed or broken. Converters contain special materials that only work properly in specific temperature ranges so it is important to keep them in controlled temperature rooms that never get too hot or cold. The range that fiber optic cables continue to work after being converted from an Ethernet cable is limited, but because the range is measured in miles it usually only becomes a consideration for very large companies with huge networks or for internet service providers.
For more info, please browse our website. For purchasing protocol converters, please contact a Sopto representative by calling 86-755-36946668, or by sending an email to info@sopto.com.