Active Optical Cable (AOC) Explained in Details
SOPTO Special Topic
Certificate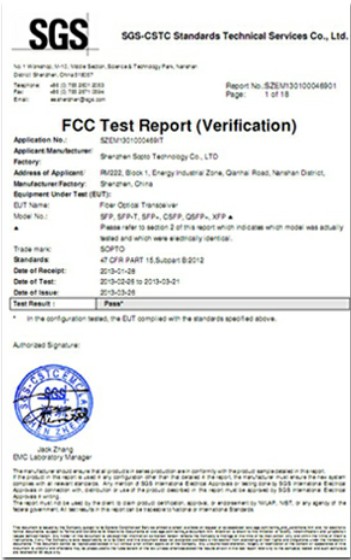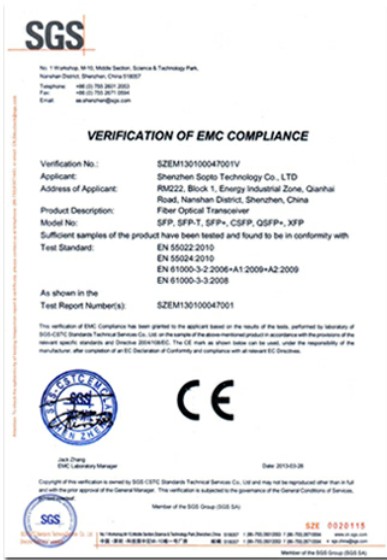 Guarantee
Except products belongs to Bargain Shop section, all products are warranted by SOPTO only to purchasers for resale or for use in business or original equipment manufacturer, against defects in workmanship or materials under normal use (consumables, normal tear and wear excluded) for one year after date of purchase from SOPTO, unless otherwise stated...
Return Policies
Defective products will be accepted for exchange, at our discretion, within 14 days from receipt. Buyer might be requested to return the defective products to SOPTO for verification or authorized service location, as SOPTO designated, shipping costs prepaid. .....
Applications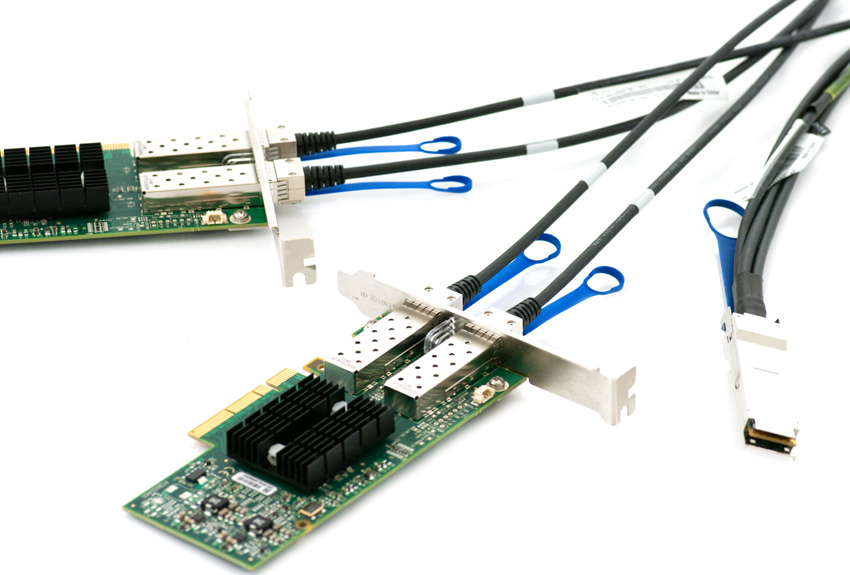 Twinax Cables are mainly used with PCI or PCI-E Card for the short distance interconnection in the server room.
Related Products
Performance Feature
Stable Transmission Speed
Reliable Transmission
Various Length Selection
Wider Operating Temperature
Good for HPC
Good for Data Center
Recommended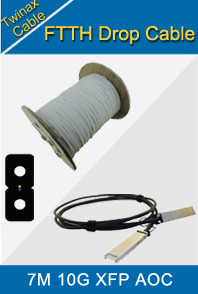 Active Optical Cable (AOC) Explained in Details
Active Optical Cable (AOC) is a cabling technology that accepts same electrical inputs as a traditional copper cable, but uses optical fiber "between the connectors". AOC uses electrical-to-optical conversion on the cable ends to improve speed and distance performance of the cable without sacrificing compatibility with standard electrical interfaces.
A picture is worth a thousand words. Let's look at one AOC product. The following picture shows a 40Gb/s QSFP+ Active Optical Cable Assembly.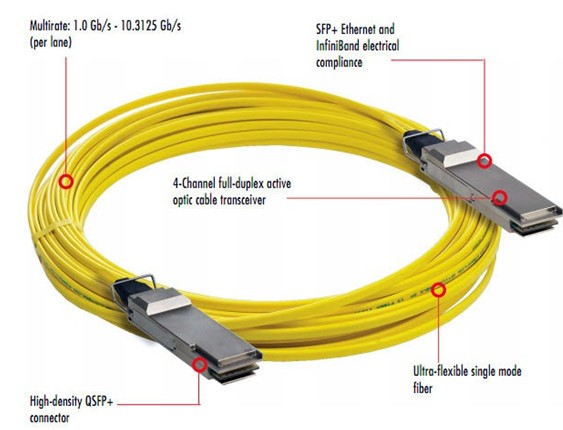 Take a even closer examination and we can see that the active optical cable (AOC) assembly is actually composed of 4 functional parts.
The "High-density QSFP+ connector". This is the SFF-8436 electronic connector which can be plugged into a router or switch.

The "4-Channel full-duplex active optical cable transceiver". This optical transceiver is embedded inside the shell so you cannot see it. This optical transceiver part is responsible for opto-electro (O-E) and electro-opto (E-O) conversion.

The MPO optical connector (the black part). This connector is permanently attached to the shell and fiber. This permanent attachment shields the optical interface from the end user and also from environmental contaminants.

The ribbon optical fiber cable (this picture shows a yellow jacket single mode fiber, but multimode fiber models are also available).
The above product has four single mode fiber optic transceivers per end, each operating at data rates from 1 to 10.3125 Gb/s and supporting a reach up to 4,000 meters. This active optical cable is electrically compliant with the SFP+ interface and supports InfiniBand, Ethernet, Fibre Channel, Myrinet, and other protocols.
So the basic idea of AOC is to embed the active optical transceiver components into the electronic connector instead of using separate optical transceiver and pluggable fiber cable. (since the cable is permanently attached).
There is a more fundamental reason for the invention of AOC products. This is explained in the following section.
Who Invented AOC, and Why?
Simply put, Active Optical Cable (AOC) assemblies were invented to replace copper technology in data centers and high performance computing (HPC) applications.
The first driver came from InfiniBand technology. As InfiniBand data rates rise and data center clusters grow in size, copper cable technology is getting stretched to its limits. InfiniBand Double Data Rate (DDR) of 20 Gigabits per second (Gbps) means that conventional copper cable is limited to an 8 to 10 meter reach.
This may be fine for small clusters, but for larger clusters, this physical link distance makes the physical layout of the cluster becomes a real challenge. Due to the inherent bandwidth-distance limitations of high-speed copper cable assemblies, it is not uncommon for designers to embed amplifiers, signal regenerators, or similar devices within a cable assembly.
Copper cable is heavy and bulky, making it difficult to physically manage the datacenter. And because of the nature of electrical signals, electromagnetic interference (EMI) limits copper's performance and reliability. If you have a scaled-out high performance cluster, these problems really add up.
So that was why Intel and Luxtera invented Active Optical Cable assemblies to fill the gap.
Intel's design used Vertical-Cavity-Surface-Emitting-Lasers (VCSELs) and a collection of discrete components. On the other hand, Luxtera's "Blazar" AOC products used CMOS photonics technology. Luxtera was able to integrate most of the transceiver functionality onto a silicon chip, only the laser and the photodetectors were discrete components.
Active Optical Cable assembly has many potential advantages. If the network equipment is properly designed, it becomes possible to have a common electrical port that can accept either passive copper cable or active copper cable, allowing the user to select the appropriate technology and cost with easy reconfiguration.
The optical connector can be an expensive, precision element (particularly for parallel optical links) due to tight manufacturing tolerances. This is eliminated by permanently attaching the fibers to the optics.
The following list presents the major benefits of Active Optical Cable assemblies.
Longer Reach and Higher Bandwidth

Secure, Reliable Transport

Limited EMI/RFI Exposure

Low Bit-Error Rate (BER) – 10-15

Smaller Size and Lower Weight Compared to Copper Cables
Active Optical Cable (AOC) Assembly Applications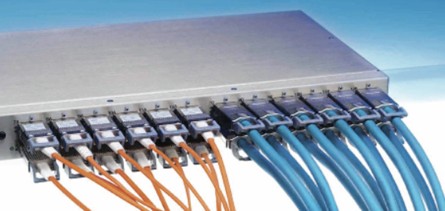 Active Optical Cable assemblies have been designed to support multiple protocols. Most of them are compliant with SFP+ Ethernet and InfiniBand electrical.  Here is what a typical 40 Gb/s QSFP+ (Quad Small Form-Factor Pluggable Plus) AOC supports:
Multirate: 1.0 Gb/s – 10.3125 Gb/s (per lane)

4-Channel full-duplex active optical cable transceiver

InfiniBand SDR (2.5Gb/s), DDR (5 Gb/s), QDR (10 Gb/s)

Ethernet 10G, 40G

Fibre Channel 8G, 10G

SAS, SATA 3G, 6G

Fibre Channel SAN 10G, 20G, 40G

Myrinet 40G
Active Optical Cable assemblies can be used on optical backplanes, rack-to-rack, shelf-to-shelf interconnect, storage, hubs, switches, routers, servers, etc.
Here is a breakdown of AOC market by applications.
Mainframes/Supercomputers (High Performance Computing – HPC)

High Definition TV (HDTV)

Personal Computers

Consumer Electronics (CE)
Here is a breakdown of AOC market by Bus Interfaces.
InfiniBand – High-speed interface bus used inside HPC and data centers

HDMI – High definition multimedia interface

USB – Universal Serial Bus

DisplayPort – Bus specification developed by Video Electronics Standards Asso. (VESA)
Active Optical Cable (AOC) Market Forecast from 2010 to 2014
Active Optical Cable assemblies revenue is expected to build significant growth over the next five years, according to a new 2010 edition IGI report. Although the economy recession had a hard impact on 2010 AOC sales ($137 million), new designs from late 2009 and expected through 2010 will strongly increase 2011~2012 AOC revenue.
Cumulative AOC revenue for the entire five-year period will be in excess of $7 billion, with over $2.4 billion in 2014 alone.  The following graph shows this forecast report.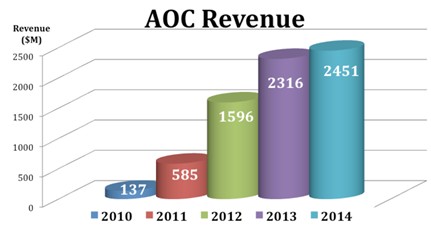 The importance of optical IO connection continues to grow. The market has seen IO cable bandwidth increase at the expense of copper cable length restrictions, with reductions in maximum allowable length for the latest forms of USB, HDMI, and DisplayPort. More and more High Performance Computing (HPC) clients also report preference for optical InfiniBand cables above the 5-7 meters length.
All application users are noting the thicker, bulkier copper cables now required to address bandwidth and power delivery issues, making the opportunity for active optical cable that much stronger. Some supercomputers have shifted from all copper to all AOC.
Here is the AOC revenue forecast by application percentage in 2014.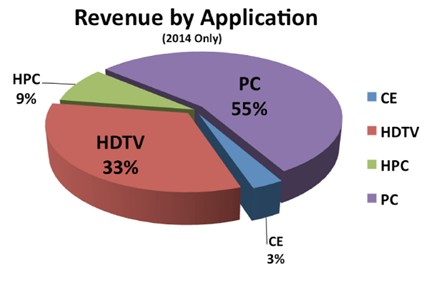 Related Knowledge: