SM to MM Media Converter
Fiber Mode Converter SM to MM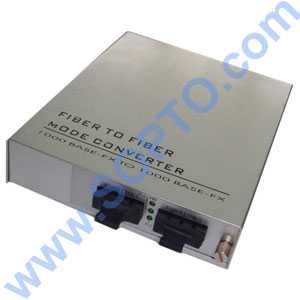 Product Impression:
Data Rate: 10/100Mbps, 10/100/1000Mbps

Wavelength: 1310/1550nm,1550/1310nm, others

Fiber Types: Single mode ,Multi-mode

Color: Black or as customized

Fiber Connector Type: SC or others

Interface type: Fiber

Transmission Mode: Half duplex or full duplex

Transmission Distance: 500m~120km

Storage Temperature: -40 ~ 80°C

Operating Temperature: -40 ~ 60°C

Operating Humidity: 0%~90% RH no condensing

Storage Humidity: 5%~95% RH no condensing

Dimensions: 85 (H)×71 (W)×93 (D)mm

Weight: 200 g

Power: Internal or external power supply are both available

Power Consumption: ≤5W

Manageable or Unmanageable: Manageable or unmanageable are both available

Application: Data Center, FTTH, Storage Area Network
Performance Feature:
1000Base-Sx or 1000Base-Lx Single-Mode (SM) to Multimode (MM) Fiber converter

Supports multi-mode, single-mode, and single-fiber with SC connectors

User-selectable link fault detection modes facilitate quick fault detection, isolation and reporting

SNMP management is available with a management module

SNMP management via real-time port and module information, remote parameter configuration and trap notification

LED displays for immediate visual status of each port
What the type of fiber does this SM to MM media converter adopt?
This T4/T2 SM to MM series fiber media converter is the optical signal converter that can be adopted to convert optical digital signals between single/multi mode fiber, or repeater optical digital signals between single/single mode fiber and multi/multi mode fiber.
The characteristic and application of T4/T2 SM to MM media converters
T4/T2 fiber media converter series have 2 fiber ports that be used to connect 2 fibers. They can convert computer Ethernet signals and other digital signals, such as E1, digital control signal etc. The products are impressed by stable and reliable performance.
Quite happy with my purchase.
6/28/2016
Super Fast Service! Great Deal.
5/8/2015
The author of nomran-tv.podcastnorm.com has written an excellent article. You have made your point and there is not much to argue about. It is like the following universal truth that you can not argue with: My name is alex Thanks for the info.
3/4/2013
I just have to tell you how impressed we are with your service!
8/8/2013