EPON Solution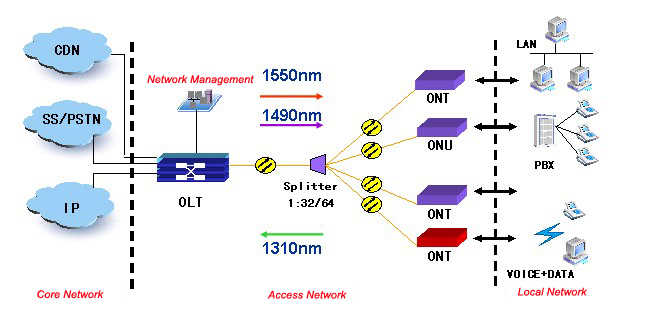 Use the EPON solution to connect the core network and the local network 
Ethernet Passive Optical Networks (EPON) is the leading technology being used in FTTX (FTTH) deployments. Our EPON products provide the higher access bandwidth to access much more users and reduce the investment costs. So, our EPON products are the ideal choice of FTTX.
Used with the FTTH/FTTB/FTTC fiber optic network, these EPON products and are able to provide up to 10Gbps broadband for house users and enterprises.
In this picture, there is our simple EPON solution. Between the core network and the local network, it is the access network. The access network is composed of a network management, a OLT (optical line terminal), a splitter, ONTs and ONUs. 
Through the access network and these components, the core network is able to connect with the local network. For the detail information, please contact our online customer services.