SOPTO Special Topic
Certificate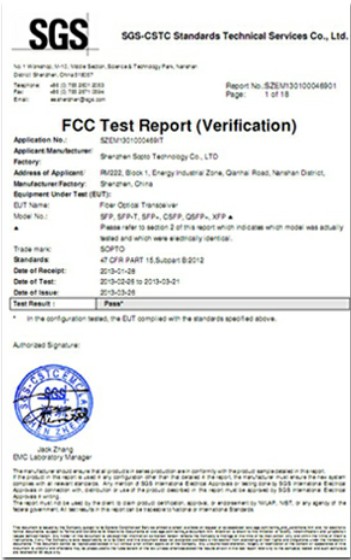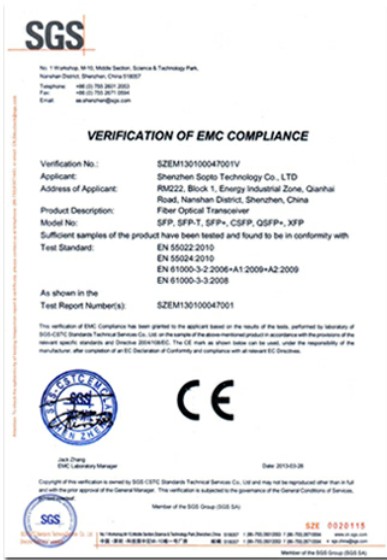 Guarantee
Except products belongs to Bargain Shop section, all products are warranted by SOPTO only to purchasers for resale or for use in business or original equipment manufacturer, against defects in workmanship or materials under normal use (consumables, normal tear and wear excluded) for one year after date of purchase from SOPTO, unless otherwise stated...
Return Policies
Defective products will be accepted for exchange, at our discretion, within 14 days from receipt. Buyer might be requested to return the defective products to SOPTO for verification or authorized service location, as SOPTO designated, shipping costs prepaid. .....
Applications
PCI-E NIC Cards provide redundant connectivity to ensure an uninterrupted network connection.

PCI-E NIC Cards are ideal for VM environments with multiple operating systems, requiring shared or dedicated NICs.

They are specially designed for desktop PC clients, servers, and workstations with few PCI Express slots available.
Related Products
Performance Feature
Recommended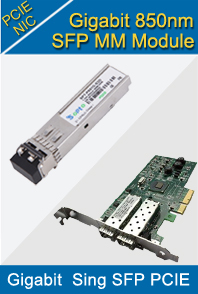 Types of PCI Cards
There are many varieties of Peripheral Component Interconnect, or PCI cards; most are the size of a credit card. PCI cards provide a communication path between a computer's microprocessor and various hardware. Users seeking to upgrade their computing experience might want to consider the options presented by installing PCI cards. This will enable them to upgrade their system and improve overall performance in many areas, including audio, video and wireless networking.
PCI cards can be electronic circuits assimilated directly into the computer's motherboard, or expansion cards that connect to the motherboard via slots. All types of PCI cards fall under a category of hardware called buses. There are many varieties of buses; their purpose is to link computer hardware to the microprocessor. The two primary buses are the system bus and PCI bus.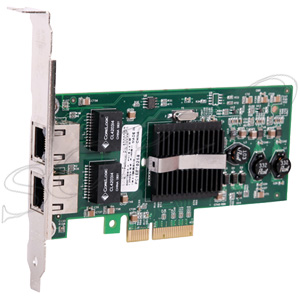 Gigabit ET Dual Port Server Adapter
The system bus, which operates at a faster speed, provides a conduit for moving information between the central processing unit and random access memory, or RAM. The second bus, which is slower, is called the PCI bus. This device links to the system bus by a mechanism called a bridge. It assimilates information from the slower buses into the system bus.
Local Area Network
One of the most popular types of PCI cards is the wireless internet card. It is sometimes call a wireless local area network (WLAN) card. The conventional method of accessing the Internet, consisting of wires and cables, is quickly becoming obsolete. Wireless Internet cards are not only efficient, but are also very reliable. Most personal digital assistants and laptops have PCI cards built within the unit. Computers without PCI hardware incorporated within the unit can send and receive data with wireless PCI cards. They can be easily plugged into the motherboard of the computer.
USB
PCI/USB (universal serial bus) cards are used primarily for three reasons: They provide desktops computers that do not have USB ports the capacity for USB connectivity; the cards can upgrade a computer's USB bandwidth; and they can be used in place of malfunctioning internal USB host controllers.
TV Tuner Cards
Users who would like to receive television signals via their computer need to insert a TV tuner card. This PCI card gives the user's personal computer the capacity to watch, pause and record live television shows right from their PC. Many TV tuner cards also have a video-capture feature that enables programs to not only be recorded to the computer's disk, but allow them to pan and zoom in on the action.
Ethernet
Ethernet cards are types of PCI cards that are generally integrated into the motherboard of desktop PCs. Also called network interface cards (NIC), many computers have the NIC already integrated into the motherboard. Another option is to install PCI cards, which have the necessary electronic circuits. This device enables personal computers to interact with wireless networks or by the use of cables.
PCI Express
A development for PCI cards is PCI Express, which is faster and capable of handling more bandwidth. This hardware was initially developed for top-of-the line servers but has been adapted to the residential market. With traditional PCI cards the information is routed in one direction. In contrast, each channel, or lane of PCI.
PCI Express allows data to flow in both directions simultaneously. In addition, the difference between how the bandwidth is used lessens congestion on PCI Express. This permits even more data to be routed to the microprocessor. The end result is a computer that performs faster. PCI Express technology is popular with video; however, it is rapidly moving toward replacing other commonly used PCI devices.
For more info, please browse our website. For purchasing more PCI cards, please contact a Sopto representative by calling 86-755-36946668, or by sending an email to info@sopto.com.