Performance of System Interconnect Using PCI Express Switches
SOPTO Special Topic
Certificate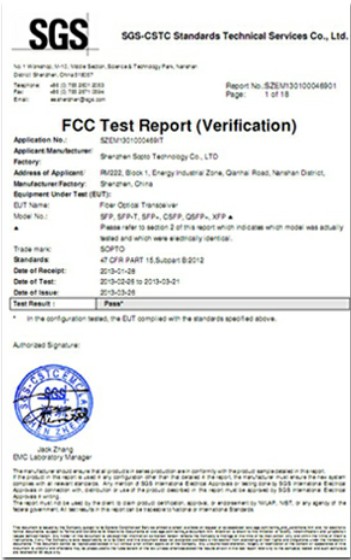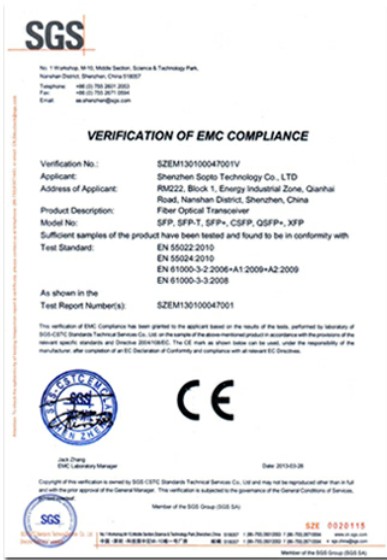 Guarantee
Except products belongs to Bargain Shop section, all products are warranted by SOPTO only to purchasers for resale or for use in business or original equipment manufacturer, against defects in workmanship or materials under normal use (consumables, normal tear and wear excluded) for one year after date of purchase from SOPTO, unless otherwise stated...
Return Policies
Defective products will be accepted for exchange, at our discretion, within 14 days from receipt. Buyer might be requested to return the defective products to SOPTO for verification or authorized service location, as SOPTO designated, shipping costs prepaid. .....
Applications
PCI-E NIC Cards provide redundant connectivity to ensure an uninterrupted network connection.

PCI-E NIC Cards are ideal for VM environments with multiple operating systems, requiring shared or dedicated NICs.

They are specially designed for desktop PC clients, servers, and workstations with few PCI Express slots available.
Related Products
Performance Feature
Recommended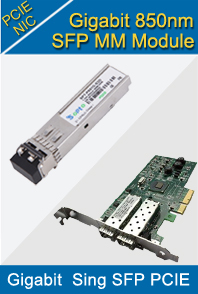 Performance of System Interconnect Using PCI Express Switches
System Description
A multi-peer system topology is shown in Figure 1.A x4 PCIe interface is used to connect each Root Processor and Endpoint Processors to the PES64H16 System Interconnect PCIe switch. This is the topology that is used to measure the system data transfer performance.
A PES16NT2 is used to provide the NTB function in order to connect a x86-based Endpoint Processor to a downstream port of a PES64H16 PCIe switch. The System Interconnect software provides a virtual Ethernet over PCIe interface. The Linux Operation System (OS) detects a network interface and "sees" an Ethernet interface. The Linux OS sends Ethernet packets to the PCIe interface as if it were an Ethernet interface. The PCIe interface is hidden from the LinuxOS as far as data transfer is concerned. All current networking protocol stacks, such as TCP/IP protocol stack, and user applications that are able to run on top of the TCIP/IP stack will work without any modification.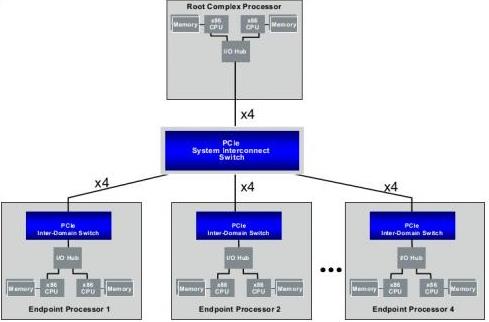 Figure 1  System Interconnect Topology
System data transfer performance for PCIe System Interconnect has been presented in this application note. The network performance benchmark software netperf is used to measure performance. The performance is compared to the performance of a loopback test and 10 GE.
For the AMD system, the effective data transfer rate is between 3 and 3.5 Gbps for data sizes between 1K and 16K bytes. The data rate is about 2.5 Gbps for a data size of 512 bytes.
For the Bensley system, the effectively data transfer rate is about 5 Gbps for data sizes of 16K to 2K bytes. The effective data transfer rate is about 4 Gbps and 3 Gbps for data sizes of 1K and 512 bytes respectively. Data transfer rates are similar to the 10GE interface. The performance for Bensley is much better than AMD because Bensley supports a DMA engine to transfer data. The DMA engine can transfer data more efficiently and frees up CPU cycles from copying data to do more data transfer processing.
Gigabit EF Dual Port Server Adapter
It is expected that for large amounts of data transfer, the data size is likely to be large, such as 4K to 8K bytes. In practice, it is expected that the effective data transfer rate for PCIe System Interconnect is about 5 Gbps for Bensley and 3.5 Gbps for AMD.
In general, protocol encapsulation overhead reduces the effective bandwidth. However, it has been shown that the reduction in bandwidth is approximately 1-2% for large data sizes. The increase in band-width by reducing protocol encapsulation overhead is negligible. However, removing the TCP/IP protocol stack in the data transfer results in a significant reduction of CPU cycles and frees the CPU to do more data transfer processing.
For more info about PCI Express and optical fiber communication, please browse our website or contact a Sopto representative by calling 86-755-36946668, or by sending an email to info@sopto.com.