4G PCI Express Single Port Fibre Channel Adapter Overview
SOPTO Special Topic
Certificate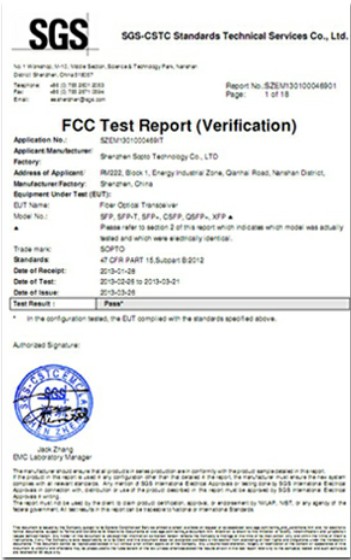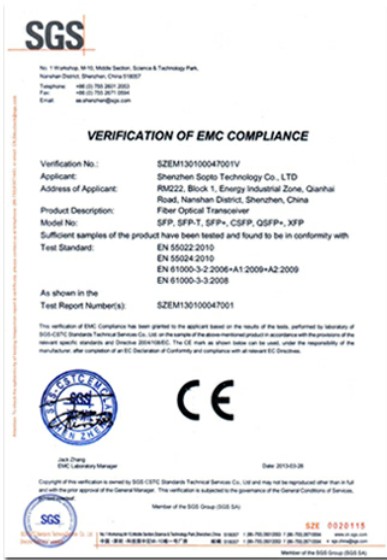 Guarantee
Except products belongs to Bargain Shop section, all products are warranted by SOPTO only to purchasers for resale or for use in business or original equipment manufacturer, against defects in workmanship or materials under normal use (consumables, normal tear and wear excluded) for one year after date of purchase from SOPTO, unless otherwise stated...
Return Policies
Defective products will be accepted for exchange, at our discretion, within 14 days from receipt. Buyer might be requested to return the defective products to SOPTO for verification or authorized service location, as SOPTO designated, shipping costs prepaid. .....
Applications
PCI-E NIC Cards provide redundant connectivity to ensure an uninterrupted network connection.

PCI-E NIC Cards are ideal for VM environments with multiple operating systems, requiring shared or dedicated NICs.

They are specially designed for desktop PC clients, servers, and workstations with few PCI Express slots available.
Related Products
Performance Feature
Recommended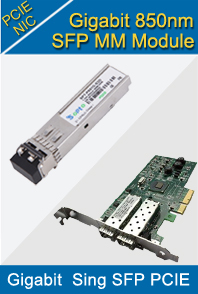 4G PCI Express Single Port Fibre Channel Adapter Overview
The IBM 4 Gigabit PCI Express Single Port Fibre Channel adapter is a 64 bit, short form factor x4, PCIe adapter with an LC-type external fiber connector that provides single initiator capability over an optical fiber link or loop. The adapter automatically negotiates the highest data rate between the adapter and an attaching device at 1Gbps, 2Gbps, or 4Gbps of which the device or switch is capable of. Distances between the adapter and an attaching device or switch can reach up to 500 meters running at 1Gbps data rate, up to 300 meters running at 2Gbps data rate, and up to 150 meters running at 4Gbps data rate. When used with IBM® Fibre Channel storage switches that support long wave optics, the adapter can reach distances of up to 10 kilometers running at either 1Gbps, 2Gbps, or 4Gbps data rates.
4 Gigabit PCI Express Single Port Fibre Channel Adapter Schematic Diagram
The adapter can be used to attach devices either directly, or with Fibre Channel switches. If you are attaching a device or switch with an SC type fiber connector, you must use an LC-SC 50 micron fiber converter cable or an LC-SC 62.5 micron fiber converter cable.
The adapter has the following features:
• Compliant with the PCIe Base and Card Electromechanical (CEM) 1.0a specifications:
• x1 and x4 lane link interface at 2.5Gbit/s (auto-negotiated with system)
• Supports VC0 (1 Virtual Channel) and TC0 (1 Traffic Class)
• Configuration and IO Memory read/write, completion, message
• Support for 64-bit addressing
• ECC error protection
• Link CRC on all PCIe packets and message information
• Large payload size: 2048 bytes for read and write
• Large read request size: 4096 bytes
• Compatible with 1, 2, and 4Gb Fibre Channel interface:
• Auto-negotiate between 1Gb, 2Gb or 4Gb link attachments
• Support for all Fibre Channel topologies: point-to-point, arbitrated loop, and fabric
• Support for Fibre Channel class 2 and 3
• Maximum Fibre Channel throughput achieved by using full duplex hardware support
• End-to-end data path parity and CRC protection, including internal data path RAMs
• Architectural support for multiple upper layer protocols
• Internal high-speed SRAM memory
• ECC protection of local memory, includes single-bit correction and double-bit protection
• Embedded shortwave optical connection with diagnostics capability
• Onboard Context Management by firmware (per port):
• Up to 510 FC Port Logins
• Up to 2047 concurrent Exchanges
• I/O multiplexing down to the FC Frame level
• Data buffers capable of supporting 64+ buffer-to-buffer (BB) credits per port for shortwave applications
• Link management and recovery handled by firmware
• Onboard diagnostic capability accessible by optional connection
• Parts and construction compliant with the European Union Directive of Restriction of Hazardous Substances (RoHS)
• Performance up to 4.25Gbps full duplex
As an optical fiber optical communication service provider, Sopto supplies compatible gigabit PCI Express Cards for Cisco, IBM, HUAWEI and other brands' devices. Our products have a reasonable price. For the details, please contact a Sopto representative by calling 86-755-36946668, or by sending an email to info@sopto.com.