4-Port 10/100/1000 Base-TX PCI Express Adapter Overview
SOPTO Special Topic
Certificate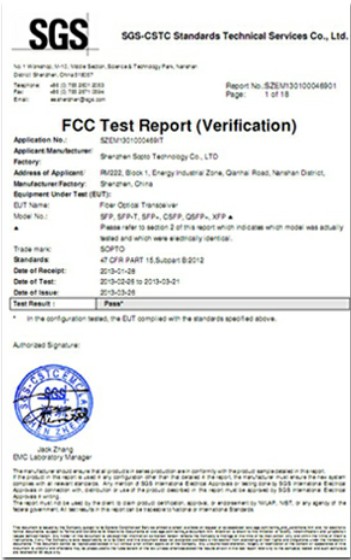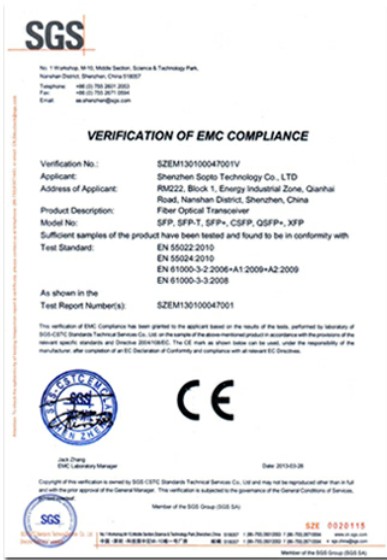 Guarantee
Except products belongs to Bargain Shop section, all products are warranted by SOPTO only to purchasers for resale or for use in business or original equipment manufacturer, against defects in workmanship or materials under normal use (consumables, normal tear and wear excluded) for one year after date of purchase from SOPTO, unless otherwise stated...
Return Policies
Defective products will be accepted for exchange, at our discretion, within 14 days from receipt. Buyer might be requested to return the defective products to SOPTO for verification or authorized service location, as SOPTO designated, shipping costs prepaid. .....
Applications
PCI-E NIC Cards provide redundant connectivity to ensure an uninterrupted network connection.

PCI-E NIC Cards are ideal for VM environments with multiple operating systems, requiring shared or dedicated NICs.

They are specially designed for desktop PC clients, servers, and workstations with few PCI Express slots available.
Related Products
Performance Feature
Recommended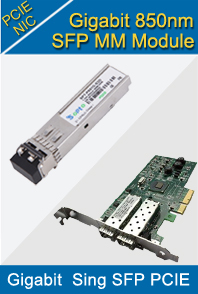 4-Port 10/100/1000 Base-TX PCI Express Adapter Overview
The IBM 4-Port 10/100/1000 Base-TX PCI Express Adapter is a PCI Express (PCIe), full duplex, four ported, Gigabit Ethernet adapter that can be configured to run either port at 1000, 100, or 10 Mbps data rate. This adapter interfaces to the system through a PCIe bus and connects to a network using a 4-pair CAT-5 Unshielded Twisted Pair (UTP) cable for distances of up to 100 meters. The adapter conforms to the IEEE 802.3ab 1000Base-T standard. The 5717 also supports jumbo frames when running at the 1000 Mbps speed.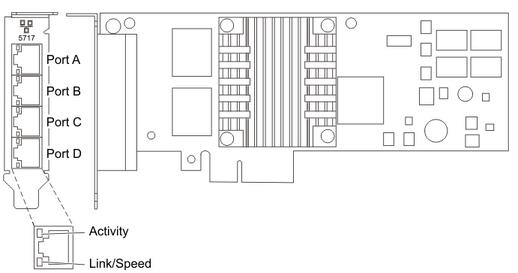 4-Port 10/100/1000 Base-TX PCIe Adapter
The adapter provides the following features:
Supports interrupt moderation to deliver increased performance while significantly reducing central processing unit (CPU) utilization

Allows quad-port operation in x4, x8, x16 slots, and each port operates without interfering with the other

Each port operates without interfering with the other

Auto-negotiation, full-duplex (half-duplex available for 10/100)

Integrated media access control (MAC) and physical layer (PHY)

Supports Fast Ethernet Channel (FEC) and Gigabit Ethernet Channel (GEC) when used with capable switch

Supports IEEE 802.3ad Link Aggregation control protocol when used with capable switch

IEEE 802.1Q VLANs, IEEE 802.3 (z, ab, u, x) flow control support, IEEE 802.1p

TCP checksum offload -- transmission control protocol (TCP), Internet Protocol (IP) for IPv4

TCP Segmentation Offload (TSO) / Large Send Offload (LSO)

Bus width x4 lane; operable in x4, x8, or x16 slots

Bus speed (x4, encoded rate) 10Gbps unidirectional and 20Gbps bidirectional

EEPROM SPI and single EEPROM support

Interrupt levels INTA and MSI (requires system and software support for MSI)

IEEE 802.3ab

Hardware certifications FCC B, UL, CE, VCCI, BSMI, CTICK, MIC

Four RJ-45 connectors

LEDs on each port identifying speed and link activity

Compliant with European Union Directive 2002/95/EC on the Restriction of the Use of Certain Hazardous Substances in Electrical and Electronic Equipment
The LEDs on the adapter provide information about the adapter's operation status. The LEDs are visible through the adapter's mounting bracket. 4-Port 10/100/1000 Base-TX PCIe Adapter shows the location of the LEDs. Table 1 describes the different LED states and what those states indicate.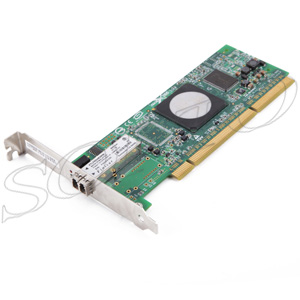 Table 1. Adapter LEDs and descriptions
LED

Light

Description

Activity/link

Green

Active link

Off

No link

The absence of a link can indicate a defective cable, defective connector, or a configuration mismatch.

Blinking

Data activity

Speed

Off

10 Mbps

Green

100 Mbps

Orange

1000 Mbps

 
As an optical fiber optical communication service provider, Sopto supplies compatible gigabit PCI Express Cards for Cisco, IBM, HUAWEI and other brands' devices. Our products have a reasonable price. For the details, please contact a Sopto representative by calling 86-755-36946668, or by sending an email to info@sopto.com.