10Gb Ethernet-SR PCI-X 2.0 DDR Adapter Overview
SOPTO Special Topic
Certificate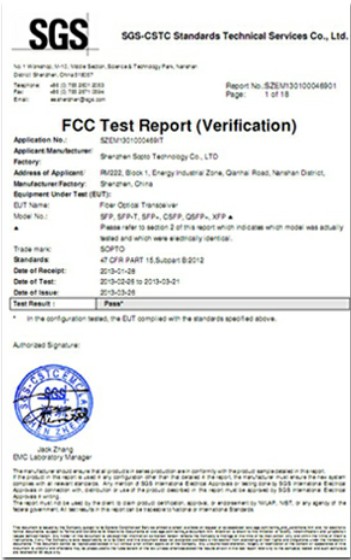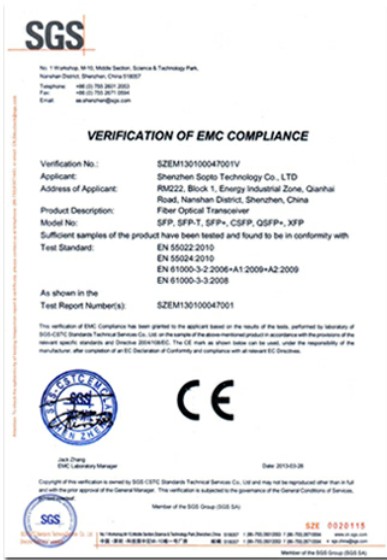 Guarantee
Except products belongs to Bargain Shop section, all products are warranted by SOPTO only to purchasers for resale or for use in business or original equipment manufacturer, against defects in workmanship or materials under normal use (consumables, normal tear and wear excluded) for one year after date of purchase from SOPTO, unless otherwise stated...
Return Policies
Defective products will be accepted for exchange, at our discretion, within 14 days from receipt. Buyer might be requested to return the defective products to SOPTO for verification or authorized service location, as SOPTO designated, shipping costs prepaid. .....
Applications
PCI-E NIC Cards provide redundant connectivity to ensure an uninterrupted network connection.

PCI-E NIC Cards are ideal for VM environments with multiple operating systems, requiring shared or dedicated NICs.

They are specially designed for desktop PC clients, servers, and workstations with few PCI Express slots available.
Related Products
Performance Feature
Recommended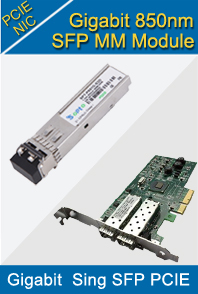 10Gb Ethernet-SR PCI-X 2.0 DDR Adapter Overview
The IBM 10Gb Ethernet-SR PCI-X 2.0 DDR Adapter is designed to provide a PCI-X based server connection. The adapter conforms to the IEEE 802.3ae 10 Gigabit Ethernet standard and supports jumbo frames.
The 10 Gb Ethernet-SR PCI-X supports the following distances:
• Up to 33 m by using 62.5 um multimode fiber with 200 MHz*km minimum modal bandwidth at 850 nm
• Up to 300 m by using 50 um multimode fiber with 2000 MHz*km minimum modal bandwidth at 850 nm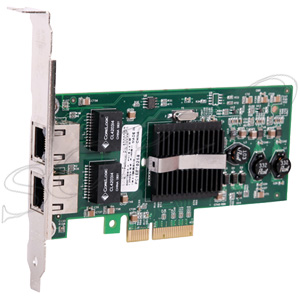 The adapter is designed to run in standard PCI-X v2.0 and PCI-X v1.0a compliant systems with 64 bit PCI-X BusMaster slots at 133 Mode 1 or Mode 2. The adapter draws power from the PCI-X 3.3 V supplies and is keyed to fit only into a 3.3 V slot. The adapter supports 1M x 8 bit boot FLASH ROM and has a 240 KB on-chip TX packet buffer and a 32 MB on-chip RX packet buffer.
The FRU part numbers for the adapter are:
• Adapter, 03N4590 (Designed to comply with RoHS requirement.)
• Wrap plug, 11P3847
The adapter provides the following features:
• Single-slot, short form factor, 6.6 by 4.2 inch, half-length PCI cards
• 64 bit Direct Bus Mastering on the PCI-X bus
• Dual Address Cycle for access to 64 bit addresses
• PCI-X split transactions
• DMA engine for movement of command, status, and network data across PCI-X
• 240 KB on-chip TX packet buffer
• 32 MB on-chip RX packet buffer
• 1 MB Boot Flash ROM
• Jumbo frames (9 KB)
• Interrupts coalescing
• 802.1q VLAN tagging and stripping (IBM® System i® models do not support VLANs)
• Conforms to IEEE 802.3ae 10 Gigabit Ethernet standard
The 10 Gigabit Ethernet-SR PCI-X 2.0 DDR adapter requires the following hardware:
• A wrap plug for the multimode fiber connector, if you are running the total diagnostics package
• Shortwave (850 nm) 50/62.5 micron multimode fiber network attachment
The following table indicates the allowable cable lengths from the adapter to the gigabit Ethernet switch, including patch cables:
Table 1. Adapter cable information
Cable type

Physical connector type

Maximum range (meters)

62.5 m MMF

LC

33

50 m MMF

LC

300

 
How to connect the adapter to the multimode fiber network? See your local procedures for information about connecting the adapter to your Ethernet network.
Note: Only one type of network can be attached to the adapter at one time.
To connect the adapter to a multimode fiber network, do the following steps:
1. Insert the male fiber LC connector of the fiber cable into the adapter LC connector.
2. Insert the male fiber LC connector of the other end of the cable into the network switch.
Note:
• If your switch has an SC receptacle, you need an LC-SC converter cable.
• It is necessary to configure an IP network interface to enable the adapter to detect link and illuminate the LINK LED.
The LEDs on the adapter provide information about the operation status of the adapter. The LEDs are visible through the mounting bracket of the adapter and, when lit, indicate the following conditions:
Table 2. Adapter LEDs
LED

Light

Description

TX

Off

No activity

Flashing green

Transmit activity

RX

Off

No activity

Flashing green

Receive activity

Link

Off

No link

Green

Link established
As an optical fiber optical communication service provider, Sopto supplies compatible gigabit PCI Express Cards for Cisco, IBM, HUAWEI and other brands' devices. Our products have a reasonable price. For the details, please contact a Sopto representative by calling 86-755-36946668, or by sending an email to  info@sopto.com.