Twinax Cable Type
SOPTO Special Topic
Certificate
Guarantee
Return Policies
Applications
Related Products
Performance Feature
Recommended
Mini SAS Cable
Mini SAS is the next generation of the SAS standard. With its low profile connector and easy lock mechanism it save space and reduces costs with lower power usage.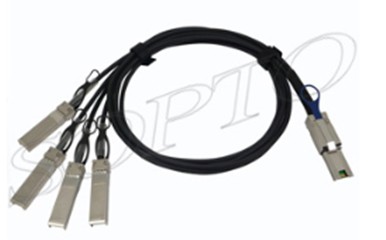 Mini-SAS cables support differential pair signaling with low-skew pairs and foil construction for maximum EMI/RFI rejection.  Guaranteed performance at 3.0 Gigabits per second and 6.0 Gigabits per second.
This 4x Mini SAS cable features universal keyed SFF-8088 push to release connectors. Our Mini SAS cables are built with your storage systems and servers needs in mind. This is why we offer a full range of standard and hard-to-find Mini SAS cables and Mini SAS Adapters for both External Mini SAS and Internal Mini SAS applications.
Specification:
Protocols Supported: InfiniBand, Ethernet, Fiber Channel
Channel Data Rate: 6G
Length: 0.5m/1m/2m/3m/4m/5m.... 
Type: Copper Passive
AWG: 24/28/30
Storage Temperature: -20 to + 85ºC
Operating Temperature: 
Standard: 0~+70ºC;
Industrial:-40~+85ºC
Supply Voltage: 3.3V
Supply current: 230mA per end typical
Performance Feature:
Low power consumption

Compliant MiniSAS MSA

RoHS Compliant

Excellent EMI performance

High reliability
Related Knowledge: