Patch Cord Type
SOPTO Special Topic
Certificate
Guarantee
Return Policies
Applications
Related Products
Performance Feature
Recommended
Patch Cord SC Connector
Manufacturer: SOPTO
Type: SC Patch Cord
Data Rete: 10Gigabit
Connector Type: SC
End Face:  UPC/PC/APC or others
Skin Material: PVC/LSZH/OFNR...
The SC* connectors used for our patch cords are designed to NTT-SC* standards and are fully compatible with existing SC hardware. Two simplex connectors can be configured into a duplex format by adding a duplex clip. In addition to basic testing, some mechanical and environmental tests per IEC or Telcordia are also performed periodically to guarantee the best quality. For standard patch cords, sampling check is performed on ferrule geometry to ensure high percentage of polished connectors meeting GR-326 requirements. For premium grade, ferrule geometry is tested on all patch cords to meet these GR-326 requirements.
Other than standard single mode and multimode fibers, G655, OM2, and OM3 fibers are also available upon request. Flame retardant grade cable sheathing options are offered. Riser rated cable will be provided as standard. LSZH and Plenum can be provided upon request.
*NTT-SC is a trademark of NTT Advanced Technology Corp.
Features
Push-pull latching mechanism

Non-optical disconnect performance

High quality zirconia ferrules

Materials meet RoHS requirements

Riser, Plenum, and LSZH cables available
Applications
Telecommunication

Computer networks

CATV networks

Active device termination

Instrumentation
Optical Performance Distribution
Insertion Loss, MM 62.5/125um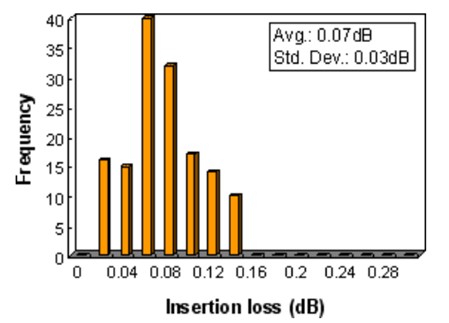 Insertion Loss, SM 9/125um PC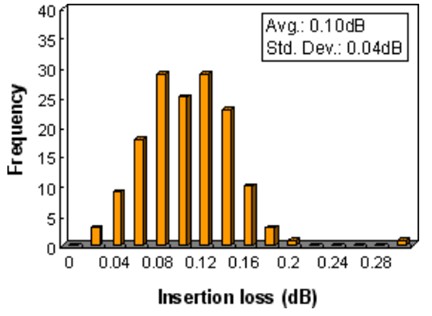 * Typical performance charts and actual data may vary from lot to lot.
Dimensional Drawing
Related Knowledge: