10G Data Rate Infrastructure Options
SOPTO Special Topic
Certificate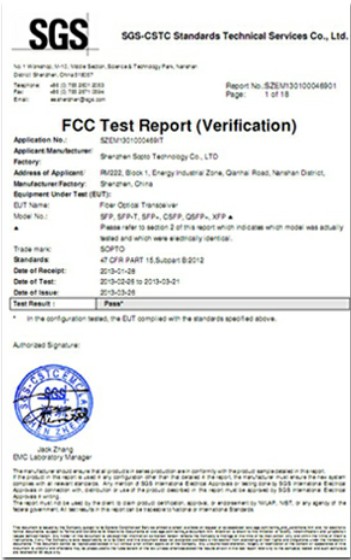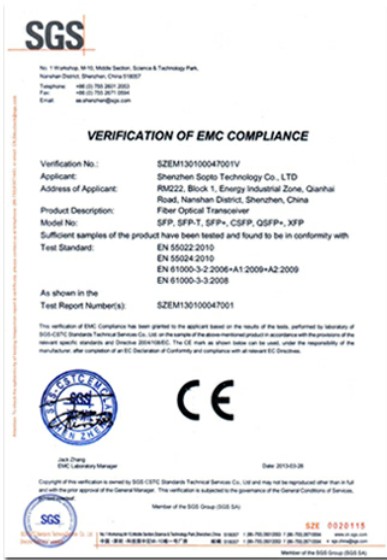 Guarantee
Except products belongs to Bargain Shop section, all products are warranted by SOPTO only to purchasers for resale or for use in business or original equipment manufacturer, against defects in workmanship or materials under normal use (consumables, normal tear and wear excluded) for one year after date of purchase from SOPTO, unless otherwise stated...
Return Policies
Defective products will be accepted for exchange, at our discretion, within 14 days from receipt. Buyer might be requested to return the defective products to SOPTO for verification or authorized service location, as SOPTO designated, shipping costs prepaid. .....
Applications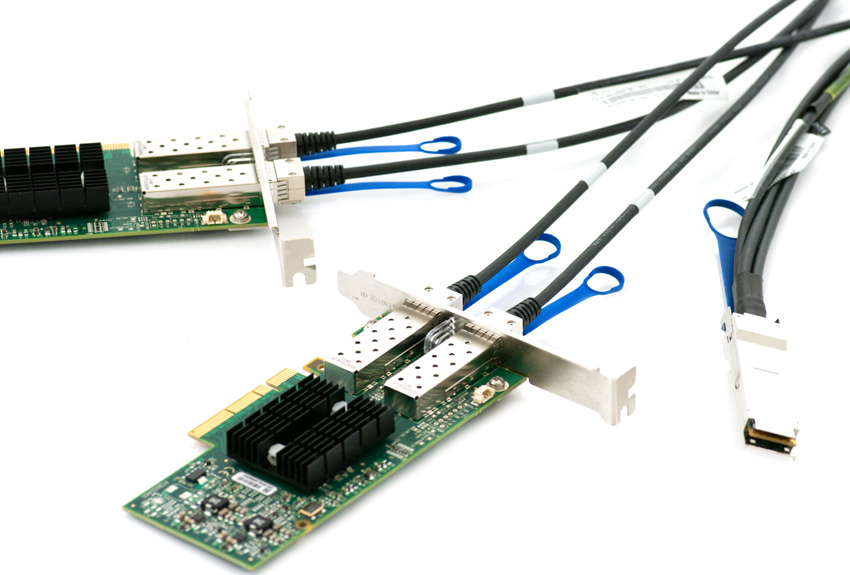 Twinax Cables are mainly used with PCI or PCI-E Card for the short distance interconnection in the server room.
Related Products
Performance Feature
Stable Transmission Speed
Reliable Transmission
Various Length Selection
Wider Operating Temperature
Good for HPC
Good for Data Center
Recommended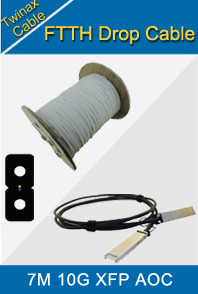 10G Data Rate Infrastructure Options
There are several cabling alternatives available over which 10 Gb/s can be accomplished. Infiniband is one option. The single biggest advantage of Infiniband is that it has far lower latency (around one microsecond) than TCP/IP and Ethernet based applications, as there is much less overhead in this transmission protocol. Infiniband is gaining popularity in cluster and grid computing environments not only for storage, but as a low latency, high performance LAN interconnect with power consumption at approximately 5 Watts per port on average.
A single Infiniband lane is 2.5 Gb/s, and 4 lanes result in 10 Gb/s operations in SDR (Single Data Rate) mode and 20 Gb/s in DDR (Dual Data Rate) mode. Interfaces for Infiniband include twinax (CX4) type connectors and optical fiber connectors: even balanced twisted-pair cabling is now supported through Annex A54. The most dominant Infiniband connector today, however, utilizes twinax in either a 4x (4 lane) or 12x (12 lane) serial communication. These applications are limited to 3-15 m depending on manufacturer, which may be a limiting factor in some data centers. Optical Fiber Infiniband consumes approximately 1 Watt per port, but at a port cost of nearly 2x that of balanced twisted-pair. Active cable assemblies are also available that convert copper CX4 cable to optical fiber cable and increase the distance from 3-15 m to 300 m, although this is an expensive option and creates an additional point of failure and introduces latency at each end of the cable. One drawback to the CX4 Infiniband cable is diameter which is 0.549 cm (0.216 in) for 30 AWG and 0.909 cm (0.358 in) for 24 AWG cables.
With the release of the IEEE 802.3an standard, 10 Gb/s over balanced twisted-pair cabling (10GBASE-T) is the fastest growing and is expected to be the most widely adopted 10GbE option. Because category 6A/class EA and category 7/class F or category 7A/class FA cabling offer much better attenuation and crosstalk performance than existing category 6 cabling, the standard specified Short Reach Mode for these types of cabling systems. Higher performing cabling simplifies power reduction in the PHY devices for Short Reach Mode (under 30 m). Power back off (low power mode) is an option to reduce power consumption compared to category 6 or longer lengths of class EA, class F or class FA channels. Data center links less than or equal to 30 meters can take advantage of this power savings expected to roughly 50% depending on manufacturer.
1-4Gb SFP to SFP Cable Assembly
The IEEE 802.3 10GBASE-T criteria states a goal that "the 10GBASE-T PHY device is projected to meet the 3x cost versus 10x performance guidelines applied to previous advanced Ethernet standards" . This means that balanced twisted-pair compatible electronics, when they become commercially affordable, and not simply commercially available, will provide multiple speeds at a very attractive price point, relative to the cost of optical fiber compatible electronics. As maintenance is based on original equipment purchase price, not only will day-one costs be lower, but day-two costs will also be lower. Latency on first generation balanced twisted-pair compatible electronics chips is already faster than that written in the standard with latency near 2.5 microseconds.
At 1 Gb/s speeds, balanced twisted-pair compatible electronics offer better latency performance than fiber; however, considering latency at 10 Gb/s, currently fiber components perform better than balanced twisted-pair compatible 10GBASE-T electronics, but not as well as 10 Gb/s Infiniband/CX4. However, this will likely change with future generation 10GBASE-T chips for copper switches. It is important to remember that in optical transmissions, equipment needs to perform an electrical to optical conversion, which contributes to latency.
Balanced twisted-pair remains the dominant media for the majority of data center cabling links. According to a recent BSRIA press release: ". . .survey results highlight a rush to higher speeds in data centers; a broad choice of copper cabling categories for 10G, especially shielded; and a copper / fiber split of 58:42 by volume. 75% of respondents who plan to choose copper cabling for their 10G links plan for shielded cabling, relatively evenly split between categories 6, 6a and 7. OM3 has a relatively low uptake at the moment in U.S. data centers. The choice for fiber is still heavily cost related, but appears to be gaining some traction with those who want to future-proof for 100G and those not willing to wait for 10 Gb/s or 40 Gb/s copper connectivity and equipment."
Optical fiber-based 10Gb/s applications are the most mature 10GbE option, although designed originally for backbone applications and as an aggregation for gigabit links. Fiber's longer reach makes the additional cost of fiber electronics worthwhile when serving backbone links longer than 90 meters. But using optical fiber for shorter data center cabling links can be cost prohibitive.
Mixing both balanced twisted-pair cabling and optical fiber cabling in the data center is common practice. The most common 10 GbE optical fiber transmission in use in the data center is 10GBASE-SR. This will support varied distances based on the type of optical fiber cabling installed. For the OM1 optical fiber (e.g., FDDI grade 62.5/125οm multimode fiber), distance is limited to 28 meters. For laser optimized OM3 grade 50/125µm (500/2000) multimode fiber, the distance jumps to 300 m with future proof support for 40 and 100 Gb/s currently under development within IEEE.
In order to increase the distances on OM1 grade optical fiber, two other optical fiber standards have published. 10GBASELX4 and 10GBASE-LRM increase allowable distances to 300 m, and 220 m respectively. However it is important to note that LX4 and LRM electronics are more expensive than their SR counterparts, and in most cases, it is less expensive to upgrade your optical fiber cabling to laser optimized (OM3) grade optical fiber as a cabling upgrade would not result in elevated maintenance costs due to the higher cost of the electronics.
We high quality twinax direct attach cable and AOC Cables for data center cabling. For the newest quotes, please contact a Sopto representative by calling 86-755-36946668, or by sending an email to info@sopto.com. For more info, please browse our website.