PON Power Meter SPT-3212
PON Power Meter SPT-3212
PON Power Meter SPT-3212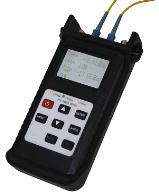 Features
• Providing simultaneous measurement at all three wavelengths (1490nm, 1550nm&1310nm )
• Burst mode measurement at 1310nm wavelength
• 10 minutes Auto-off function
• Large LCD screen with backlight function
• 1000 storage test records
• 10 different threshold sets
• USB communication port enables data transfer to a PC
• 3 Colors LED light Green, Yellow or Red represent 3 types of signal conditions Pass, Warn or Fail.
• Added User self-calibration function in software which used to calibrate the PON module or set the threshold value.
• Added Factory Default function in software which enable all the customersˇ setting back to the factory setting.
• Power Supply: 7.4V 7.4V rechargeable lithium battery.
SPT-3212B Added Function as follows(than SPT-3212 PON power meter ):
• Six calibration wavelength available when tested  as Normal OPM (850, 1300,1310, 1490,1550 &1625nm)
• Added VFL Function for quick and efficient fault identification
• Power Supply: 3 × AA1.5V battery,   Working Hours (hr):90 without backlight.
E-mail: sales@sopto.com
Web : http://www.sopto.com