MTP/MPO Patch Cords
SOPTO MPO/MTP Patch Cord Types:
MPO/MTP
Trunk Cable
MPO/MTP
Harness Cable
MPO/MTP
Hydra Cable
MPO/MTP
Fanout Cable

MPO/MTP Splitter

Module

MPO/MTP Rack Mount

Fiber Panel

MPO/MTP




Cassette Module

MPO/MTP Patch Cord

Fiber Count: 4, 6, 8, 12, 24,48(4x12) Fibers

Fiber Type: SM, MM, OM1, OM2, OM3, OM4, duplex, simplex

Endface: PC, APC, UPC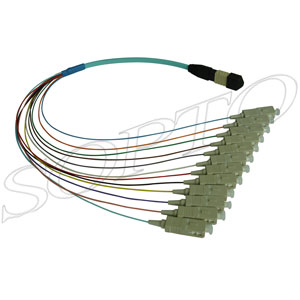 MPO/MTP patch cord is a multi-fiber patch cord with fiber count of 4, 6, 8 12, 24,48. MPO/MTP patch cords use Precision molded MT ferrules, together with metal guide pins and precise housings ensuring fiber alignment when mating. MPO/MTP connector assembled to ribbon or bare ribbon connectors with push-pull latching.
SOPTO Supplies MPO/MTP Trunk Cable, MPO/MTP Harness Cable, MPO/MTP Hydra Cable, MPO/MTP Fanout Cable, MPO/MTP Cassette Module and MPO/MTP Patch Cord, MPO Splitter Module which are all suitable for 40G QSFP+ Transceiver.
SOPTO MPO/MTP Patch Cord Main Info
End Face Type: PC/APC/UPC/Plat Polish

Connector Type: MTP/MPO

Operating Wavelength: 850nm/1310nm/1550nm

Length: 0.5m/1m/2m/3m/5m/7m/12m or customer specified

Insertion loss: ≤0.35dB SM; ≤0.5dB MM

Return loss: >60dB SM; >35 MM

Interchangeability: ≤0.2dB

Repeatability: ≤0.2dB

Insert-pull test: >1000 times

Fiber Type: SM, MM, OM1, OM2, OM3, OM4, duplex, simplex

Fiber Diameters: 9/125µm SM; 62.5/125/µm, 50/125µm MM

Material Feature: PVC/LSZH/OFNR/OFNP/Plenum

Storage Temperature: -40~+85°C

Operating Temperature: -25~+85°C

Storage Humidity: 95%RH (Non-Packaging)

Packing: Blister Box Packing

Standard: ROHS