SPT-P1RV3-LXX, Single Rx 3G SFP Video Transceiver for SDI HDTV SDTV
SPT-P1RV3-LXX, Single Rx 3G SFP Video Transceiver for SDI HDTV SDTV
SPT-P1RV3-LXX
3Gbps Video SFP Optical Receiver, PIN photo detector
  
Features
HD-SDI SFP Receiver available
SD-SDI SFP Receiver available
3G-SDI SFP Receiver available
SMPTE 297-2006 Compatible.
Metal enclosure for Lower EMI
PIN photo detector
Supports video pathological patterns for SD-SDI, HD-SDI and 3G-SDI
Digital Diagnostic functions available through the I2C interface
Compatible with RoHS
+3.3V single power supply
Operating case temperature: Standard: 0 to +70°C

Applications
SMPTE 297-2006 Compatible Electrical-to-Optical Interfaces.
HDTV/SDTV Service Interfaces.
Description
The video series transceivers are high performance, cost effective modules for duplex video transmission application over single mode fiber.
The receiver is designed to receive data rates from 50Mbps to 2.97Gbps and is specifically designed for robust performance in the presence of SDI pathological patterns for SMPTE 259M, SMPTE 344M, SMPTE 292M and SMPTE 424M serial rates. The module is fully compliant with SMPTE 297M-2006.
The receiver is consists of a PIN photodiode integrated with a trans-impedance preamplifier (TIA). All modules satisfy class I laser safety requirements.
  
  Absolute Maximum Ratings
| | | | | |
| --- | --- | --- | --- | --- |
| Parameter | Symbol | Min | Max | Unit |
| Supply Voltage | Vcc | -0.5 | 4.5 | V |
| Storage Temperature | Ts | -40 | +85 | °C |
| Operating Humidity |   | 5 | 85 | % |
  Recommended Operating Conditions
Parameter

Symbol

Min

Typical

Max

Unit

Operating Case Temperature

Standard

Tc

0

 

+70

°C

Power Supply Voltage

Vcc

3.13

3.3

3.47

V

Power Supply Current

Icc

 

 

150

mA

Data Rate

 

 

3

 

Gbps
  Optical and Electrical Characteristics
Parameter

Symbol

Min

Typical

Max

Unit

Notes

Receiver

Rise/Fall Time(20%~80%)

SD-SDI

tr/tf

 

 

1500

ps

1

HD-SDI

 

 

270

3G-SDI

 

 

135

Total Output jitter

PRBS and cooler bar

SD-SDI

 

 

70

200

ps

 

HD-SDI

 

 

50

135

 

3G-SDI

 

 

70

100

 

Pathological

SD-SDI

 

 

200

300

 

HD-SDI

 

 

115

 

 

3G-SDI

 

 

120

 

 

Centre Wavelength

λc

1260

 

1580

nm

 

Receiver Sensitivity (PRBS)

SD-SDI

 

 

 

-22

dBm

 

HD-SDI

 

 

 

-22

dBm

 

3G-SDI

 

 

 

-22

dBm

 

Receiver Sensitivity (Pathological)

SD-SDI

 

 

 

-20

dBm

 

HD-SDI

 

 

 

-22

dB

 

3G-SDI

 

 

 

-22

mV

 

Receiver Overload

 

0

 

 

 

dBm

3

LOS De-Assert

LOSD

 

 

 

 

dBm

 

LOS Assert

LOSA

 

 

 

 

dBm

 

LOS Hysteresis

 

 

 

 

 

dB

 

Data Output Swing Differential

Vout

650

 

800

1000

mV

2

LOS

High

2.0

 

 

Vcc

V

 

Low

 

 

 

0.8

V

 
Notes:
1. Rise and fall times, 20% to 80%, are measured following a fourth-order Bessel-Thompson filter with a bandwidth of 0.75 x clock frequency corresponding to the serial data rate.
2. PECL input, internally AC-coupled and terminated.
3. Internally AC-coupled

  Pin Definitions
  Pin Diagram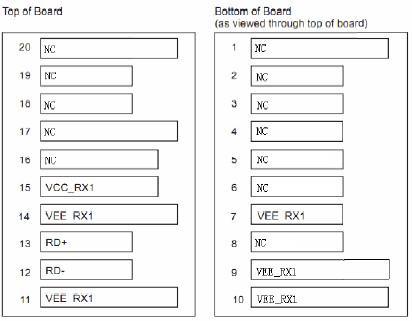 PinDescriptions
| | | | | |
| --- | --- | --- | --- | --- |
| Pin | Signal Name | Description | Plug Seq. | Notes |
| 1 | NC | Not Connected | 1 |   |
| 2 | NC | Not Connected | 3 |   |
| 3 | NC | Not Connected | 3 |   |
| 4 | NC | Not Connected | 3 |   |
| 5 | NC | Not Connected | 3 |   |
| 6 | NC | Not Connected | 3 |   |
| 7 | VEE_RX1 | Receiver1 Ground | 3 |   |
| 8 | NC | Not Connected | 3 |   |
| 9 | VEE_RX1 | Receiver1 Ground | 1 |   |
| 10 | VEE_RX1 | Receiver1 Ground | 1 |   |
| 11 | VEE_RX1 | Receiver1 Ground | 1 |   |
| 12 | RD- | Inv. Received Data Out | 3 | Note1 |
| 13 | RD+ | Received Data Out | 3 | Note1 |
| 14 | VEE_RX1 | Receiver1 Ground | 1 |   |
| 15 | VCC_RX1 | Receiver1 Power Supply | 2 |   |
| 16 | NC | Not Connected | 2 |   |
| 17 | NC | Not Connected | 1 |   |
| 18 | NC | Loss of Signal | 3 |   |
| 19 | NC | Not Connected | 3 |   |
| 20 | NC | Not Connected | 1 |   |
Plug Seq.: Pin engagement sequence during hot plugging.
1) RD-/+: These are the differential receiver outputs. They are internally AC-coupled 100 differential lines which should be terminated with 100Ω (differential) at the user SERDES.

  Mechanical Dimensions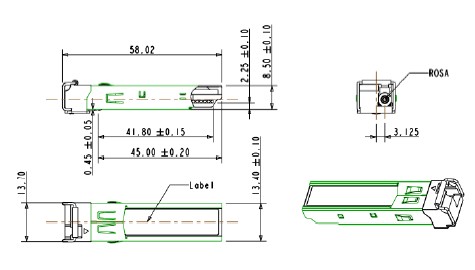 Ordering information
| | |
| --- | --- |
| Part Number | Product Description |
| SPT-P1RV3-LXX | PIN, 3Gbps, Video Single Rx SFP, LC, 0ºC~+70ºC |
E-mail:sales@sopto.com