Dual UTP ports 10G network card is lunching soon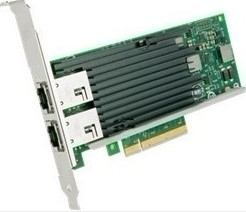 Intel formally released an Ethernet controller named X540 on Mar., 8 2012. As the first fully integrated program 10 Gigabit network chip in the industry, X540 single-core program can save space and energy, which is suitable for the onboard programs and independent card program.
In addition, the Intel X540 can also be down compatible with 10M/100M/1000M network. Just like others Intel Gigabit networking products, Intel X540 offers the advanced I / O virtualization, and supports ISCSI (Internet Small Computer System Interface) and FCoE (Fiber Channel over Ethernet) functionality, which is the best partner for Sandy Bridge-EP architecture Xeon E5 series products that released a few day ago. It benefits from the Powerful E5 in I/O platform.
At present, Intel X540 controller adopts an independent card X540-the AT2. Official recommend that the price is$ 124.34.  Its interface is PCIe 2.1.
Meanwhile, SOPTO has been developing a new 10/100/1000/10000M Network Card, that is the 10Gigabit Ethernet Server Adapters X540 with dual UTP ports. Hopefully, it could come into the market in 2012.