Sopto Showcasing EPON OLT and ONU at Communicast Myanmar 2017
Sopto is a leading equipment manufacturers and network integrators located in Shenzhen, China, is exhibiting at the Communicast exhibition, it was held at Novetel Yangon Max in Yangon, Myanmar from 28 to 30th November. Stop by booth # A3 to see Sopto newest product solutions including EPON OLT - SP-1002S and EPON ONU -SP111HZ.
Sopto's GEPON portfolio delivers high-speed voice, data and video services to both residential and business subscribers. GEPON solutions combine the simplicity of Ethernet with the high durability of passive components, ensuring lower operating expense for service providers. EPON OLT - SP-1002S featuring high stability with low cost and flexible networking construction , support telnet and local command lines management and online upgrading, it can also realize stable and efficient dynamic bandwidth allocation, ONU auto-detection and registration, support LGMP and Snoop function.

SP-111HZ is based on ZTE high-performance xPON access chip. The chip supposes three mode:GPON/EPON/P2P, comply with the GPON standard of g.984, g.983, 802.3-2005, CTC EPON equipment technical requirements, have good xPON interoperability compatibility. SP-111HZ provide one GE auto-adapting Ethernet ports. The 1GE SFU TYPE EPON ONU features high-performance forwarding capabilities to ensure excellent experience with Internet and HD video services. Therefore, the SP-111HZ provides a perfect terminal solution and future-oriented service supporting capabilities for FTTH deployment. It has good third-party compatibility to work with the third party OLT, such as huawei/ZTE/Fiberhome/Alcatel-Lucen.
About Communicast Myanmar:
CommuniCast Myanmar 2017 is the fourth edition of the annual communications technology, enterprise and convergence solutions show. Joining forces with the Myanmar Computer Federation's international ICT Exhibition and the Myanmar Satellite Forum, the event covers the full spectrum of the ICT industry, from satellite and broadband through to mobile and enterprise solutions, under one roof. The show presented more than 70 leading companies from 14 countries, 3 pavilions from India, Singapore and Thailand, Showcasing new products and technologies from the world of communications technology, service providers.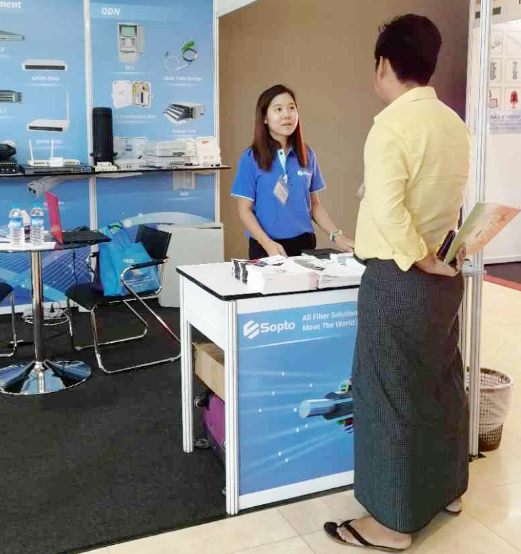 Communicast exhibition is a great event in the ICT industry, Sopto seized the opportunity to enjoy the show. Myanmar is perhaps the country least touched by the exceptional developments in telecommunications of the last two decades. Sopto is an international manufacturer providing end-to-end solutions to the energy, service provider, enterprise and industrial markets as well as several emerging markets. The company's products are in use in over 130 countries and include fiber optic cable and hardware, transmission and substation accessories, outside plant equipment, connectivity, test and inspection equipment, fusion splicers and training. Sopto also offers a wide variety of services supporting data center, enterprise and outside plant applications.