GPON OLT SFP 1490nm(Tx)/1310nm(Rx),2488M(Tx)/1244M(Rx),SC,SM, Class B+ DDM
GPON OLT SFP 1490nm(Tx)/1310nm(Rx),2488M(Tx)/1244M(Rx),SC,SM, Class B+ DDM
    SPGT-P4321-SB2DB
    GPON SFP OLT Transceiver
Features
Single Fiber Transceiver with single mode SC receptacle
1490nm continuous-mode transmitter with DFB laser
1310nm burst-mode receiver with APD-TIA
Single 3.3V power supply
Reset burst-mode receiver design
Burst mode signal detect output which is LVTTL compatible
Burst mode received signal strength indication (RSSI) output
20Km Reach 28dB link budget
Complies with ITU-T G984.2 Class B+
Digital diagnostic interface compliant with SFF-8472 Rev 9.4
Complies with RoHS directive
Operating case temperature: Standard: 0 to +70°C

Applications
Gigabit Passive Optical Networks (G-PON) – OLT side

Description
The SPGT-P4321-SB2DB gpon sfp transceiver is the high performance module for single fiber by using 1490nm continuous-mode transmitter and 1310nm burst-mode receiver. It is optical line terminal (OLT) for ITU-T G984.2. The optical transceiver is compliant with the Small Form- Factor Pluggable (SFP) Multi-Source Agreement (MSA).
The transmitter section uses a 1490nm DFB LD with automatic power control (APC) function and temperature compensation circuitry to ensure stable extinction ratio overall operating temperature range. And it is Class I laser compliant IEC825 and CDRH standards. The receiver has a hermetically packaged burst-mode APD-TIA (trans-impedance amplifier) pre-amplifier and a burst-mode limiting amplifier with LVPECL compatible differential outputs.
The receiver also includes the function of burst mode signal detect output and fast RSSI output which is enabled by a trigger. When the burst optical power is on, the receiver outputs high level; when the burst optical power is off, the receiver outputs low level. Fast RSSI function can satisfy more severe timing demand to monitor the power from any ONU.
Recommended Interface Circuit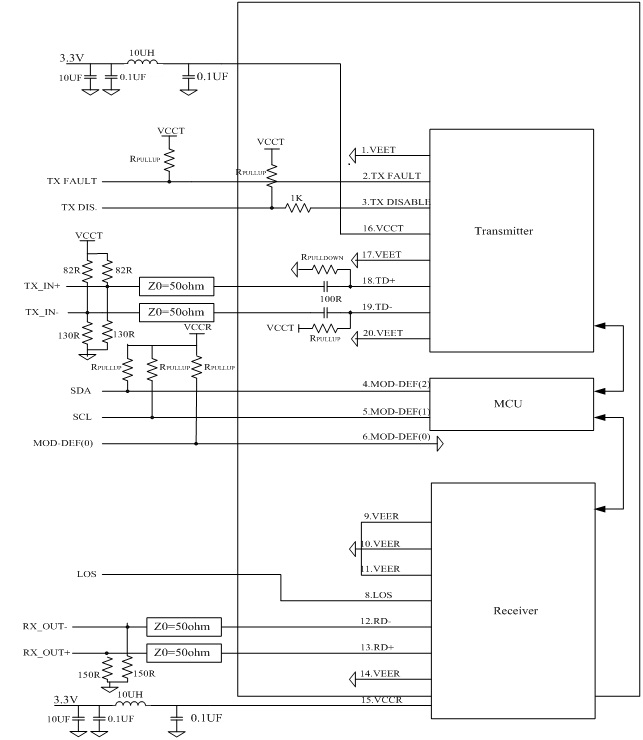 Mechanical Dimensions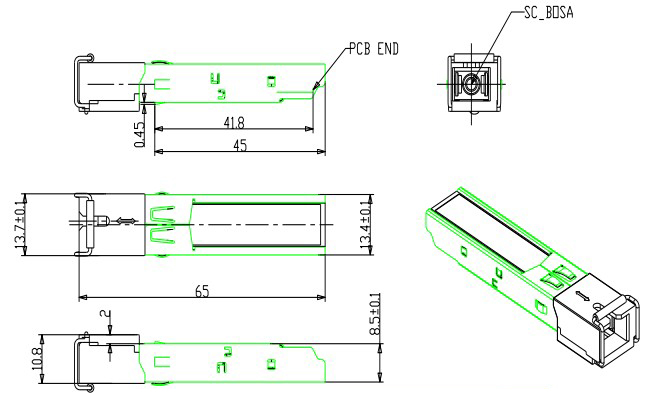 Ordering Information
| | |
| --- | --- |
|                     Part Number |                     Product Description |
|                     SPGT-P4321-SB2DB |                     Tx1490nm,Rx1310nm,2.5Gbps/1.25Gbps,ClassB+,0ºC~+70ºC,DDM |
    E-mail:sales@sopto.com