2X10 GPON ONU Bi-Directional SFF Transceiver
2X10 GPON ONU Bi-Directional SFF Transceiver
SPGU-F3412-SB2DA
GPON ONU SFF 2X10
Features
Single fiber Bi-Directional transceiver with SC Receptacle Connector
1310nm burst-mode 1.25Gbps transmitter with DFB LD laser
1490nm continuous-mode 2.5Gbps receiver with APD-TIA
Burst mode: "low" active
Complies with ITU-T G.984.2 Class B+
Digital diagnostic interface compliant with SFF-8472 Rev 9.5, Digital Diagnostic Monitoring (DDM) with external calibration
3.3V Single power supply
Complies with RoHS directive
Operating case temperature:
Standard : 0 to +70°C

Applications
GPON ONU Class B+
Burst mode application.
FTTx WDM Broadband Access

Description
The SPGU-F3412-SB2DA bi-directional transceiver is the high performance module for single fiber communications by using 1310nm 1.25Gbps burst mode transmitter and 1490nm 2.5Gbps continuous receiver. It is Optical Network Unit (ONU) for ITU-T G.984.2 Class B+. The optical transceiver is compliant with Multi-Source Agreement (MSA) Small Form Factor (SFF) 2x10 footprint.
The transmitter section uses a 1310nm DFB laser diode with automatic power control (APC) function and temperature compensation circuitry to ensure stable extinction ratio overall operating temperature range, and full IEC825 and CDRH class 1 eye safety. The receiver has a hermetically packaged PIN-TIA (trans-impedance amplifier) pre-amplifier and a limiting amplifier with CML compatible differential outputs.
Recommended Interface Circuit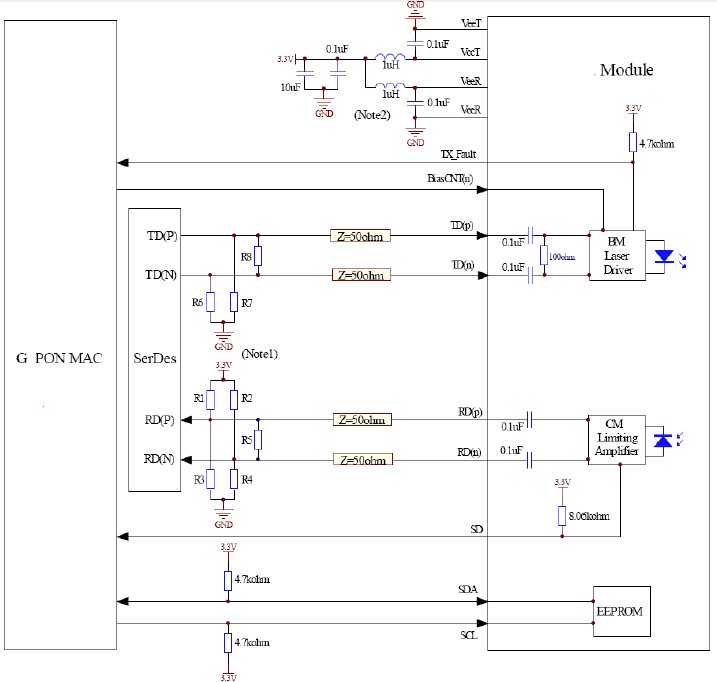 Mechanical Dimensions
Ordering information
| | |
| --- | --- |
| Part Number | Product Description |
| SPGU-F3412-SB2DA | Tx1310nm,Rx1490nm,1.25Gbps/2.5Gbps,GPONONU ClassB+,Burstlow,0ºC~+70ºC,DDM |
E-mail:sales@sopto.com