Outdoor Cross-connecting Cable Cabinet
Outdoor optical cabinet is mainly used for cross-connecting outdoor optical cables from offices to optical distribution node. This cabinet offers ideal environment for fibers to be spliced, cable termination, fiber distribution, dispatch and well organized under outdoor environment. Outdoor optical cabinet provides safe, reliable and flexible optical fiber/cable circuit management, suitable for various communication networks, especially for users' optical fiber access network engineering.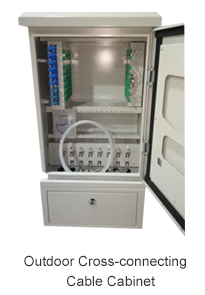 Main Features:
1. Made of powder coated iron or SMC Material (optional)
2. Solid and fully-closed structure with the advantages of good
performance of dust-proof, pleasing and neat appearance
3. Excellent anti-erosion, waterproof and dustproof performance
4. The protection grade reaches IP65
5. Integrated splice and distribution unit is adopted. The drawer type
distribution module can be easy changed according to the requirements,
which is very easy for future maintenance.
6. Multiple installation options, including floor and wall installations
7. Each incoming cable will be fixed properly with earth provided
8. Available for normal fiber cable and fan-out fiber cable
Main Parameters:
1. Full-front operation, welding and distribution one-body module design,
easy to draw, pull and place module. Each board can be clamped with
12 FC or SC adaptors which a 35 degree of inclination
2. Insertion Loss: ≤ 0.30dB
3. Return Loss: ≥ 0.45dB (PC type)
4. Pressurization between the frame high voltage protection earth device
and the frame ≥3000Vdc for 1 minute without any breakdown or flashover.
Insulation resistance between the frame high voltage protection
earth device and the frame ≥20,000M/ 500Vdc.
5. Each surface of the cabinet can bear a vertical pressure over 980N.
6. The outermost part of the door can bear a vertical pressure over
200N when the door is open.
7. The fixing position of cable can bear an axial tensile force 1000N,
as well as three times of recyclable torsion of ±90
8. Mechanical durability: No damage for all connectors and adaptors after 500 mating times.
9. The curvature radius>40mm.
---
Capacity:96-576Cores
Model No.

Size(mm)

Max Core(cores)

S

PDF-O96SCC-Cxx

850*530*310

9

6

S

PDF-O144SCC-Cxx

900*630*330

1

44

SPDF-O288 SCC-Cxx

1300*730*330

288

SPDF-O576SCC-Cxx

1400*830*630

576