Mechanical Splice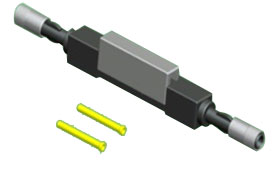 Product Impression:
Manufacturer: SOPTO
Latest Price: Contact online customer service 

NOW!

Fiber Diameter: 125µm
Cost Diameter: 250 or 900µm
Mean Insertion Loss: 0.1dB
Operating Temperature: 40°C ~+ 80°C
Storage Temperature: -20°C ~+ 80°C
Tensile Strength: 4.4N (1.0Ib) minimum, 13.2N (>3.0Ibs) typical
Material: Engineering thermoplastic with aluminum alloy element, UL 94, V-O rating
Browse the Evaluation: Click here to browse
Performance Feature:
<0.1dB insertion loss

High performance

30 seconds installation time

Increased productivity

Minimum tooling requirements

Low cost

No epoxy or electricity required

Easy on-site installation

Simple, easy to use

Minimal training, lower cost for installation

Ability to reposition fibers

Improved splicing yield

Single splice for any combination 250um or 900um fibers
Applications
Single-mode and multimode fibers

Both Construction and maintenance

Aerial, buried, underground, pedestal

Insert or outside buildings

FTTx, Metro and Enterprise networks

Up to 10 Gigabit data rates

High density substitute for connectors
Note: Part in order to prevail in kind. Please contact customer service before buying.
Quality Certification:
Good Anti-electromagnetic interference (EMI)

Good Electromagnetic compatibility (EMC) which is in accordance with FCC Part15.

Meets ISO9001, TUV, CE, FCC, CAS, UL and RoHS certificates
Factory:
Advanced dust-free workshop

Experienced technicians

Mature production technology

Standard production process
Information you want to know more:
Reachable Continents: Asia, Europe, Oceania, Africa, the Americas
Arrival Date: 5 to 7 days
Selectable Logistics: FedEx, DHL, TNT, UPS or EMS
Payment Methods: L/C, T/T, Western Union, HSBC, Paypal as well as Cash Payment
Warranty: 1-3 years
Discounts, Promotions and Gifts: Please just contact our online customer services or pay attention to our website.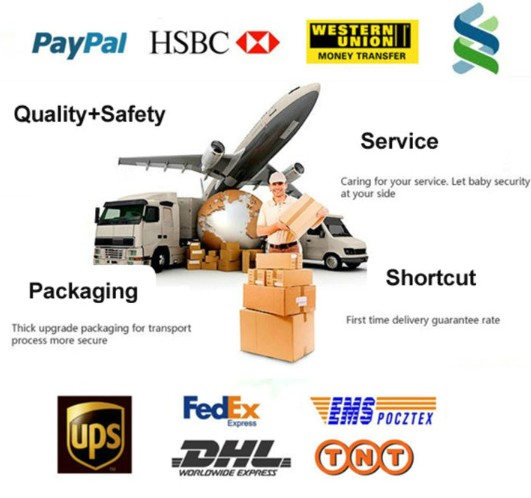 Related Read:
Please pay attention to our SNS pages: 
What is a Mechanical Splice?
A mechanical splice is a method of permanently joining two separate fibers together within a fiber optic cable. Fiber optics are used to transmit data in fields such as telecommunications or computer networking. Mechanical splicing provides a quick and effective way of joining fibers so that information can pass uninterrupted between different cables or sources. It is an alternative to fusion splicing, which is a method of fusing fibers together using arc welding. Fusion splicing is fairly complex, however, and requires much more skill than mechanical splicing.
Installation  of Mechanical Splice

1.Cut the fiber as shown above.

 


2.Put the fiber(buffer diameter=0.9mm) into the splicer,Push the tube.

3.Cut the fiber as shown above.


 

4.Put the fiber(coating diameter=0.25mm) through the reducer into the splicer, Push the tube.

5.Put the fiber (coating diameter=0.25mm) though the reducer into the splicer.

6.Put the fiber (tight buffer diameter=0.9) into the splicer.

7. Press the side cover.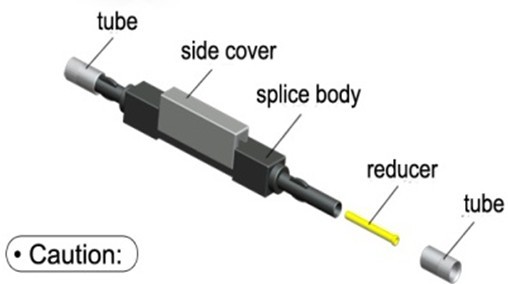 Please select the right product according to the type of optical cable.
Ensure the construction enviroment within the limitation.
Any problem caused by improper operation will be responsible to the user.
The fiber stub could cause injury of skin and should be handled carefully.
The dedicated tools should be prepared by the user.
The reducer is used to adapt the fiber (coating diameter=0.25mm) or the splicer.
The video of mechanical splice installation.SOPTO Mechanical Splicer
Good cost and quality relationship, happy with the delivery time and the product is great.
7/29/2016
Everything about my order went extremely well. Thanks!
11/2/2014
This product arrived and performed as advertised
8/26/2013
It deserves the price ,good quality
8/8/2013
Good price and fast shippment. Will buy again.
7/18/2013