155Mbps Single-Mode BiDi SC SFF Transceiver SPT-FB5303-S20
155Mbps Single-Mode BiDi SC SFF Transceiver SPT-FB5303-S20
Features:
155Mbps bi-directional optical data links
Fully Compliance With IEEE802.3ah
+3.3V Power Supply
LVPECL Logical Interface
LVTTL SD
2X5 Small Form Factor SFF Package
20km Reach
Applications:
FDDI
SDH/STM-1
SONET/OC-3
Fast Ethernet
Description:
Sopto 155Mbps single-mode BiDi SC SFF is a high performance and cost effective transceiver. It is designed to meet Fast Ethernet application. The transceiver consist Bi direction SC connector with TX in 1550nm FP laser diode (LD) with monitor photo detector (MPD) in eye safety and RX in InGaAs PIN-TIA with 4PIN structure. The output of the PD drives the post-amplification, quantizing, and optical signal detection circuits. The receiver is built in the LOS monitoring function. It can achieve data transmission up to 155Mbps 20km on a single mode (9/125um) optical fiber.
Transmitter Specifications (0oC < Top < 70oC, 3.14V < Vcc < 3.47V)

Parameter

Symbol

Min.

Typ.

Max.

Units

Optical

Optical Transmit Power

Po

-14

-

-3

dBm

Optical Center Wavelength

λC

1480

1550

1580

nm

Output Spectrum Width

Δλ

-

2

4

nm(RMS)

Extinction Ratio

ER

10

-

-

dB

Output Eye

Compliance with ITU-T G.957

Optical Rise Time

(20%~80%)

tr

-

1

2

ns

Optical Fall Time

(20%~80%)

tf

-

1

2

ns

Relative Intensity Noise

RIN

-

-

-116

dB/Hz

Electrical

Data Input Current – Low

-

-350

-

-

mA

Data Input Current – High

-

-

-

350

mA

Differential Input Voltage

VIH -VIL

300

-

1860

mV
Absolute Maximum Ratings

Parameter

Symbol

Min.

Max.

Units

Note

Storage Temperature

Ts

-40

85

℃

-

Power Supply Voltage

Vcc

-0.5

4.0

V

-

Soldering Temperature

-

-

260

℃

10 seconds on leads only

Input Voltage

Vin

GND

Vcc

V

-
Recommended Operating Conditions

Parameter

Symbol

Min.

Typ.

Max.

Units

Power Supply Voltage

Vcc

3.14

3.3

3.47

V

Operating Temperature

Top

0

-

70

℃

Data Rate

-

-

155

-

Mbps

Power Supply Current

Icc

-

-

250

mA
Receiver Specifications (0oC < Top < 70oC, 3.14V < Vcc < 3.47V)

Parameter

Symbol

Min.

Typ.

Max.

Units

Optical

Maximum Input Power (Sensitivity)

Sen

-

-

-32

dBm

Maximum Input Power(Saturation)

PMAX

-3

 

 

dBm

Signal Detect -- Asserted

Pa

 

 

-32

dBm

Signal Detect -- Deasserted

Pd

-45

 

 

dBm

Signal Detect -- Hysteresis

Phys

0.5

 

5

dB

Wavelength of Operation

λ

1260

 

1360

nm

Electrical

Data Output Voltage – Low

VOL –VCC

-1830

-

-1555

mV

Data Output Voltage – High

VOH –VCC

-1085

-

-880

mV

Signal Detect Output Voltage

-- Low

VSOL –VCC

-2.0

-

-1.58

V

Signal Detect Output Voltage

-- High

VSOL –VCC

-1.1

-

-0.74

V
PIN ASSIGNMENT:
PIN

NAME

LEVEL

DESCRIPTION

1

Vee

 

Receiver Signal Ground

2

VccR

 

Receiver Power Supply

3

SD

LVTTL

Signal Detect

Normal Operation: logic "1"output

Fault Condition: logic "0"output

4

RD-

LVPECL

Received Data Output Bar

5

RD+

LVPECL

Receiver data output

6

VccT

 

Transmitter Power Supply

7

Vee

 

Transmitter Signal Ground

8

TXDis

LVTTL

Transmitter Disable

Normal Operation: logic "0" --Laser On

Transmit Disabled: logic "1" --Laser Off

9

TD+

LVPECL

Transmitter Data In

10

TD-

LVPECL

Transmitter data In Bar
BLOCK DIAGRAM: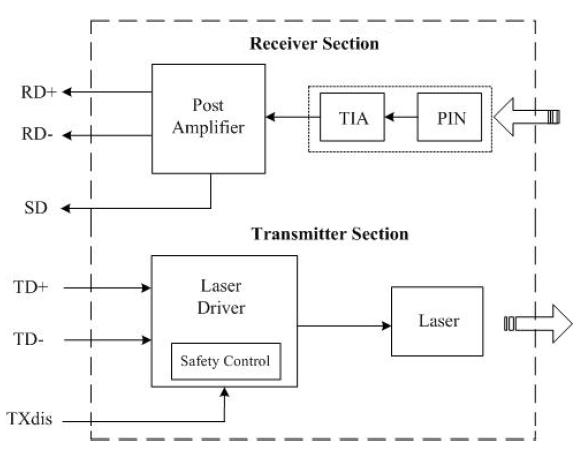 Typical application circuit: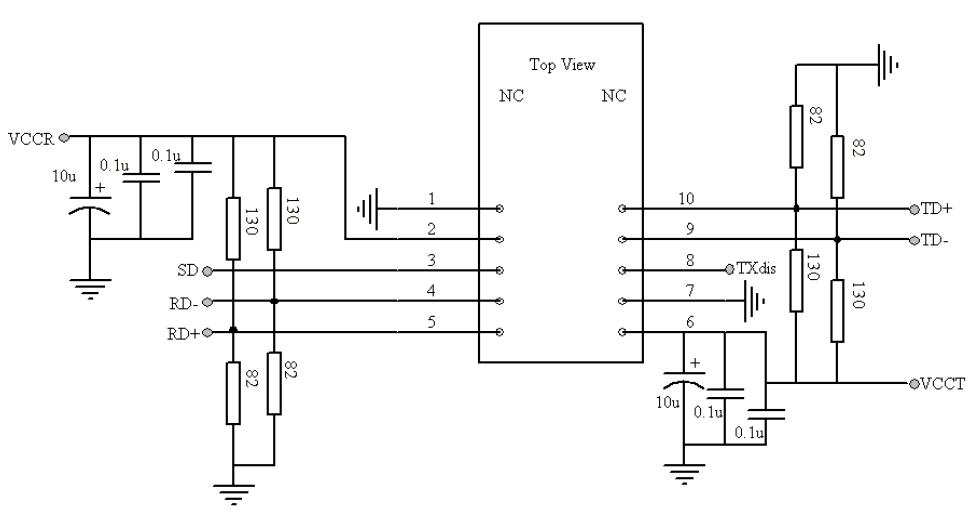 Package outline: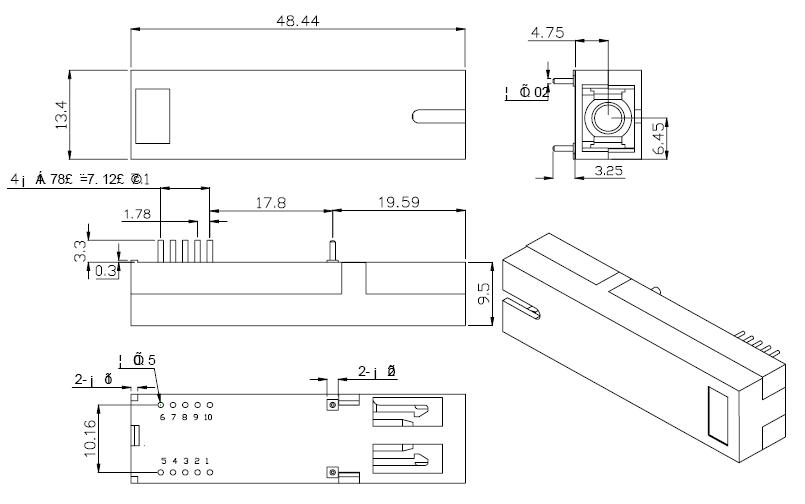 E-mail: sales@sopto.com
Web : http://www.sopto.com