1000BASE-T Mini GBIC Transceiver
1000BASE-T Mini GBIC supports 1000Mbps over Cat5 cables with RJ45 connector interface. Sopto's SPT-PE-T2 transceiver is suitable for Gigabit Ethernet network. And these 1000BASE-T Mini GBIC transceiver modules are 100% compatible with your branding devices.
Tips: SOPTO supplies (Original Equipment Manufacture) OEM Service and Third-Party Compatible Fiber Optic Transceivers.
Compatible Brands

Cisco

Juniper

HP

Intel

DELL

Other mainstream brands
1000BASE-T Mini GBIC Order information
1000BASE-T Mini GBIC Features
Hot-pluggable

Extended case temperature range: 0°C to +70°C

Fully metallic enclosure for low EMI

Low power dissipation: 1.05 W typical

Compact RJ-45 connector assembly

Access to physical layer IC via 2-wire serial bus

1000 BASE-T operation in host systems with SERDES interface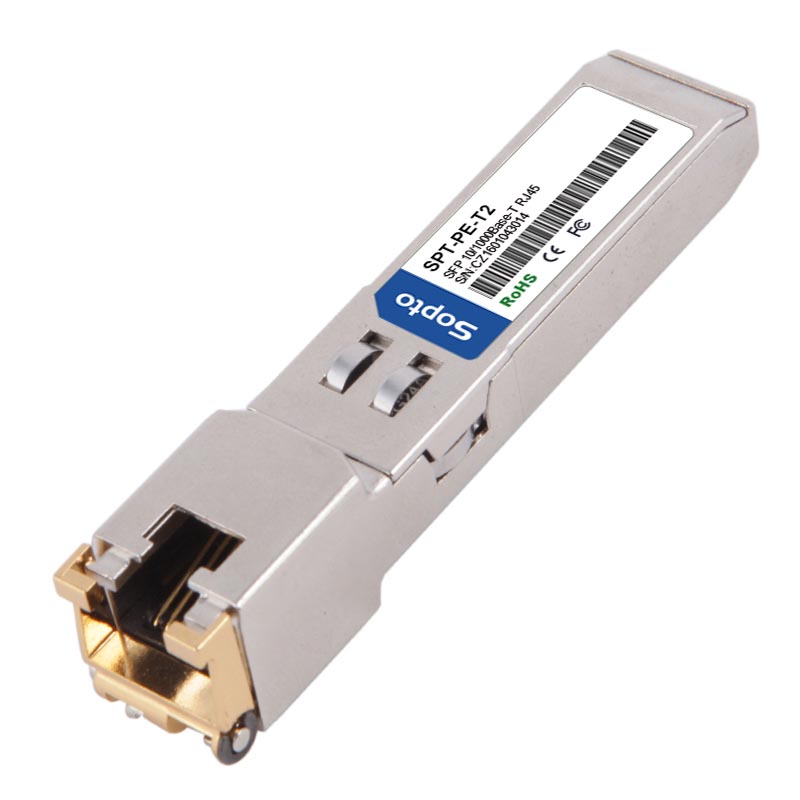 1000BASE-T Mini GBIC Application
1.25 Gigabit Ethernet over Cat 5 cable
Superiority
low price
1-3 Years Warranty
Standarized Design
High-quality raw materials
A Wide range of selection and large stock
Rigorous and comprehensive product testing
Widely compatible with all brand equipment
Third Party Compatible Service
The SFP transceiver is not standardized by any official standards body, but rather is specified by a multi-source agreement (MSA) among competing manufacturers.
As a practical matter, some networking equipment manufacturers engage in vendor lock-in practices whereby they deliberately break compatibility with "generic" SFPs by adding a check in the device's firmware that will enable only the vendor's own modules.
For example, in 2003 during a routine Internet Operating System (IOS) update on their Catalyst line of switches, Cisco added a feature that would cause the switch to reject optical modules that were not deemed 'Cisco brand.
Sopto is a professional manufacture and supplier of fiber optic transceivers. All our optical transceivers are tested strictly before delivery and fully compatible with major bands' equipment.
Sopto provides GBIC, SFP, SFP+, X2, XENPAK, XFP and QSFP+ transceivers, supporting different data rate such as 1G, 2G, 4G, 8G, 10G, 40G, etc. These transceivers can be operated with network switches, routers, firewalls, digital return transceivers and other devices of all leading vendors, such as Cisco, HP, Juniper, H3C, 3COM, D-link, etc.
As a third party vendor, Sopto can supply transceiver modules with good quality and low price for our customers.
CISCO
ADTRAN
H3C
HP

Allied Telesis
Alcatel-Lucent
Foundry
Force10
Juniper
Intel
Brocade
Blade
D-Link
Linksys
Marconi
McAfee
Netgear
Ruijie
SMC
Emulex
Q-logic
SUN
Feixun
Fiber Optic Transceiver Customized Example-OEM
What is OEM?
OEM stands for Original Equipment Manufacturer, refers to companies that make products for others to repackage and sell. OEMs are manufactures who resell another company's products under their own name and branding.
Sopto Provides OEM Service
Sopto can provide OEM service for our customers. All our optical transceivers are produced by our own factory and 100% compatible with Cisco, HP and other brands' devices. We also provide customize optical transceivers to fit your specific requirements with high quality and low price. If you need OEM service, please give priority to our products. For more information, please contact our sales staff on-line by e-mail or live-chat. Please call us at 0086-755-23018340 or email to sales@sopto.com
Customized Example

Logo

Model

SN Code

Compatible Brand

Package

SPT-XXXX-XX

SPXXXXXXXXX

CISCO
Package with logo

Sopto provides customized service. Tell us your requirement on logo,model,SN code,compatible brand and package.