Global fiber-optic communications carriers ranking,China Mobile
November 26th, Total Telecom released the global TOP100 fiber optic communications operators in terms of revenues in the latest rankings in 2012.There is nothing has changed of the top three rankings income, AT & T, NTT and Verizon still Defied the global telecom market, China Mobile jumped from sixth place in last year for the fourth place for the first time to enter the global TOP5 list.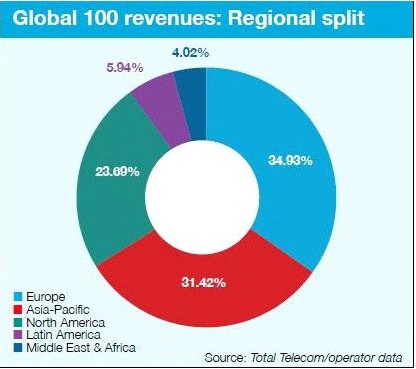 Figure: Global 100 revenues: Regional split

The total revenues of the global TOP100 fiber-optic communications carriers this year is 1.28 trillion euros and 1.19 trillion euros last year, China's three major carriers contributed 9.3% of the 100 companies total revenues. From the point view of regional income, Europe is € 446.63 billion, accounting for 34.93% of the global total; Asia-Pacific market, the total revenue of 401.71 billion euros, accounting for 31.24% of the global total; North American market of € 302.94 billion, accounting for 24% of the world's total.
The world's top 40 operators contributed 83.4% of the total,top 10 contributed 50%. The top 10 carriers, four from Europe, three from Asia-Pacific, and two from North America, one from Latin America.The highest-ranked carriers of Middle East and Africa is South Africa's MTN,ranked 26.